Pediatric gunshot penetrating head injury: a case report with 2-year follow-up
Steven Tandean

Department of Neurosurgery, Universitas Sumatera Utara, H. Adam Malik General Hospital, Medan

Marsal Risfandi

Department of Neurosurgery, Universitas Sumatera Utara, H. Adam Malik General Hospital, Medan

Iskandar Japardi

Department of Neurosurgery, Universitas Sumatera Utara, H. Adam Malik General Hospital, Medan
Keywords:
gunshot penetrating head injury, pediatric
Abstract
Gunshot is a rare subset of penetrating head injury, and generally the victim dies before arriving at the hospital. This paper reported a case of an intracranial gunshot injury in a 12 year-old boy that was shot by his friend, whose primary intention was to play around, using a revolver. A missile projectile penetrated from mid frontal and came out from right occipital. Vital signs were stable with GCS 8 from physical examination. A rational management strategy should permit a good outcome. The only complications that occured were hydrocephalus, yet it was managed by VPâshunt. Skull defect was closed using titanium mesh. A two-year follow-up showed a good result. The patient was able to do daily activity and back to school again.
References
DeCuypere M, Muhlbauer MS, Boop FA, Klimo P. Pediatric intracranial gunshot wounds: The Memphis experience. J Neurosurg Pediatr. 2016;17:595–601. https://doi.org/10.3171/2015.7.PEDS15285
Lichte P, Oberbeck R, Binnebosel M, Wildenauer R, Pape H, Kobbe P. A civilian perspective on ballistic trauma and gunshot injuries. Scandinavian journal of trauma, resuscitation and emergency medicine. 2010;18:35–43. https://doi.org/10.1186/1757-7241-18-35
Van Wyck DW, Grant GA, Laskowitz DT. Penetrating traumatic brain injury: A review of current evaluation and management concepts. J Neurol Neurophysiol. 2015;6(6):336–43. https://doi.org/10.4172/2155-9562.1000336
Alexiou GA, Sfakianos G, Prodromou N. Pediatric head trauma. J Emerg Trauma Shock. 2011;4(3):403–8. https://doi.org/10.4103/0974-2700.83872
Doan N, Nguyen HS, Patel M, Shabani S, Janich K, Montoure A. Management of gunshot wound to the head in pediatric population: Mini-Review. Ann Pediatr Child Health. 2016;4(3):1108–9.
Bandt SK, Greenberg JK, Yarbrough CK, Schechtman KB, Limbrick DD, Leonard JR. Management of pediatric intracranial gunshot wounds: predictors of favorable clinical outcome and a new proposed treatment paradigm. J Neurosurg Pediatrics. 2012;10:511–7. https://doi.org/10.3171/2012.8.PEDS123
Aarabi B, Armonda R, Bell RS, Stephens FL. Traumatic and penetrating head injuries. In: Winn HR, Bullock MR, Hovda DA, eds. Youmans neurological surgery. 6th eds. Philadelphia: Elsevier Saunders. 2011. p. 3453–64. https://doi.org/10.1016/B978-1-4160-5316-3.00340-3
Irfan FB, Hassan RU, Kumar R, Bhutta ZA, Bari E. Craniocerebral gunshot injuries in preschoolers. Childs Nerv Syst. 2010;26(1):61–6. https://doi.org/10.1007/s00381-009-0971-y
Ding J, Guo Y, Tian H. The influence of decompressive craniectomy on the development of hydrocephalus: a review. Arq Neuropsiquiatr. 2014;72(9):715–20. https://doi.org/10.1590/0004-282X20140106
Kurland DB, Khaladj-Ghom A, Stokum JA, Carusillo B, Karimy JK, Gerzanich V, et al. Complications associated with decompressive craniectomy: A systematic review. Neurocrit Care. 2015;23(2):292–304. https://doi.org/10.1007/s12028-015-0144-7
De la Plata CM, Hart T, Hammond FM, Frol A, Hudak A, Harper CR, et al. Impact of age on long-term recovery from traumatic brain injury. Arch Phys Med Rehabil. 2008;89(5):896–903. https://doi.org/10.1016/j.apmr.2007.12.030
Anderson V, Catroppa C, Morse S, Haritou F, Rosenfeld J. Functional plasticity or vulnerability after early brain injury? Pediatrics. 2005;116(6):1374–82. https://doi.org/10.1542/peds.2004-1728
–Giza CC. Lasting effects of pediatric traumatic brain injury. Indian Journal of Neurotrauma. 2006;3(1):19–26. https://doi.org/10.1016/S0973-0508(06)80005-5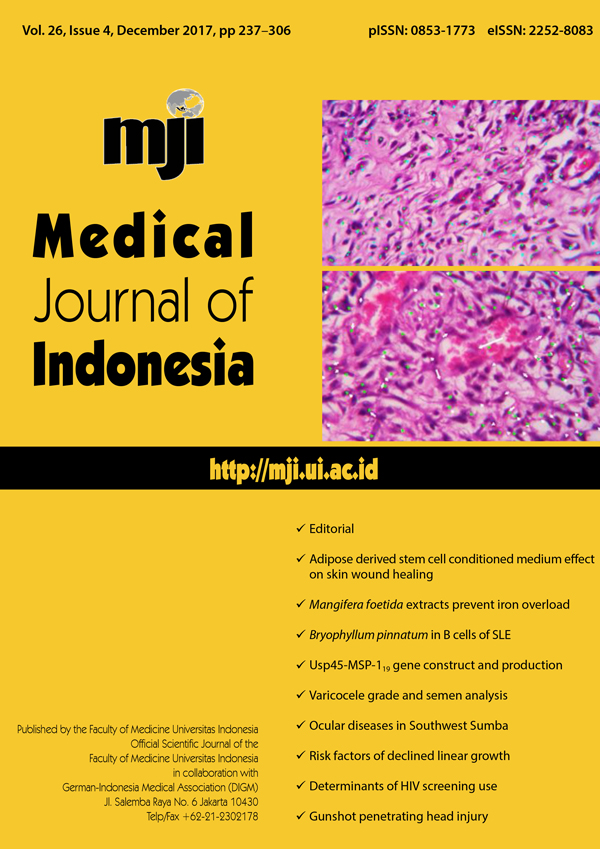 How to Cite
1.
Tandean S, Risfandi M, Japardi I. Pediatric gunshot penetrating head injury: a case report with 2-year follow-up. Med J Indones [Internet]. 2018Feb.14 [cited 2023Nov.30];26(4):302-6. Available from: https://mji.ui.ac.id/journal/index.php/mji/article/view/1472
Section
Case Report/Series
Copyright (c) 2018 Steven Tandean, Marsal Risfandi, Iskandar Japardi
This work is licensed under a Creative Commons Attribution-NonCommercial 4.0 International License.
Authors who publish with Medical Journal of Indonesia agree to the following terms:
Authors retain copyright and grant Medical Journal of Indonesia right of first publication with the work simultaneously licensed under a Creative Commons Attribution-NonCommercial License that allows others to remix, adapt, build upon the work non-commercially with an acknowledgment of the work's authorship and initial publication in Medical Journal of Indonesia.
Authors are permitted to copy and redistribute the journal's published version of the work non-commercially (e.g., post it to an institutional repository or publish it in a book), with an acknowledgment of its initial publication in Medical Journal of Indonesia.