Antiviral effect of Archidendron pauciflorum leaves extract to hepatitis C virus: An in vitro study in JFH-1 strain
Sri Hartati

Research Centre for Chemistry, Indonesian Institute of Science (LIPI), Kawasan PUSPIPTEK, Tangerang

Chie Aoki

Department of International Health, Kobe University, Graduate School of Health Sciences, Kobe

Muhammad Hanafi

Research Centre for Chemistry, Indonesian Institute of Science (LIPI), Kawasan PUSPIPTEK, Tangerang

Marissa Angelina

Research Centre for Chemistry, Indonesian Institute of Science (LIPI), Kawasan PUSPIPTEK, Tangerang

Pratiwi Soedarmono

Department of Microbiology, Faculty of Medicine, Universitas Indonesia, Jakarta

Hak Hotta

Department of Oral Vaccine and Drug Development, Kobe University, Graduate School of Health Sciences, Kobe
Keywords:
Archidendron pauciflorum, HCV, JFH-1
Abstract viewed: 2294 times PDF downloaded: 1000 times HTML downloaded: 142 times EPUB downloaded: 146 times
Abstract
Background: Hepatitis C virus (HCV) is a leading cause of chronic liver diseases. Drug resistance to the regimen is also increasing. Hence, there is a need for new anti-HCV agents that are less toxic and more efficacious. The aim of this study is to evaluate the  possibility of A. pauciflorum extracts can be a antiviral drug.

Methods: Huh-7it cells were infected with the HCV genotype 2a strain JFH-I in the presence of methanol extracts of Archidenron pauciflorum. The methanol extract further partition used n-hexane, ethyl acetate, n-butanol, and water showed in which butanol extracts exerted the strongest IC50 (6.3 g/ml). Further, the butanol fraction was fractionated and yielded into 13 fractions.

Results: The methanol extract of the leaves of A. pauciflorum exhibited concentration dependent inhibition against the JFH1 strain of HCV genotype 2a with an IC50 is 72.5 μg/ml. The butanol fraction exhibited the highest anti-HCV activity with an IC50 is 6.3 μg/ml. The butanol fraction was fractionated which yielded 13 fractions. Fractions 5 and 13 exhibited high anti-HCV activities with IC50 is 5.0 μg/ml and 8.5 μg/ml and a time-of-addition study demonstrated that fraction 5 inhibited viral infection at the post-entry step, whereas fraction 13 primarily inhibited the viral entry step.

Conclusion: The extract A. pauciflorum can be used as a herbal-based antiviral drug.
References
Rosen HR. Clinical practice. Chronic hepatitis C infection. N Engl J Med. 2011;364(25):2429–38. https://doi.org/10.1056/NEJMcp1006613

Ghany MG, Nelson DR, Strader DB, Thomas DL, Seeff LB. An update on treatment of genotype 1 chronic hepatitis C virus infection: 2011 practice guideline by the American Association for the study of liver diseases. Hepatology. 2011;54(4):1433–44. https://doi.org/10.1002/hep.24641

Balunas MJ, Kinghorn AD. Drug discovery from medicinal plants. Life Sci. 2005;78(5):431–41. https://doi.org/10.1016/j.lfs.2005.09.012

Polyak SJ, Morishima C, Shuhart MC, Wang CC, Liu Y, Lee DY. Inhibition of T-cell inflammatory cytokines, hepatocyte NF-kB signaling, and HCV infection by standardized silymarin. Gastroenterology. 2007;132(5):1925–36. https://doi.org/10.1053/j.gastro.2007.02.038

Polyak SJ, Morishima C, Lohmann V, Pal S, Lee DY, Liu Y, et al. Identification of hepatoprotective flavonolignans from silymarin. Proc Natl Acad Sci U S A. 2010;107(13):5995–9. https://doi.org/10.1073/pnas.0914009107

Ciesek S, von Hahn T, Colpitts CC, Schang LM, Friesland M, Steinmann J, et al. The green tea polyphenol, epigallocatechin-3-gallate, inhibits hepatitis C virus entry. Hepatology. 2011;54(6):1947–55. https://doi.org/10.1002/hep.24610

Nahmias Y, Goldwasser J, Casali M, van Poll D, Wakita T, Chung RT, et al. Apolipoprotein B-dependent hepatitis C virus secretion is inhibited by the grapefruit flavonoid naringenin. Hepatology. 2008;47(5):1437–45. https://doi.org/10.1002/hep.22197

Gonzalez O, Fontanes V, Raychaudhuri S, Loo R, Loo J, Arumugaswami V, et al. The heat shock protein inhibitor quercetin attenuates hepatitis C virus production. Hepatology. 2009;50(6):1756–64. https://doi.org/10.1002/hep.23232

Lan K-H, Wang Y-W, Lee W-P, Lan K-L, Tseng S-H, Hung L-R, et al. Multiple effects of honokiol on the life cycle of hepatitis C virus. Liver Int. 2012;32(6):989–97. https://doi.org/10.1111/j.1478-3231.2011.02621.x

Wu S-F, Lin C-K, Chuang Y-S, Chang F-R, Tseng C-K, Wu Y-C, et al. Anti-hepatitis C virus activity of 3-hydroxy caruilignan C from Swietenia macrophylla stems. J Viral Hepat. 2012;19(5):364–70. https://doi.org/10.1111/j.1365-2893.2011.01558.x

Suzuki M, Sasaki K, Yoshizaki F, Fujisawa M, Oguchi K, Cyong J-C. Anti-hepatitis C virus effect of citrus unshiu peel and its active ingredient nobiletin. Am J Chin Med. 2005;33(1):87–94. https://doi.org/10.1142/S0192415X05002680

Manvar D, Mishra M, Kumar S, Pandey VN. Identification and evaluation of anti hepatitis C virus phytochemicals from Eclipta alba. J Ethnopharmacol. 2012;144(3):545–54. https://doi.org/10.1016/j.jep.2012.09.036

Polyak SJ, Oberlies NH, Pecheur E-I, Dahari H, Ferenci P, Pawlotsky J-M. Silymarin for hepatitis C virus infection. Antivir Ther. 2013;18(2):141–7. https://doi.org/10.3851/IMP2402

Haid S, Novodomská A, Gentzsch J, Grethe C, Geuenich S, Bankwitz D, et al. A plant-derived flavonoid inhibits entry of all HCV genotypes into human hepatocytes. Gastroenterology. 2012;143(1):213–22. https://doi.org/10.1053/j.gastro.2012.03.036

Chow HH, Cai Y, Hakim IA, Crowell JA, Shahi F, Brooks CA, et al. Pharmacokinetics and safety of green tea polyphenols after multiple-dose administration of epigallocatechin gallate and polyphenon E in healthy individuals. Clin Cancer Res. 2003;9(9):3312–39.

Panpipat W, Suttirak W, Chaijan M. Free radical scavenging activity and reducing capacity of five southern Thai indigenous vegetable extracts. Walailak J Sci & Tech. 2010;7(1):51–60.

Bunawan H, Dusik L, Bunawan SN, Mat Amin N. Botany, traditional uses, phytocemistry and pharmacplogy of Archidendron jiringa : a review. 2013, Global J Pharmacol. 2013;7(4):474–8.

Bakar RA, Ahmad I, Sulaiman SF. Effect of Pithecellbium jiringa as antimicrobial agent. Bangladesh J Pharmacol. 2012;7(2):131–4.

Muslim NS, Nassar ZD, Aisha AF, Shafaei A, Idris N, Majid AM. Antiangiogenesis and antioxidant activity of ethanol extracts of Pithecelobium jiringa. BMC Complement Altern Med. 2012;12(210):1–10.

Tee ES, Noor MI, Azudin MN, Idris K. Nutrient composition of Malaysian foods (4th edn). 1997; Malaysian Food Composition database Programme, Institute for Medical Research, Kuala Lumpur: 68–9.

Thevathasan OI. Hypoglycaemia induced in fasted cats by aqueous extracts of Pithecellobium jiringa. Med J Malaya. 1972;26(3):217–9.

Razab R, Abdul AA. Antioxidant from tropical herbs. Nat Prod Commun. 2010;5(3):441–5.

Wang J, Chen X, Wang W, Zhang Y, Yang Z, Jin Y, et al. Glycyrrhizic acid as the antiviral component of Glycyrrhiza uralensis Fisch against coxsackievirus A16 and enterovirus 71 of hand foot and mouth disease. J Ethnopharmacol. 2013;147(1):114–21. https://doi.org/10.1016/j.jep.2013.02.017

Lee J-C, Chen W-C, Wu S-F, Tseng C-K, Chiou C-Y, Chang F-R, et al. Anti-hepatitis C virus activity of Acacia confusa extract via suppressing cyclooxygenase-2. Antiviral Res. 2011;89(1):35–42. https://doi.org/10.1016/j.antiviral.2010.11.003

Chrestani F, Sierakowski MR, de Andrade Uchoa DE, Nozawa C, Sassaki GL, Gorin PA, et al. In vitro antiherpetic and antirotaviral activities of a sulfate prepared from Mimosa scabrella galactomannan. Int J Biol Macromol. 2009;45(5):453–7. https://doi.org/10.1016/j.ijbiomac.2009.09.003

Apriyanto DR, Aoki C, Hartati S, Hanafi M, Kardono LB, Arsianti A, et al. Anti- hepatitis c virus activity of a crude extract from longan (Dimocarpus longan Lour) leaves. Jpn J Infect Dis. 2016;69(3):213–20. https://doi.org/10.7883/yoken.JJID.2015.107

Yu L, Aoki C, Shimizu Y, Shimizu K, Hou W, Yagyu F, et al. Development of a simple system for screening anti-hepatitis C virus drugs utilizing mutants capable of vigorous replication. J Virol Methods. 2010;169(2):380–4. https://doi.org/10.1016/j.jviromet.2010.08.009

Aoki C, Hidari KI, Itonori S, Yamada A, Takahashi N, Kasama T, et al. Identification and characterization of carbohydrate molecules in mammalian cells recognized by dengue virus type 2. J Biochem. 2006;139(3):607–14. https://doi.org/10.1093/jb/mvj067

Norulaini NA, Zaidul IS, Azizi CY, Zhari I, Noramin MN, Sahena F, et al. Supercritical carbon dioxide fractionation of Pithecellobium jiringan jack seed compositions using fast gas chromatography time of flight mass spectrometry. J Food Process Eng. 2010;34(5):1746–58. https://doi.org/10.1111/j.1745-4530.2009.00558.x

Delgado-Vargas F, López-Valdés HE, Valdés-Rodríguez S, Blanco-Labra A, Chagolla-López A, López-Valenzuela EJ. Isolation and properties of kunitz-type protein inhibitor obtained from Pithecellobium dulce seeds. J Agric Food Chem. 2004;52(20):6115–21. https://doi.org/10.1021/jf049694b

Wang S-Y, Tseng C-P, Tsai K-C, Lin C-F, Wen C-Y, Tsay H-S, et al. Bioactivity-guided screening identifies pheophytin a as a potent anti-hepatitis C virus.compound from Lonicera hypoglauca Miq. Biochem Biophys Res Commun. 2009;385(2):230–5. https://doi.org/10.1016/j.bbrc.2009.05.043

Guo H, Pan X, Mao R, Zhang X, Wang L, Lu X, et al. Alkylated porphyrins have broad antiviral activity against hepadnaviruses, flaviviruses, filoviruses, and arenaviruses. Antimicrob Agents Chemother. 2011;55(2):478–86. https://doi.org/10.1128/AAC.00989-10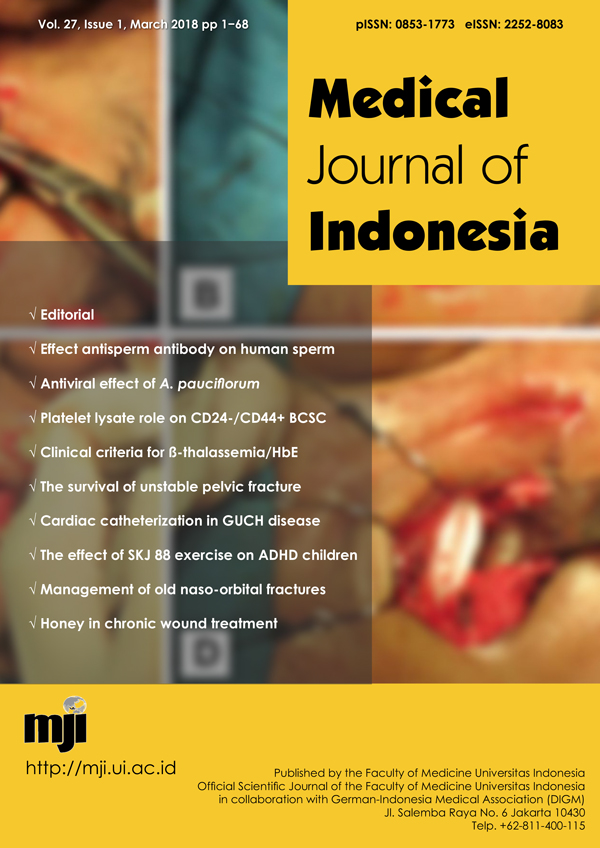 How to Cite
1.
Hartati S, Aoki C, Hanafi M, Angelina M, Soedarmono P, Hotta H. Antiviral effect of <em>Archidendron pauciflorum</em> leaves extract to hepatitis C virus: An <em>in vitro</em&gt; study in JFH-1 strain. Med J Indones [Internet]. 2018May8 [cited 2023Jun.1];27(1):12-8. Available from: https://mji.ui.ac.id/journal/index.php/mji/article/view/2189
Section
Basic Medical Research
Copyright (c) 2018 Sri Hartati, Chie Aoki, Muhammad Hanafi, Marissa Angelina, Pratiwi Soedarmono, Hak Hotta
This work is licensed under a Creative Commons Attribution-NonCommercial 4.0 International License.
Authors who publish with Medical Journal of Indonesia agree to the following terms:
Authors retain copyright and grant Medical Journal of Indonesia right of first publication with the work simultaneously licensed under a Creative Commons Attribution-NonCommercial License that allows others to remix, adapt, build upon the work non-commercially with an acknowledgment of the work's authorship and initial publication in Medical Journal of Indonesia.
Authors are permitted to copy and redistribute the journal's published version of the work non-commercially (e.g., post it to an institutional repository or publish it in a book), with an acknowledgment of its initial publication in Medical Journal of Indonesia.