Gluthathione S-transferase-resuscitation-promoting factor B recombinant protein of Mycobacterium tuberculosis induces the production of interferon-γ and interleukin-12 in mice splenocytes
Andriansjah Rukmana

Department of Microbiology, Faculty of Medicine, Universitas Indonesia, Jakarta, Indonesia

Burhanuddin Rasyid

Politeknik Kesehatan Denpasar, Denpasar, Bali, Indonesia; Master Program of Biomedical Sciences, Faculty of Medicine, Universitas Indonesia, Jakarta, Indonesia

Fitriyah Sjatha

Department of Microbiology, Faculty of Medicine, Universitas Indonesia, Jakarta, Indonesia
Keywords:
immunogens, <em>Mycobacterium tuberculosis</em>, recombinant fusion proteins, RpfB, spleen
Abstract viewed: 775 times PDF downloaded: 633 times HTML downloaded: 76 times EPUB downloaded: 290 times
Abstract
BACKGROUND As the only TB vaccine available, Bacillus Calmette-Guérin shows variable efficacy in adults and does not provide protection against the resuscitation of latent TB infections. Resuscitation-promoting factor B (RpfB) is a protein produced by Mycobacterium tuberculosis during the resuscitation phase and is promising as a novel TB vaccine. This study was aimed to analyze the immunogenicity of the gluthathione S-transferase (GST)-RpfB recombinant protein on mice splenocytes in vitro. 
METHODS After induction with isopropyl β-D-1-thiogalactopyranoside, the protein was extracted by sonication followed by solubilization in 8 M urea buffer. Protein was then re-natured and purified with a GST chromatography column. The isolated protein was confirmed by sodium dodecyl sulfate-polyacrylamide gel electrophoresis and Western blot using anti-GST antibodies, and its concentration was determined using the Bradford method. Each group of splenocytes was treated with 25 μg// ml of the recombinant protein (GST-RpfB), GST, and phytohemagglutinin. Antigen induction was repeated twice at 24 and 72 hours. The supernatant was collected at 96 hours and interferon gamma (IFNγ), interleukin (IL-12, IL-4, and IL-10) levels were measured with enzyme-linked immunosorbent assays. 
RESULTS GST-RpfB recombinant proteins were expressed in the form of inclusion bodies with a molecular weight of approximately 66 kDa. Based on the independent t-test, GST-RpfB stimulated IFNγ and IL-12 production but not IL-4 and IL-10. 
CONCLUSIONS The GST-RpfB protein has been immunogenically proven and is a potential candidate as a novel subunit TB vaccine.
References
World Health Organization (WHO) [internet]. Global Tuberculosis Report 2014. Geneva: WHO Press. Available from: http://apps.who.int/iris/bitstream10665/137094/1/9789241564809_eng.pdf

Center for Disease Control. Latent Tuberculosis Infection: A Guide for Primary Health Care Providers. In: U.S. Department of Health and Human Services Centers for Disease Control and Prevention National Center for HIV/AIDS VH, STD, and TB Prevention Division of Tuberculosis Elimination. Atlanta. The State University of New Jersey. 2013. iv+36 pp.

KondratievaT, Azhikina T, Nikonenko B, Kaprelyants A, Apt A. Latent tuberculosis infection: what we know about its genetic control? Tuberculosis. 2014;94(5):462-8. https://doi.org/10.1016/j.tube.2014.06.009

Rubio-Reyes P, Parlane NA, Buddle BM, Wedlock DN, Rehm BH. Immunological properties and protective efficacy of a single mycobacterial antigen displayed on polyhidroxybutyrate beads. Microb Biotechnol. 2017;10(6):1434-40. https://doi.org/10.1111/1751-7915.12754

Voss G, Casimiro D, Neyrolles O, Williams A, Kaufmann SH, McShane H, et al. Progress and challenges in TB vaccine development. F1000Research. 2018;7:199. https://doi.org/10.12688/f1000research.13588.1

Mayer-Barber KD, Barber DL. Innate and adaptive cellular immune responses to Mycobacterium tuberculosis infection. https://doi.org/10.1101/cshperspect.a018424

Domingo-Gonzales R, Prince O, Cooper A, Khader SA. Cytokines and chemokines in Mycobacterium tuberculosis infection. Microbial Spectr. 2016;4(5).

Jacobs AJ, Mongkolsapaya J, Screaton GR, McShane H, Wilkinson RJ. Antibodies and tuberculosis. Tuberculosis. 2016;101:102-13. https://doi.org/10.1016/j.tube.2016.08.001

Leung-Theung-Long S, Gouanvic M, Coupet CA, Ray A, Tupin E, Silvestre N, et al. A novel MVA-based multiphasic vaccine for prevention or treatment of tuberculosis induces broad and multifunctional cell-mediated immunity in mice and primates. PLoS One. 2015;10(11):e0143552. https://doi.org/10.1371/journal.pone.0143552

Rosser A, Stover C, Pareek M, Mukamolova GV. Resuscitationpromoting factors are important determinants of the pathophysiology in Mycobacterium tuberculosis infection. Crit Rev Microbiol. 2017;43(5):621-30. https://doi.org/10.1080/1040841X.2017.1283485

Liu L, You X, Chen L, Zeng Y, Tang S, Yu M, et al. Immunogenicity of Cpn0425 and its localization in cells infected with Chlamydophila pneumoniae. Mol Med Rep. 2012;6:1239-42. https://doi.org/10.3892/mmr.2012.1083

Zhao X, Li G, Liang S. Several affinity tags commonly used in chromatography purification. J Anal Methods Chem. 2013;2013:581093. https://doi.org/10.1155/2013/581093

Wang S, Li Y, Shen Y, Wu J, Gao Y, Zhang S, et al. Screening and identification of a six-cytokine biosignature for detecting TB infection and discriminating active from latent TB. J Transl Med. 2018;16(1):206. https://doi.org/10.1186/s12967-018-1572-x

Khan TA, Mazhar H, Saleha S, Tipu HN, Muhammad N, Abbas MN. Interferon-gamma improves macrophages function against M. tuberculosis in multidrug-resistant tuberculosis patients. Chemother Res Pract. 2016;2016:7295390. https://doi.org/10.1155/2016/7295390

Romano M, Aryan E, Korf H, Bruffaerts N, Franken CL, Ottenhoff THM, et al. Potential of Mycobacterium tuberculosis resuscitationpromoting factors as antigens in novel tuberculosis sub-unit vaccines. Microbes Infect. 2012;14(1):86-95. https://doi.org/10.1016/j.micinf.2011.08.011

Zhao S, Song X, Zhao Y, Qiu Y, Mao F, Zhang C, et al. Protective and therapeutic effects of the resuscitation-promoting factor domain and its mutants against Mycobacterium tuberculosis in mice. Pathog Dis. 2015;73(3). https://doi.org/10.1093/femspd/ftu025

Kim JS, Kim WS, Choi HG, Jang B, Lee K, Park JH, et al. Mycobacterium tuberculosis RpfB drives Th1-type T cell immunity via a TLR4-dependent activation of dendritic cells. J Leukoc Biol. 2013;94(4):733-49. https://doi.org/10.1189/jlb.0912435

He S, Yang S, Zhao Q, Wang L, Liu H, Sheng Y, et al. Association of IL4, IL6, and IL10 polymorphisms with pulmonary tuberculosis in a Tibetan Chinese population. Oncotarget. 2018;9(23):16418-26. https://doi.org/10.18632/oncotarget.23995

Harper S, Speicher DW. Purifications of proteins fused to glutathione S-transferase. Methods Mol Biol. 2011;681:259-80. https://doi.org/10.1007/978-1-60761-913-0_14

Lang R, Schick J. Review: impact of helminth infection on antimycobacterial immunity-a focus on the macrophage. Front Immunol. 2017;8:1864. https://doi.org/10.3389/fimmu.2017.01864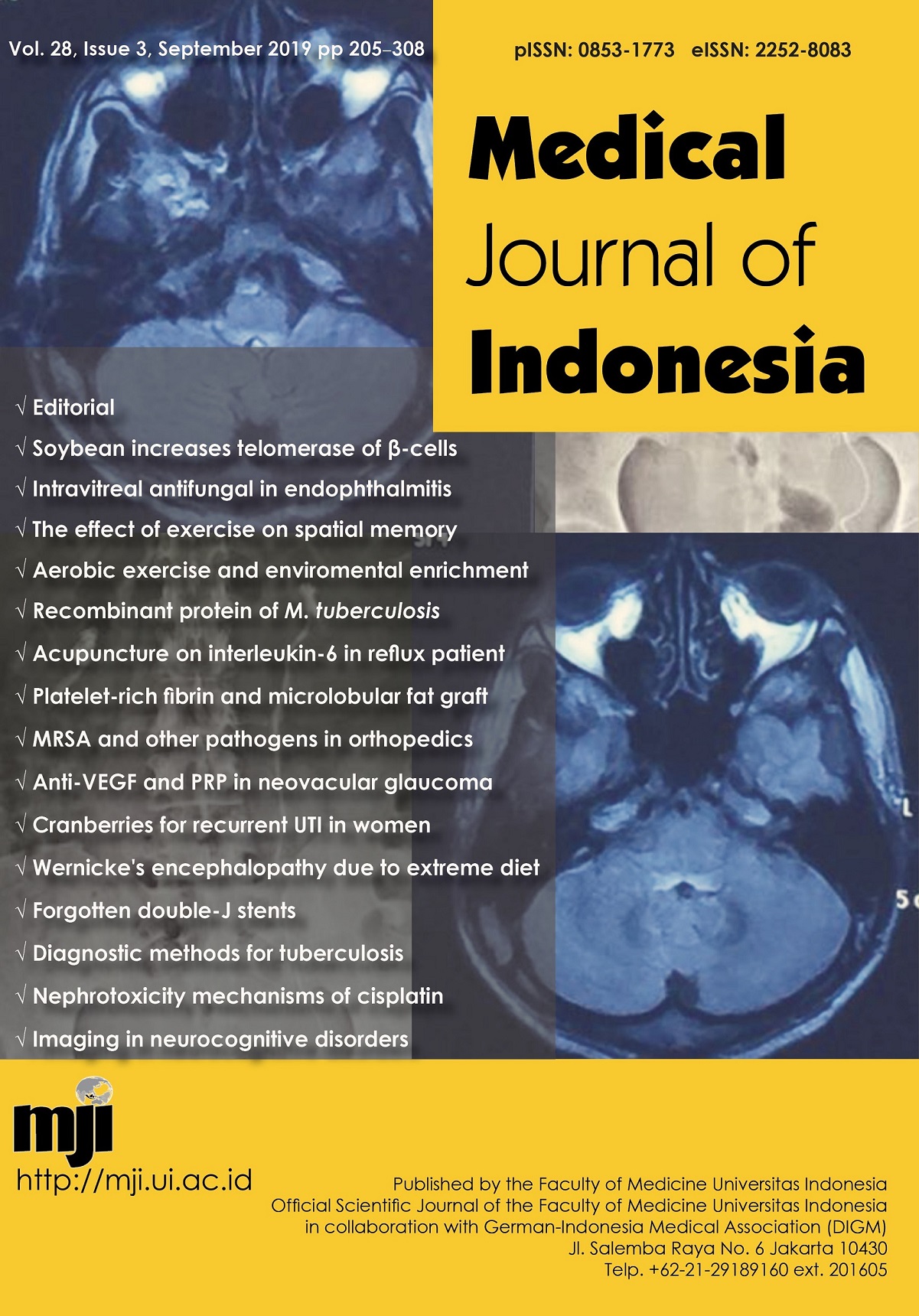 How to Cite
1.
Rukmana A, Rasyid B, Sjatha F. Gluthathione S-transferase-resuscitation-promoting factor B recombinant protein of <em>Mycobacterium tuberculosis</em&gt; induces the production of interferon-γ and interleukin-12 in mice splenocytes. Med J Indones [Internet]. 2019Oct.4 [cited 2023Mar.24];28(3):234-40. Available from: https://mji.ui.ac.id/journal/index.php/mji/article/view/2444
Section
Basic Medical Research
Copyright (c) 2019 Andriansjah Rukmana, Burhanuddin Rasyid, Fithriyah Sjatha
This work is licensed under a Creative Commons Attribution-NonCommercial 4.0 International License.
Authors who publish with Medical Journal of Indonesia agree to the following terms:
Authors retain copyright and grant Medical Journal of Indonesia right of first publication with the work simultaneously licensed under a Creative Commons Attribution-NonCommercial License that allows others to remix, adapt, build upon the work non-commercially with an acknowledgment of the work's authorship and initial publication in Medical Journal of Indonesia.
Authors are permitted to copy and redistribute the journal's published version of the work non-commercially (e.g., post it to an institutional repository or publish it in a book), with an acknowledgment of its initial publication in Medical Journal of Indonesia.