Prevalence of methicillin-resistant Staphylococcus aureus and other pathogens in pus samples of orthopedic department at a tertiary care hospital in Pakistan
Ashfaq Ahmed

Department of Orthopaedic and Spine Surgery, Ghurki Trust Teaching Hospital, Lahore, Pakistan

https://orcid.org/0000-0001-7047-3100

Rizwan Akram

Department of Orthopaedic and Spine Surgery, Ghurki Trust Teaching Hospital, Lahore, Pakistan

https://orcid.org/0000-0003-3207-5819

Saeed Ahmad

Department of Orthopaedic and Spine Surgery, Ghurki Trust Teaching Hospital, Lahore, Pakistan

Atiq Uz Zaman

Department of Orthopaedic and Spine Surgery, Ghurki Trust Teaching Hospital, Lahore, Pakistan

Naeem Ahmad

Department of Orthopaedic and Spine Surgery, Ghurki Trust Teaching Hospital, Lahore, Pakistan

Shahzad Javed

Department of Orthopaedic and Spine Surgery, Ghurki Trust Teaching Hospital, Lahore, Pakistan

Amer Aziz

Department of Orthopaedic and Spine Surgery, Ghurki Trust Teaching Hospital, Lahore, Pakistan

https://orcid.org/0000-0002-1306-0956
Keywords:
MRSA, orthopedics, prevalence, Staphylococcus aureus
Abstract viewed: 730 times PDF downloaded: 600 times HTML downloaded: 103 times EPUB downloaded: 289 times
Abstract
BACKGROUND Orthopedic infections are difficult to manage. Methicillin-resistant Staphylococcus aureus (MRSA) is one of the most dangerous and harmful bacteria and is difficult to eradicate because of its changing strains as well as sensitivity to different antibiotics. The main aim of this study was to determine the prevalence of pathogens, especially MRSA, associated with orthopedic wounds and their sensitivity to different antibiotics.
METHODS A prospective study was conducted from September 2015 to August 2016. Pus samples of 1,350 patients who presented at the out-patient department or admitted with a wound infection after an orthopedic intervention were taken with the help of culture swab and were sent for culture and sensitivity according to hospital protocol. Data analyses were made using the SPSS software, version 17 (IBM).
RESULTS Adults aged between 15 and 30 years were most affected, with 444 (32.9%) cases. Of the patients, 268 (19.9%) had negative cultures. Among the patients with positive cultures, the gram-positive cocci and gram-negative rods were 497 (36.8%) and 377 (27.9%), respectively. The most common pathogen was MRSA (240; 17.8%), followed by Escherichia coli and methicillin-sensitive S. aureus.
CONCLUSIONS Multiple pathogens are involved in patients having an orthopedic surgical intervention. The high occurrence of MRSA and E. coli has an increasing economic burden on patients because of these pathogens high resistance to antibiotics. Thus, proper preventive measures should be done to decrease the occurrence of such infections as well as their associated morbidity.
References
Ehrlich GD, Stoodley P, Kathju S, Zhao Y, McLeod BR, Balaban N, et al. Engineering approaches for the detection and control of orthopaedic biofilm infections. Clin Orthop Relat Res. 2005;(437):59-66. https://doi.org/10.1097/00003086-200508000-00011

Uckay I, Hoffmeyer P, Lew D, Pittet D. Prevention of surgical site infections in orthopaedic surgery and bone trauma: state-of-the-art update. J Hosp Infect. 2013;84(1):5-12. https://doi.org/10.1016/j.jhin.2012.12.014

Ju KL, Zurakowski D, Kocher MS. Differentiating between methicillin-resistant and methicillin-sensitive Staphylococcus aureus osteomyelitis in children: an evidence-based clinical prediction algorithm. J Bone Joint Surg Am. 2011;93(18):1693-701. https://doi.org/10.2106/JBJS.J.01154

Stewart PS, Costerton JW. Antibiotic resistance of bacteria in biofilms. Lancet. 2001;358(9276):135-8. https://doi.org/10.1016/S0140-6736(01)05321-1

Hickok NJ, Shapiro IM. Immobilized antibiotics to prevent orthopaedic implant infections. Adv Drug Deliv Rev. 2012;64(12):1165-76. https://doi.org/10.1016/j.addr.2012.03.015

Trampuz A, Widmer AF. Infections associated with orthopedic implants. Curr Opin Infect Dis. 2006;19(4):349-56. https://doi.org/10.1097/01.qco.0000235161.85925.e8

Puckett SD, Taylor E, Raimondo T, Webster TJ. The relationship between the nanostructure of titanium surfaces and bacterial attachment. Biomaterials. 2010;31(4):706-13. https://doi.org/10.1016/j.biomaterials.2009.09.081

Periti P, Mini E, Mosconi G. Antimicrobial prophylaxis in orthopaedic surgery: the role of teicoplanin. J Antimicrob Chemother. 1998;41(3):329-40. https://doi.org/10.1093/jac/41.3.329

Arciola CR, Montanaro L, Costerton JW. New trends in diagnosis and control strategies for implant infections. SAGE Publications Sage UK: London, England; 2011. https://doi.org/10.5301/IJAO.2011.8784

Palmer M, Costerton W, Sewecke J, Altman D. Molecular techniques to detect biofilm bacteria in long bone nonunion: a case report. Clin Orthop Relat Res. 2011;469(11):3037-42. https://doi.org/10.1007/s11999-011-1843-9

Murphy E, Spencer SJ, Young D, Jones B, Blyth MJ. MRSA colonisation and subsequent risk of infection despite effective eradication in orthopaedic elective surgery. J Bone Joint Surg Br. 2011;93(4):548-51. https://doi.org/10.1302/0301-620X.93B4.24969

Campbell KA, Stein S, Looze C, Bosco JA. Antibiotic stewardship in orthopaedic surgery: principles and practice. J Am Acad Orthop Surg. 2014;22(12):772-81. https://doi.org/10.5435/JAAOS-22-12-772

Dulon M, Haamann F, Peters C, Schablon A, Nienhaus A. MRSA prevalence in European healthcare settings: a review. BMC Infec Dis. 2011;11:138. https://doi.org/10.1186/1471-2334-11-138

Vidhani S, Mehndiratta PL, Mathur MD. Study of methicillin resistant S. aureus (MRSA) isolates from high risk patients. Indian J Med Microbiol. 2001;19(2):13-6.

Truong H, Shah SS, Ludmir J, Tawananana EO, Bafana M, Wood SM, et al. Staphylococcus aureus skin and soft tissue infections at a tertiary hospital in Botswana. S Afr Med J. 2011;101(6):413-6.

Edmundson S, Hirpara K, Bennett D. The effectiveness of methicillin-resistant Staphylococcus aureus colonisation screening in asymptomatic healthcare workers in an Irish orthopaedic unit. Eur J Clin Microbiol Infect Dis. 2011;30(9):1063-6. https://doi.org/10.1007/s10096-011-1192-3

Kelly J, O'Briain D, Walls R, Lee SI, O'Rourke A, Mc Cabe JP. The role of pre-operative assessment and ringfencing of services in the control of methicillin resistant Staphlococcus aureus infection in orthopaedic patients. Surgeon. 2012;10(2):75-9. https://doi.org/10.1016/j.surge.2011.01.008

Tai CC, Nirvani AA, Holmes A, Hughes SP. Methicillin-resistant Staphylococcus aureus in orthopaedic surgery. Int Orthop. 2004;28:32-5. https://doi.org/10.1007/s00264-003-0505-2

Roche SJ, Fitzgerald D, O'Rourke A, McCabe JP. Methicillinresistant Staphylococcus aureus in an Irish orthopaedic centre: a five-year analysis. J Bone Joint Surg Br. 2006;88(6):807-11. https://doi.org/10.1302/0301-620X.88B6.17042

Kaur DC, Wankhede S. Biofilm formation and antimicrobial susceptibility pattern of methicillin resistant Staphylococcus aureus from wound infection. Asian Pac J Health Sci. 2014;1(4):322-28. https://doi.org/10.21276/apjhs.2014.1.4.5

Chen X, Zhu D. Pathogens distribution of hospital infection and their drug resistance in Department of Orthopedics. Chinese Journal of Nosocomiology. 2008;(04):570-3.

Kumar S, Joseph NM, Easow JM, Singh R, Umadevi S, Pramodhini S, et al. Prevalence and current antibiogram of Staphylococci isolated from various clinical specimens in a tertiary care hospital in Pondicherry. Internet J Microbiol. 2012;10(1).

Gardete S, Aires-De-Sousa M, Faustino A, Ludovice AM, de Lencastre H. Identification of the first vancomycin intermediateresistant Staphylococcus aureus (VISA) isolate from a hospital in Portugal. Microb Drug Resist. 2008;14(1):1-6. https://doi.org/10.1089/mdr.2008.0816

Economedes DM, Deirmengian GK, Deirmengian CA. Staphylococcus aureus colonization among arthroplasty patients previously treated by a decolonization protocol: a pilot study. Clin Orthop Relat Res. 2013;471(10):3128-32. https://doi.org/10.1007/s11999-013-2856-3

Dar JA, Thoker MA, Khan JA, Ali A, Khan MA, Rizwan M, et al. Molecular epidemiology of clinical and carrier strains of methicillin resistant Staphylococcus aureus (MRSA) in the hospital settings of north India. Ann Clin Microbiol Antimicrob. 2006;5:22. https://doi.org/10.1186/1476-0711-5-22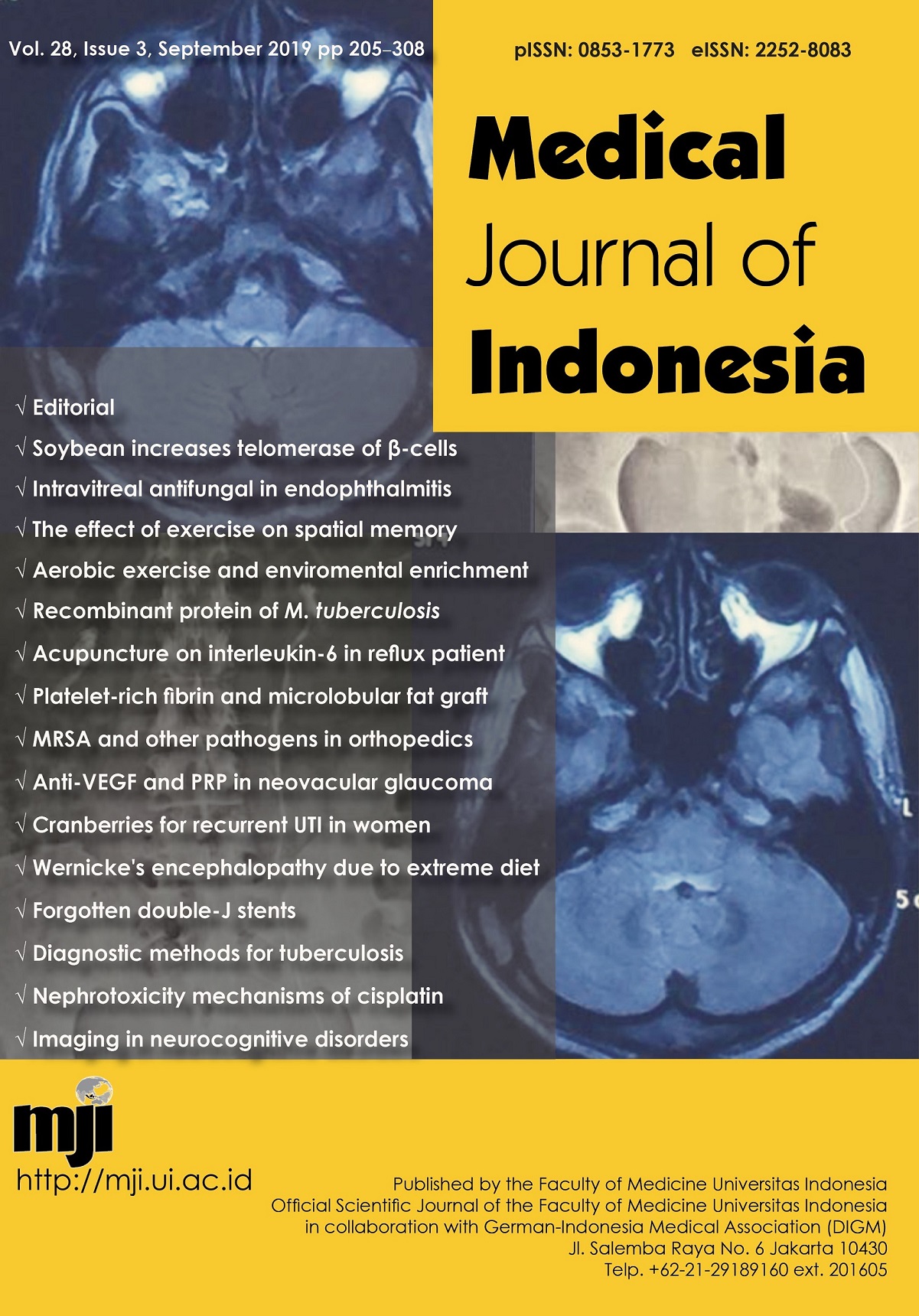 How to Cite
1.
Ahmed A, Akram R, Ahmad S, Zaman AU, Ahmad N, Javed S, Aziz A. Prevalence of methicillin-resistant <em>Staphylococcus aureus</em&gt; and other pathogens in pus samples of orthopedic department at a tertiary care hospital in Pakistan. Med J Indones [Internet]. 2019Oct.4 [cited 2023Apr.2];28(3):252-7. Available from: https://mji.ui.ac.id/journal/index.php/mji/article/view/2634
Section
Clinical Research
Copyright (c) 2019 Ashfaq Ahmed, RIZWAN AKRAM, saeed Ahmad, Naeem Ahmad, shahzad javed, Ijaz Ahmad, Amer aziz
This work is licensed under a Creative Commons Attribution-NonCommercial 4.0 International License.
Authors who publish with Medical Journal of Indonesia agree to the following terms:
Authors retain copyright and grant Medical Journal of Indonesia right of first publication with the work simultaneously licensed under a Creative Commons Attribution-NonCommercial License that allows others to remix, adapt, build upon the work non-commercially with an acknowledgment of the work's authorship and initial publication in Medical Journal of Indonesia.
Authors are permitted to copy and redistribute the journal's published version of the work non-commercially (e.g., post it to an institutional repository or publish it in a book), with an acknowledgment of its initial publication in Medical Journal of Indonesia.