Anterior cervical corpectomy and fusion in a 7-year-old boy: a case report
Mohamad Saekhu

Department of Neurosurgery, Faculty of Medicine, Universitas Indonesia, Cipto Mangunkusumo Hospital, Jakarta, Indonesia

Samsul Ashari

Department of Neurosurgery, Faculty of Medicine, Universitas Indonesia, Cipto Mangunkusumo Hospital, Jakarta, Indonesia

David Tandian

Department of Neurosurgery, Faculty of Medicine, Universitas Indonesia, Cipto Mangunkusumo Hospital, Jakarta, Indonesia

Setyo Widi Nugroho

Department of Neurosurgery, Faculty of Medicine, Universitas Indonesia, Cipto Mangunkusumo Hospital, Jakarta, Indonesia
Keywords:
anterior cervical corpectomy, case report
Abstract viewed: 549 times PDF downloaded: 694 times HTML downloaded: 216 times EPUB downloaded: 212 times
Abstract
Bicycle mishap, a common and ordinary event occurring in children, can have devastating consequences associated with cervical spine injury. Furthermore, either diagnosis or surgical management of cervical spine injury in children is a challenging issue. This research report a challenging case of an anterior cervical corpectomy and fusion with plating in a 7-year-old boy due to cervical spine instability with spinal cord compression after a bicycle mishap. After 20 months of the primary surgery, the titanium-based cervical plate was removed by a second surgery to allow the growth of the cervical spine.
References
Özgen S, Naderi S, Özek MM, Pamir MN. A retrospective review of cervical corpectomy: indications, complications and outcome. Acta Neurochir. 2004;146(10):1099−105. https://doi.org/10.1007/s00701-004-0327-z

Girard V, Leroux B, Brun V, Bressy G, Sesmat H, Madi K. Post-traumatic lower cervical spine instability: arthrodesis clinical and radiological outcomes at 5 years. Orthop Traumatol Surg Res. 2014;100(4):385−8. https://doi.org/10.1016/j.otsr.2014.02.003

Baron EM, Loftus CM, Vaccaro AR, Dominique DA. Anterior approach to the subaxial cervical spine in children: a brief review. Neurosurg Focus. 2006;20(2):E4. https://doi.org/10.3171/foc.2006.20.2.5

Crostelli M, Mariani M, Mazza O, Ascani E. Cervical fixation in the pediatric patient: our experience. Eur Spine J. 2009;18:20â8. https://doi.org/10.1007/s00586-009-0980-2

Lastikka M, Aarnio J, Helenius I. Instrumented cervical spinal fusions in children: indication and outcomes. J Child Orthop. 2017;11(6):419-27. https://doi.org/10.1302/1863-2548.11.170115

Mortazavi M, Gore PA, Chang S, Tubbs RS, Theodore N. Pediatric cervical spine injuries: a comprehensive review. Childs Nerv Syst. 2011;27(5):705â17. https://doi.org/10.1007/s00381-010-1342-4

Upasani VV, Hedequist DJ, Hresko MT, Karlin LI, Emans JB, Glotzbecker MP. Spinal deformity progression after posterior segmental instrumentation and fusion for idiopathic scoliosis. J Child Orthop. 2015;9(1):29-37. https://doi.org/10.1007/s11832-015-0632-5

Savino F, Vagliano L, Ceratto S, Viviani F, Miniero R, Ricceri F. Pain assessment in children undergoing venipuncture: the Wong-Baker faces scale versus skin conductance fluctuations. PeerJ. 2013;1:e37. https://doi.org/10.7717/peerj.37

Patel JC, Tepas JJ III, Mollitt DL, Pieper P. Pediatric cervical spine injuries: defining the disease. J Ped Surg. 2001;36(2):373-6. https://doi.org/10.1053/jpsu.2001.20720

Falavigna A, Righesso O, da Silva PG, Sanchez Chavez FA, Sfreddo E, Pelegrini de Almeida L, et al. Epidemiology and management of spinal trauma in children and adolescents <18 years old. World Neurosurg. 2018;110:e479-83. https://doi.org/10.1016/j.wneu.2017.11.021

Hoffman JR, Mower WR, Wolfson AB, Todd KH, Zucker MI, National X-Radiography Utilization Study group. Validity of a set of clinical criteria to rule out injury to the cervical spine in patients with blunt trauma. N Engl J Med. 2000;343(2):94-9. https://doi.org/10.1056/NEJM200007133430203

Olson KA, Joder D. Diagnosis and treatment of cervical spine clinical instability. J Orthop Sports Phys Ther. 2001;31(4):194-206. https://doi.org/10.2519/jospt.2001.31.4.194

Hall DE, Boydston W. Pediatric neck injuries. Pediatr Rev. 1999;20(1):13-9. https://doi.org/10.1542/pir.20-1-13

Avellino AM, Mann FA, Grady MS, Chapman JR, Ellenbogen RG, Alden TD, et al. The misdiagnosis of acute cervical spine injuries and fractures in infants and children: the 12-year experience of a level I pediatric and adult trauma center. Childs Nerv Syst. 2005;21(2):122-7. https://doi.org/10.1007/s00381-004-1058-4

Vaz K, Verma K, Protpsaltis T, Schwab F, Lonner B, Errico T. Bone grafting options for lumbal spine surgery: a review examining clinical efficacy and complication. SAS J. 2010;4(3):75-86. https://doi.org/10.1016/j.esas.2010.01.004

Dunn RN, Botha AH. Instrumentation of the paediatric cervical spine. SA Orthop J. 2014;13(1):44-9.

Lidar Z, Constantini S, Regev GJ, Salame K. Absorbable anterior cervical plate for corpectomy and fusion in a 2-year-old child with neurofibromatosis. J Neurosurg Pediatr. 2012;9(4):442-6. https://doi.org/10.3171/2011.12.PEDS11264

Özer E, Yücesoy K, Kalemci O. Temporary anterior cervical plating in a child with traumatic cervical ligamentous instability. Pediatr Neurosurg. 2005;41(5):269-71. https://doi.org/10.1159/000087487

Elder BD, Ishida W, Goodwin CC, Bydon A, Gokaslan ZL, Sciubba DM, et al. Bone graft option for spinal fusion following resection of spinal column tumors: systematic review and meta-analysis. Neurosurg Focus. 2017;42(1):E16. https://doi.org/10.3171/2016.8.FOCUS16112

Lustrin ES, Karakas SP, Ortiz AO, Cinnamon J, Castillo M, Vaheesan K, et al. Pediatric cervical spine: normal anatomy, variants, and trauma. Radiographics. 2003;23(3):539-60. https://doi.org/10.1148/rg.233025121

Johnson KT, Al-Holou WN, Anderson RC, Wilson TJ, Karnati T, Ibrahim M, et al. Morphometric analysis of the developing pediatric cervical spine. J Neurosurg Pediatr. 2016;18(3):377-89. https://doi.org/10.3171/2016.3.PEDS1612

Beltsios M, Savvidou O, Mitsiokapa EA, Mavrogenis AF, Kaspiris A, Efstathopoulos N, et al. Sagittal alignment of the cervical spine after neck injury. Eur J Orthop Surg Traumatol. 2013:23(Suppl 1):S47-51. https://doi.org/10.1007/s00590-012-0966-3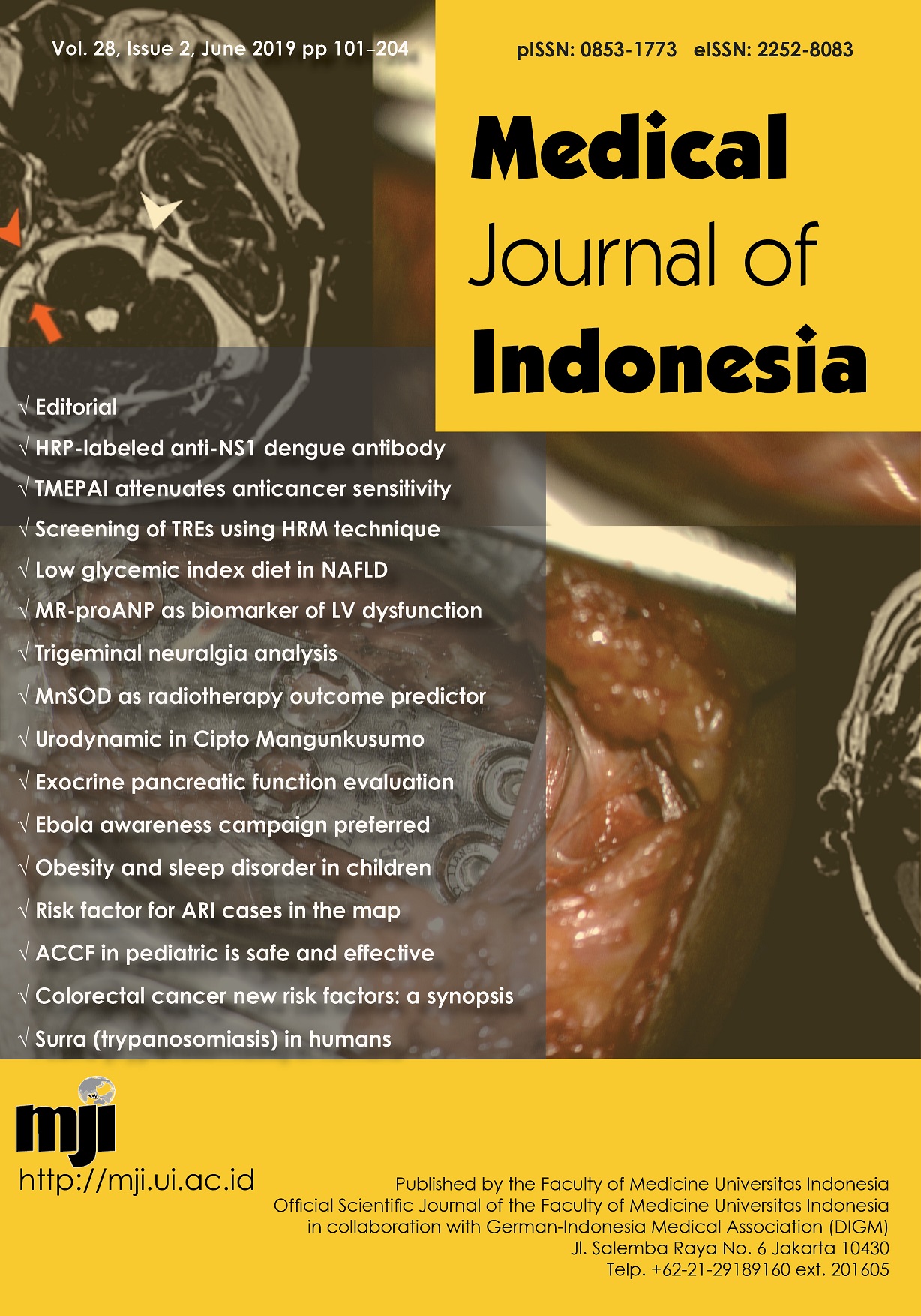 How to Cite
1.
Saekhu M, Ashari S, Tandian D, Nugroho SW. Anterior cervical corpectomy and fusion in a 7-year-old boy: a case report. Med J Indones [Internet]. 2019Aug.9 [cited 2022Dec.10];28(2):183-7. Available from: https://mji.ui.ac.id/journal/index.php/mji/article/view/2673
Section
Case Report/Series
Copyright (c) 2019 Mohamad Saekhu, Samsul Ashari, David Tandian, Setyowidi Nugroho
This work is licensed under a Creative Commons Attribution-NonCommercial 4.0 International License.
Authors who publish with Medical Journal of Indonesia agree to the following terms:
Authors retain copyright and grant Medical Journal of Indonesia right of first publication with the work simultaneously licensed under a Creative Commons Attribution-NonCommercial License that allows others to remix, adapt, build upon the work non-commercially with an acknowledgment of the work's authorship and initial publication in Medical Journal of Indonesia.
Authors are permitted to copy and redistribute the journal's published version of the work non-commercially (e.g., post it to an institutional repository or publish it in a book), with an acknowledgment of its initial publication in Medical Journal of Indonesia.