The susceptibility of pathogens associated with acne vulgaris to antibiotics
Irma Bernadette Simbolon Sitohang

Department of Dermatovenereology, Faculty of Medicine, Universitas Indonesia, Cipto Mangunkusumo Hospital, Jakarta

Hafizah Fathan

Department of Dermatovenereology, Faculty of Medicine, Universitas Indonesia, Cipto Mangunkusumo Hospital, Jakarta

Evita Effendi

Department of Dermatovenereology, Faculty of Medicine, Universitas Indonesia, Cipto Mangunkusumo Hospital, Jakarta

Mardiastuti Wahid

Department of Microbiology, Faculty of Medicine, Universitas Indonesia, Cipto Mangunkusumo Hospital, Jakarta
Keywords:
acne vulgaris, antibiotics, Propionibacterium acnes, Staphylococcus aureus, Staphylococcus epidermidis
Abstract
BACKGROUND Acne vulgaris is a pilosebaceous disorder. Bacterial activity and inflammation both influence acne formation. Antibiotics suppress the bacterial activities and elicit anti-inflammatory effects. The overuse of antibiotics may lead to resistance in bacteria. This study was aimed to provide an overview of bacteria that may cause acne and determine their susceptibility to antibiotics.
METHODS This was a cross-sectional study sampling from 93 patients with acne in Ciptomangunkusumo Hospital. Comedones were extracted and cultured on Brucella blood agar, under aerobic and anaerobic conditions at 35oC for 24–48 hours. Bacterial identification was performed using Vitek®, and susceptibility test using E-test. Data interpretation was based on the Clinical and Laboratory Standards Institute 2015.
RESULTS Staphylococcus epidermidis (50.5%), Propionibacterium acnes (11.0%), and Staphylococcus aureus (7.7%) were identified. Bacteria were not found in 69.2% and 1.1% of samples in anaerobic and aerobic cultures, respectively. P. acnes was susceptible to doxycycline (100%) and minocycline (100%), while 10% was resistant to erythromycin, clindamycin, and tetracycline. S. epidermidis was susceptible to minocycline (100%); but resistant to erythromycin (65.2%), clindamycin (52.2%) and tetracycline (32.6%). The susceptibility of S. epidermidis to doxycycline was 89.1%, which was lower than that of P. acnes (100%). S. aureus was found to be sensitive to minocycline (100%), doxycycline (71.4%), clindamycin (71.4%), and tetracycline (71.4%); but it was resistant to erythromycin (42.9%).
CONCLUSIONS Doxycycline and minocycline showed 100% effectiveness for P. acnes. The isolated bacteria were more susceptible to doxycycline compared to tetracycline. The use of clindamycin and erythromycin needs to be limited as most S. epidermidis isolates were resistant to both.
References
Zaenglein AL, Graber EM, Thiboutot DM. Acne vulgaris and acneform eruptions. In: Goldsmith LA, Katz SI, Gilchrest BA (eds). Dermatology in General Medicine. 8th edition. New York: McGraw Hill. 2012. p. 897–917.
Thiboutot D, Gollnick H, Bettoli V, Dréno B, Kang S, Leyden JJ, et al. New insights into the management of acne: an update from the global alliance to improve outcomes in acne group. J Am Acad Dermatol. 2009;60(5 Suppl):S1–50. https://doi.org/10.1016/j.jaad.2009.01.019
Webster GF. Overview of the pathogenesis of acne. In : Webster GF, Rawlings AV (eds). Acne and its therapy. New York: Informa;2007:1-7. https://doi.org/10.3109/9781420018417
Dreno B, Martin R, Moyal D, Heniey JB, Khammari A, Seité S. Skin microbiome and acne vulgaris: Staphylococcus, a new actor in acne. Exp Dermatol. 2017;26(9):798–803. https://doi.org/10.1111/exd.13296
Pugashetti R, Shinkai K. Treatment of acne vulgaris in pregnant patients. Dermatol Ther. 2013;26(4):302–11. https://doi.org/10.1111/dth.12077
Eady EA, Gloor M, Leyden JJ. Propionibacterium acnes resistance: a worldwide problem. Dermatology. 2003;206(1):54–6. https://doi.org/10.1159/000067822
Barira S. Proportion of positivity and P. acnes resistance pattern towards oral antibiotics from patients with moderate to severe acne vulgaris [Thesis]. Jakarta: Universitas Indonesia; 2006.
CLSI. Performance standards for antimicrobial susceptibility testing; twenty-fifth informational supplement Approved standard M100-S11. M11-A8. Pennsylvania: NCCLS; 2015. p. 102-4.
Nakase K, Nakaminami H, Takenaka Y, Hayashi N, Kawashima M, Noguchi N. Relationship between the severity of acne vulgaris and antimicrobial resistance of bacteria isolated from acne lesions in a hospital in Japan. J Med Microbiol. 2014;63(Pt 5):721–8. https://doi.org/10.1099/jmm.0.067611-0
Leyden JJ, Del Rosso JQ. Oral antibiotic therapy for acne vulgaris. J Clin Aesthet Dermatol. 2011;4(2):40–7.
Zaenglein AL, Pathy AL, Schlosser BJ, Alikhan A, Baldwin HE, Berson DS, et al. Guidelines of care for the management of acne vulgaris. J Am Acad Dermatol. 2016;74(5):945–73. https://doi.org/10.1016/j.jaad.2015.12.037
Bloemendaal AL, Brouwer EC, Fluit, AC. Methicillin resistance transfer from Staphylocccus epidermidis to methicillin- susceptible Staphylococcus aureus in a patient during antibiotic therapy. PLoS One. 2010;5(7):e11841. https://doi.org/10.1371/journal.pone.0011841
Moon SH, Roh HS, Kim YH, Kim JE, KO JY, Ro YS. Antibiotic resistance of microbial strains isolated from Korean acne patients. J Dermatol. 2012;39(10):833–7. https://doi.org/10.1111/j.1346-8138.2012.01626.x
Sylvia L. Association between microorganism from acne lesion [Thesis]. Padang: Universitas Andalas; 2010.
Leyden JJ. Antibiotic resistance in the topical treatment of acne vulgaris. Cutis. 2004;73(6 Suppl):6–10.
Khorvash F, Abdi F, Kashani HH, Naeini FF, Narimani T. Staphylococcus aureus in acne pathogenesis: a case-control Study. N Am J Med Sci. 2012;4(11):573–6. https://doi.org/10.4103/1947-2714.103317
González R, Welsh O, Ocampo J, Hinojosa-Robles RM, Vera-Cabrera L, Delaney ML , et al. In vitro antimicrobial susceptibility of Propionibacterium acnes isolated from acne patients in northern Mexico. Int J Dermatol . 2010;49(9):1003–7. https://doi.org/10.1111/j.1365-4632.2010.04506.x
Achermann Y, Goldstein EJ, Coenye T, Shirtliff ME. Propionibacterium acnes: from commensal to opportunistic biofilm- associated implant pathogen. Clin Microbiol Rev. 2014;27(3):419–40. https://doi.org/10.1128/CMR.00092-13
Del Rosso JQ, Kim G. Optimizing use of oral antibiotic in acne vugaris. Dermatol Clin. 2009;27(1):33–42. https://doi.org/10.1016/j.det.2008.07.006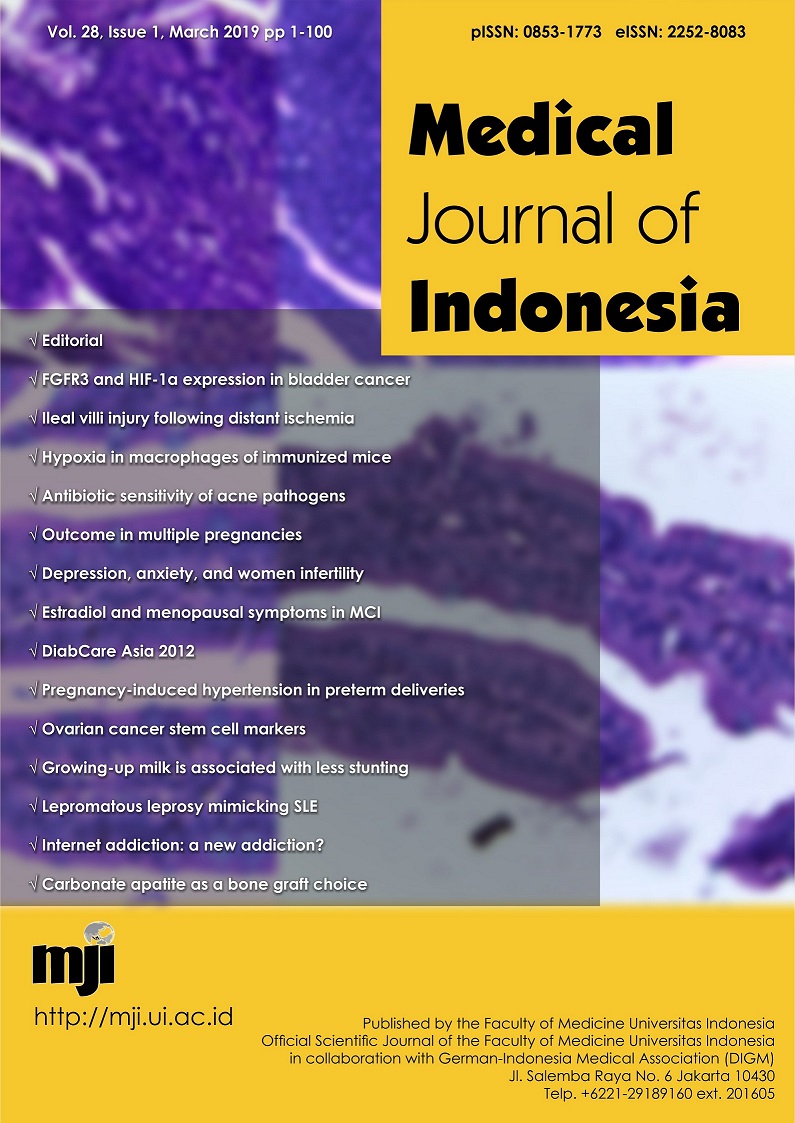 How to Cite
1.
Sitohang IBS, Fathan H, Effendi E, Wahid M. The susceptibility of pathogens associated with acne vulgaris to antibiotics. Med J Indones [Internet]. 2019May8 [cited 2023Oct.4];28(1):21-7. Available from: https://mji.ui.ac.id/journal/index.php/mji/article/view/2735
Section
Clinical Research
Copyright (c) 2019 Irma Bernadette S. Sitohang, Hafizah Fathan, Evita Effendi, Mardiastuti Wahid
This work is licensed under a Creative Commons Attribution-NonCommercial 4.0 International License.
Authors who publish with Medical Journal of Indonesia agree to the following terms:
Authors retain copyright and grant Medical Journal of Indonesia right of first publication with the work simultaneously licensed under a Creative Commons Attribution-NonCommercial License that allows others to remix, adapt, build upon the work non-commercially with an acknowledgment of the work's authorship and initial publication in Medical Journal of Indonesia.
Authors are permitted to copy and redistribute the journal's published version of the work non-commercially (e.g., post it to an institutional repository or publish it in a book), with an acknowledgment of its initial publication in Medical Journal of Indonesia.