Multifocal recurrence of medulloblastoma: a long follow-up case study
Benny Zulkarnaien

Department of Radiology, Faculty of Medicine, Universitas Indonesia, Cipto Mangunkusumo Hospital, Jakarta, Indonesia

Edwin Suharlim

Department of Radiology, Faculty of Medicine, Universitas Indonesia, Cipto Mangunkusumo Hospital, Jakarta, Indonesia

http://orcid.org/0000-0002-0781-3528

Eka Susanto

Department of Anatomical Pathology, Faculty of Medicine, Universitas Indonesia, Cipto Mangunkusumo Hospital, Jakarta, Indonesia

Soehartati Argadikoesoema Gondhowiardjo

Department of Radiation Oncology, Faculty of Medicine, Universitas Indonesia, Cipto Mangunkusumo Hospital, Jakarta, Indonesia

https://orcid.org/0000-0002-9446-4361
Keywords:
intra-axial mass, long follow-up, medulloblastoma, recurrence
Abstract
Medulloblastoma is the most common malignant brain tumor in pediatric patients. Leptomeningeal dissemination often occurs in the spinal canal and rarely into the supratentorial as an extra-axial lesion. This study followed an 8-year progression of multifocal medulloblastoma recurrence as supratentorial metastasis that mimics an intra-axial mass of the temporal lobe. Pathologic examination of the temporal mass showed densely packed small round blue cells that are distributed in a ribboning pattern with areas of necrosis, rosette formation, and mitosis. Ki-67 immunohistochemical staining of the tumor showed a high proliferation index of 40% and revealed positive results for synaptophysin and negative results for glial fibrillary acidic protein and β-catenin. A long follow-up is essential to diagnose the recurrence and elucidate the progression of medulloblastoma.
References
Dhall G. Medulloblastoma. J Child Neurol. 2009;24(11):1418-30. https://doi.org/10.1177/0883073809341668
Kumar S, Handa A, Jha DK, Choudhary A. Supratentorial metastasis of medulloblastoma in adults. Asian J Neurosurg. 2016;11(3):320. https://doi.org/10.4103/1793-5482.149993
Lee DS, Cho J, Kim SH, Kim DS, Shim KW, Lyu CJ, et al. Patterns of failure following multimodal treatment for medulloblastoma: long-term follow-up results at a single institution. Cancer Res Treat. 2015;47(4):879-88. https://doi.org/10.4143/crt.2014.067
Smoll NR, Drummond KJ. The incidence of medulloblastomas and primitive neurectodermal tumours in adults and children. J Clin Neurosci. 2012;19(11):1541-4. https://doi.org/10.1016/j.jocn.2012.04.009
Krishna V. Textbook of pathology. 1st ed. Hyderabad: Orient Longman Private Limited; 2004.
O'Brien WT. Imaging of primary posterior fossa brain tumors in children. J Am Osteopath Coll Radiol. 2013;2(3):2-12.
Perreault S, Ramaswamy V, Achrol AS, Chao K, Liu TT, Shih D, et al. MRI surrogates for molecular subgroups of medulloblastoma. Am J Neuroradiol. 2014;35(7):1263-9. https://doi.org/10.3174/ajnr.A3990
Verma A, Kumar I, Verma N, Aggarwal P, Ojha R. Magnetic resonance spectroscopy-revisiting the biochemical and molecular milieu of brain tumors. BBA Clin. 2016;5:170-8. https://doi.org/10.1016/j.bbacli.2016.04.002
Ozerov SS, Tereshchenko GV, Artemov AV, Kumirova EV, Samarin AE, Papusha LI, et al. MRI diagnosis of spinal metastasis of medulloblastoma. A clinical case and literature review. Zh Vopr Neirokhir Im N N Burdenko. 2015;79(5):72-6. https://doi.org/10.17116/neiro201579572-76
Meurer RT, Martins DT, Hilbig A, de Castro Ribeiro M, Roehe AV, Barbosa-Coutinho LM, et al. Immunohistochemical expression of markers Ki-67, neun, synaptophysin, p53 and HER2 in medulloblastoma and its correlation with clinicopathological parameters. Arq Neuropsiquiatr. 2008;66(2B):385 90. https://doi.org/10.1590/S0004-282X2008000300020
Yang Z, Wang KK. Glial fibrillary acidic protein: from intermediate filament assembly and gliosis to neurobiomarker. Trends Neurosci. 2015;38(6):364 74. https://doi.org/10.1016/j.tins.2015.04.003
Shih RY, Koeller KK. Embryonal tumors of the central nervous system: from the radiologic pathology archives. Radiographics. 2018;38(2):525-41. https://doi.org/10.1148/rg.2018170182
Wippold FJ 2nd, Perry A. Neuropathology for the neuroradiologist: rosettes and pseudorosettes. AJNR Am J Neuroradiol. 2006;27(3):488-92.
Ramaswamy V, Remke M, Bouffet E, Faria CC, Perreault S, Cho YJ, et al. Recurrence patterns across medulloblastoma subgroups: an integrated clinical and molecular analysis. Lancet Oncol. 2013;14(12):1200-7. https://doi.org/10.1016/S1470-2045(13)70449-2
Martin AM, Raabe E, Eberhart C, Cohen KJ. Management of pediatric and adult patients with medulloblastoma. Curr Treat Options Oncol. 2014;15(4):581-94. https://doi.org/10.1007/s11864-014-0306-4
Parkes J, Hendricks M, Ssenyonga P, Mugamba J, Molyneux E, Schouten-van Meeteren A, et al. SIOP PODC adapted treatment recommendations for standard-risk medulloblastoma in low and middle income settings. Pediatr Blood Cancer. 2015;62(4):553-64. https://doi.org/10.1002/pbc.25313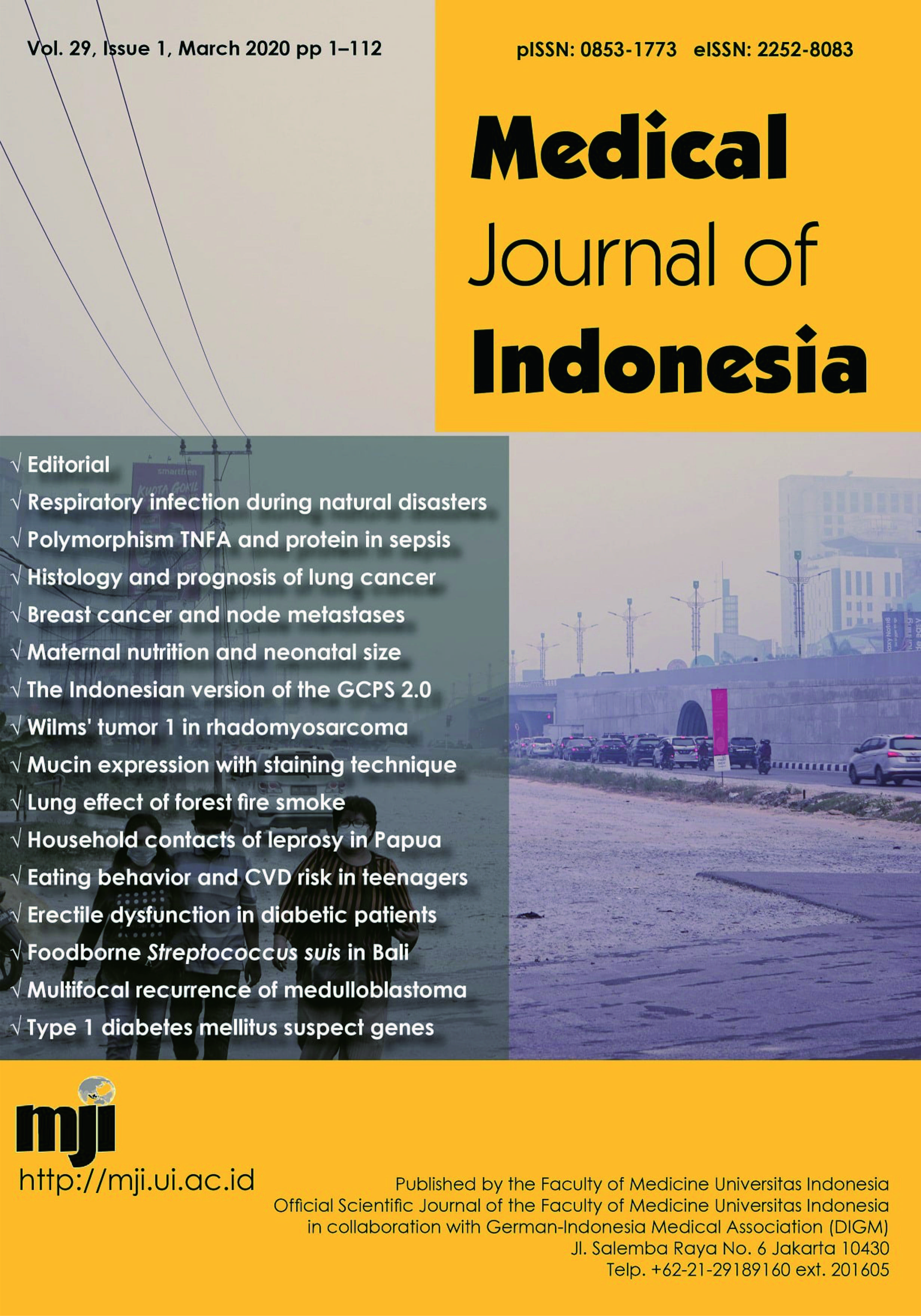 How to Cite
1.
Zulkarnaien B, Suharlim E, Susanto E, Gondhowiardjo SA. Multifocal recurrence of medulloblastoma: a long follow-up case study. Med J Indones [Internet]. 2020Mar.26 [cited 2023Dec.5];29(1):93-9. Available from: https://mji.ui.ac.id/journal/index.php/mji/article/view/3480
Section
Case Report/Series
Copyright (c) 2020 Benny Zulkarnaien, Edwin Suharlim
This work is licensed under a Creative Commons Attribution-NonCommercial 4.0 International License.
Authors who publish with Medical Journal of Indonesia agree to the following terms:
Authors retain copyright and grant Medical Journal of Indonesia right of first publication with the work simultaneously licensed under a Creative Commons Attribution-NonCommercial License that allows others to remix, adapt, build upon the work non-commercially with an acknowledgment of the work's authorship and initial publication in Medical Journal of Indonesia.
Authors are permitted to copy and redistribute the journal's published version of the work non-commercially (e.g., post it to an institutional repository or publish it in a book), with an acknowledgment of its initial publication in Medical Journal of Indonesia.