Plasma lipid pattern and red cell membrane structure in β-thalassemia patients in Jakarta
Seruni K.U. Freisleben

Jenny Hidayat

Hans-Joachim Freisleben

Soehardjo Poertadji

Budi Kurniawan

Na P. Bo

Sri Handayani

Pustika A. Wahidiyat

Rondang R. Soegianto
Keywords:
electron paramagnetic resonance spectroscopy, erythrocyte membrane, lipoproteins, oxidative stress, thalassemia, plasma lipids
Abstract
Background: Over the last 10 years, we have investigated thalassemia patients in Jakarta to obtain a comprehensive picture of iron overload, oxidative stress, and cell damage.
Methods: In blood samples from 15 transfusion-dependent patients (group T), 5 non-transfused patients (group N) and 10 controls (group C), plasma lipids and lipoproteins, lipid-soluble vitamin E, malondialdehyde (MDA) and thiol status were measured.  Isolated  eryhtrocyte  membranes  were  investigated  with  electron  paramagnetic  resonance  (EPR)  spectroscopy  using doxyl-stearic acid and maleimido-proxyl spin lables. Data were analyzed statistically with ANOVA.
Results: Plasma triglycerides were higher and cholesterol levels were lower in thalassemic patients compared to controls. Vitamin  E,  group  C:  21.8  vs  T:  6.2  μmol/L)  and  reactive  thiols  (C:  144  vs.  T:  61  μmol/L)  were  considerably  lower  in  transfused patients, who exert clear signs of oxidative stress (MDA, C: 1.96 vs T: 9.2 μmol/L) and of tissue cell damage, i.e.,  high  transaminases  plasma  levels.  Non-transfused  thalassemia  patients  have  slight  signs  of  oxidative  stress,  but  no  signifi  cant  indication  of  cell  damage.  Erythrocyte  membrane  parameters  from  EPR  spectroscopy  differ  considerably  between all groups. In transfusion-dependent patients the structure of the erythrocyte membrane and the gradients of polarity and fl uidity are destroyed in lipid domains; binding capacity of protein thiols in the membrane is lower and immobilized.
Conclusion: In  tranfusion-dependent  thalassemic  patients,  plasma  lipid  pattern  and  oxidative  stress  are  associated  with structural damage of isolated erythrocyte membranes as measured by EPR spectroscopy with lipid and protein-thiol spin labels. (Med J Indones 2011; 20:178-84)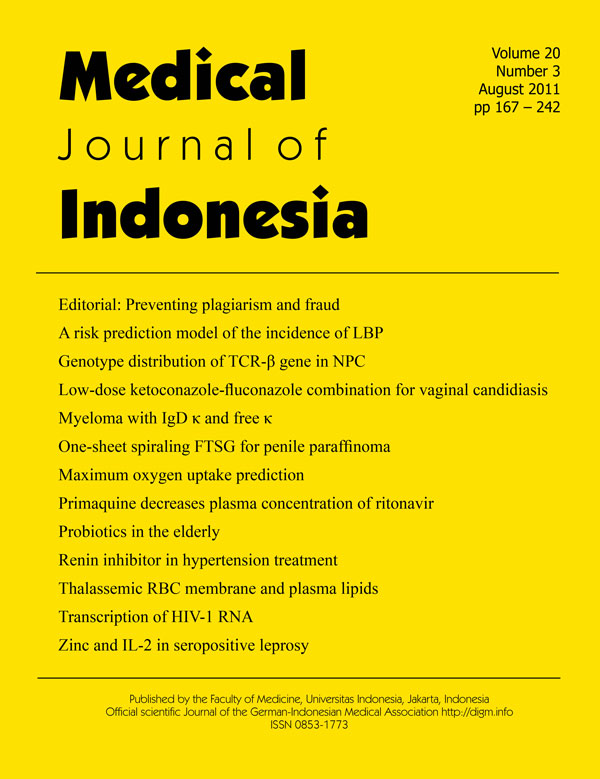 How to Cite
1.
Freisleben SK, Hidayat J, Freisleben H-J, Poertadji S, Kurniawan B, Bo NP, Handayani S, Wahidiyat PA, Soegianto RR. Plasma lipid pattern and red cell membrane structure in β-thalassemia patients in Jakarta. Med J Indones [Internet]. 2011Aug.1 [cited 2023Dec.5];20(3):178-84. Available from: https://mji.ui.ac.id/journal/index.php/mji/article/view/448
Section
Basic Medical Research
Copyright (c) 2011 Seruni K.U. Freisleben, Jenny Hidayat, Hans-Joachim Freisleben, Soehardjo Poertadji, Budi Kurniawan, Na P. Bo, Sri Handayani, Pustika A. Wahidiyat, Rondang R. Soegianto
This work is licensed under a Creative Commons Attribution-NonCommercial 4.0 International License.
Authors who publish with Medical Journal of Indonesia agree to the following terms:
Authors retain copyright and grant Medical Journal of Indonesia right of first publication with the work simultaneously licensed under a Creative Commons Attribution-NonCommercial License that allows others to remix, adapt, build upon the work non-commercially with an acknowledgment of the work's authorship and initial publication in Medical Journal of Indonesia.
Authors are permitted to copy and redistribute the journal's published version of the work non-commercially (e.g., post it to an institutional repository or publish it in a book), with an acknowledgment of its initial publication in Medical Journal of Indonesia.