Split cornea transplantation in anterior lamellar keratoplasty for limbal dermoid surgery: a case report
Dewinta Retno Kurniawardhani

Department of Ophthalmology, Faculty of Medicine, Universitas Indonesia, Cipto Mangunkusumo Hospital, Jakarta, Indonesia

Syska Widyawati

Department of Ophthalmology, Faculty of Medicine, Universitas Indonesia, Cipto Mangunkusumo Hospital, Jakarta, Indonesia

https://orcid.org/0000-0002-7119-5250

Rio Rhendy

Department of Ophthalmology, Faculty of Medicine, Universitas Indonesia, Cipto Mangunkusumo Hospital, Jakarta, Indonesia

Evelina Kodrat

Department of Pathological Anatomy, Faculty of Medicine, Universitas Indonesia, Cipto Mangunkusumo Hospital, Jakarta, Indonesia
Keywords:
cornea transplantation, dermoid cyst, host-graft reaction, keratoplasty, lamellar
Abstract viewed: 161 times PDF downloaded: 110 times HTML downloaded: 25 times EPUB downloaded: 43 times
Abstract
Limbal dermoid is a rare congenital lesion that can impair vision and raise aesthetic concerns. Surgery is frequently required to reduce discomfort and enhance visual outcomes. A 20-year-old woman presented with a limbal dermoid measuring 4.5 mm in diameter and half the depth of the stroma. Excision was performed with anterior lamellar keratoplasty (ALK) using a post-Descemet's membrane endothelial keratoplasty graft, which resulted in signs of graft failure. Re-surgery was then performed with post-Descemet's stripping endothelial keratoplasty graft. It yielded a clear graft with good visual acuity. The first corneal graft utilized 95% of the graft thickness to cover 55% of the defect, leading to poor host-donor apposition. The second graft employed 55–65% to cover the same portion of the defect. The proportional thickness of the graft is crucial for a successful ALK. Split cornea transplantation produces respectable results; however, the corneal thickness must be carefully considered.
References
Honavar SG, Manjandavida FP. Tumors of the ocular surface: a review. Indian J Ophthalmol. 2015;63(3):187-203. https://doi.org/10.4103/0301-4738.156912

Ramesh V. Limbal dermoid on clinical presentation, but on histology was epidermal cyst. Bombay Hosp J. 2008;50(2):295-8.

Zhong J, Deng Y, Zhang P, Li S, Huang H, Wang B, et al. New grading system for limbal dermoid: a retrospective analysis of 261 cases over a 10-year period. Cornea. 2018;37(1):66-71. https://doi.org/10.1097/ICO.0000000000001429

Cho WH, Sung MT, Lin PW, Yu HJ. Progressive large pediatric corneal limbal dermoid management with tissue glue-assisted monolayer amniotic membrane transplantation: a case report. Medicine (Baltimore). 2018;97(46):e13084. https://doi.org/10.1097/MD.0000000000013084

Choudhary DS, Agrawal N, Hada M, Paharia N. Massive corneal-epibulbar dermoid managed with pre-descemetic DALK and SLET. GMS Ophthalmol Cases. 2021;11:Doc05.

Lazzaro DR, Coe R. Repair of limbal dermoid with excision and placement of a circumlimbal pericardial graft. Eye Contact Lens. 2010;36(4):228-9. https://doi.org/10.1097/ICL.0b013e3181e465bf

Spierer O, Gologorsky D, Adler E, Forster RK. Lamellar keratoplasty with corneoscleral graft for limbal dermoids. Int J Ophthalmol. 2018;11(3):512-5.

Cha DM, Shin KH, Kim KH, Kwon JW. Simple keratectomy and corneal tattooing for limbal dermoids: results of a 3-year study. Int J Ophthalmol. 2013;6(4):463-6.

Pirouzian A. Management of pediatric corneal limbal dermoids. Clin Ophthalmol. 2013;7:607-14. https://doi.org/10.2147/OPTH.S38663

Wu KI, Chu HS, Pai AS, Hou YC, Lin SY, Chen WL, et al. Surgical management of limbal dermoids using anterior corneal buttons from descemet stripping automated endothelial keratoplasty donor tissue as patch grafts. Cornea. 2017;36(1):64-7. https://doi.org/10.1097/ICO.0000000000001021

Shen YD, Chen WL, Wang IJ, Hou YC, Hu FR. Full-thickness central corneal grafts in lamellar keratoscleroplasty to treat limbal dermoids. Ophthalmology. 2005;112(11):1955. https://doi.org/10.1016/j.ophtha.2005.06.015

Shimmura S. Component surgery of the cornea. Cornea. 2004;23(8 Suppl):S31-5. https://doi.org/10.1097/01.ico.0000136669.05036.d8

Al-Torbak A, Malak M, Teichmann KD, Wagoner MD. Presumed stromal graft rejection after deep anterior lamellar keratoplasty. Cornea. 2005;24(2):241-3. https://doi.org/10.1097/01.ico.0000141230.95601.95

Borderie VM, Guilbert E, Touzeau O, Laroche L. Graft rejection and graft failure after anterior lamellar versus penetrating keratoplasty. Am J Ophthalmol. 2011;151(6):1024-9.e1. https://doi.org/10.1016/j.ajo.2011.01.007

Panda A, Vanathi M, Kumar A, Dash Y, Priya S. Corneal graft rejection. Surv Ophthalmol. 2007;52(4):375-96. https://doi.org/10.1016/j.survophthal.2007.04.008

Godeiro KD, Coutinho AB, Pereira PR, Fernandes BF, Cassie A, Burnier MN Jr. Histopathological diagnosis of corneal button specimens: an epidemiological study. Ophthalmic Epidemiol. 2007;14(2):70-5. https://doi.org/10.1080/09286580600954330

Gonzalez A, Price MO, Feng MT, Lee C, Arbelaez JG, Price FW Jr. Immunologic rejection episodes after deep anterior lamellar keratoplasty: incidence and risk factors. Cornea. 2017;36(9):1076-82. https://doi.org/10.1097/ICO.0000000000001223

Vignery A. Macrophage fusion: molecular mechanisms. Methods Mol Biol. 2008;475:149-61. https://doi.org/10.1007/978-1-59745-250-2_9

Brodbeck WG, Anderson JM. Giant cell formation and function. Curr Opin Hematol. 2009;16(1):53-7. https://doi.org/10.1097/MOH.0b013e32831ac52e

Wilson SL, Sidney LE, Dunphy SE, Rose JB, Hopkinson A. Keeping an eye on decellularized corneas: a review of methods, characterization and applications. J Funct Biomater. 2013;4(3):114-61. https://doi.org/10.3390/jfb4030114

Huang AJ, Li DQ, Li CH, Shang TY, Hernandez E. Modulation of corneal vascularization. Ocul Surf. 2005;3(4 Suppl):S190-3. https://doi.org/10.1016/S1542-0124(12)70253-7

Azar DT. Corneal angiogenic privilege: angiogenic and antiangiogenic factors in corneal avascularity, vasculogenesis, and wound healing (an American Ophthalmological Society thesis). Trans Am Ophthalmol Soc. 2006;104:264-302.

Hori J, Yamaguchi T, Keino H, Hamrah P, Maruyama K. Immune privilege in corneal transplantation. Prog Retin Eye Res. 2019;72:100758. https://doi.org/10.1016/j.preteyeres.2019.04.002

Vajpayee RB, Sharma N, Jhanji V, Titiyal JS, Tandon R. One donor cornea for 3 recipients: a new concept for corneal transplantation surgery. Arch Ophthalmol. 2007;125(4):552-4. https://doi.org/10.1001/archopht.125.4.552

Sharma N, Agarwal P, Titiyal JS, Kumar C, Sinha R, Vajpayee RB. Optimal use of donor corneal tissue: one cornea for two recipients. Cornea. 2011;30(10):1140-4. https://doi.org/10.1097/ICO.0b013e318209d23c

Heindl LM, Riss S, Bachmann BO, Laaser K, Kruse FE, Cursiefen C. Split cornea transplantation for 2 recipients: a new strategy to reduce corneal tissue cost and shortage. Ophthalmology. 2011;118(2):294-301. https://doi.org/10.1016/j.ophtha.2010.05.025

Jhanji V, Mehta JS, Sharma N, Sharma B, Vajpayee RB. Targeted corneal transplantation. Curr Opin Ophthalmol. 2012;23(4):324-9. https://doi.org/10.1097/ICU.0b013e32835484a1

Sati A, Shankar S, Jha A, Gurunadh VS. Customised component corneal transplantation: a blessing for three patients. BMJ Case Rep. 2014;2014:bcr2014205579. https://doi.org/10.1136/bcr-2014-205579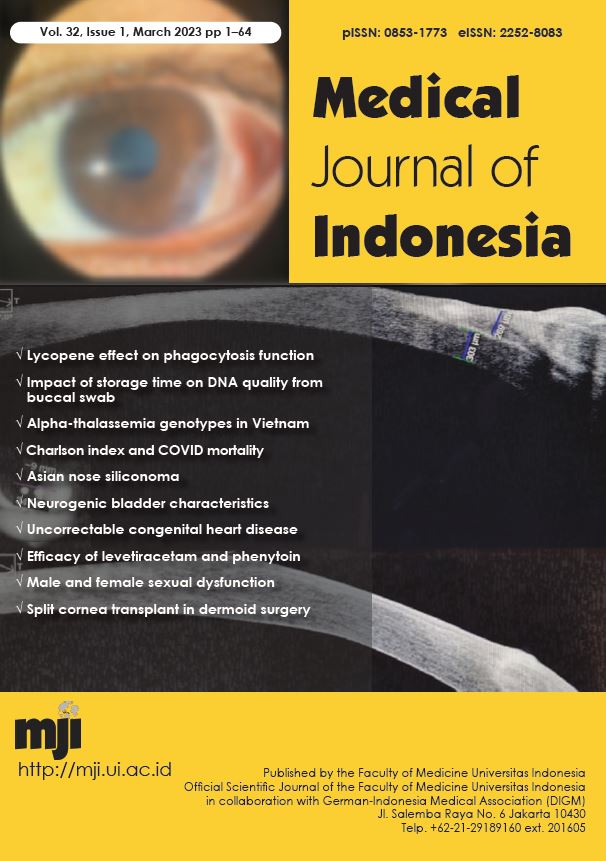 How to Cite
1.
Kurniawardhani DR, Widyawati S, Rhendy R, Kodrat E. Split cornea transplantation in anterior lamellar keratoplasty for limbal dermoid surgery: a case report. Med J Indones [Internet]. 2023Aug.4 [cited 2023Sep.30];32(1):58-3. Available from: https://mji.ui.ac.id/journal/index.php/mji/article/view/6824
Section
Case Report/Series
Copyright (c) 2023 Dewinta Retno Kurniawardhani, Syska Widyawati, Rio Rhendy, Evelina Kodrat
This work is licensed under a Creative Commons Attribution-NonCommercial 4.0 International License.
Authors who publish with Medical Journal of Indonesia agree to the following terms:
Authors retain copyright and grant Medical Journal of Indonesia right of first publication with the work simultaneously licensed under a Creative Commons Attribution-NonCommercial License that allows others to remix, adapt, build upon the work non-commercially with an acknowledgment of the work's authorship and initial publication in Medical Journal of Indonesia.
Authors are permitted to copy and redistribute the journal's published version of the work non-commercially (e.g., post it to an institutional repository or publish it in a book), with an acknowledgment of its initial publication in Medical Journal of Indonesia.