Primary rectal melanoma - a case report
Somak Das

Surgical Gastroenterology Apollo Hospital, Chennai, Tamilnadu

Tuhin S. Mandal

Department of General Surgery, NRS Medical College, Kolkata

Souvik Paul

Department of General Surgery, Calcutta Medical College, Kolkata

Purnendu Datta

Department of General Surgery, Burdwan Medical College, Kolkata

Aloke K. Sinhababu

Institute of Postgraduate Medical Education & Research, Kolkata
Keywords:
malignant melanoma, rectum, radical excision
Abstract viewed: 1449 times PDF downloaded: 637 times
Abstract
The most common site for malignant melanoma is skin, then eye and third is anorectal region. Primary anorectal malignant melanoma is still very uncommon. It is usually very aggressive and presents with altered bowel habit and rectal bleeding. Proctoscopy shows non-pigmented or lightly pigmented polypoid lesion. Histopathology is confirmatory. Early radical excision is mandatory. A 56 year-old female was presented with malignant melanoma of the lower third of rectum. We report this case for its rarity.
References
Wanebo HJ, Woodruff JM, Farr GH, Quan SH. Anorectal melanoma. Cancer. 1981 Apr 1;47(7):1891-900. http://dx.doi.org/10.1002/1097-0142(19810401)47:7<1891::AID-CNCR2820470730>3.0.CO;2-K

Moore R. Recurrent melanosis of the rectum, after previous removal from the verge of the anus, in a man aged sixty-five. Lancet. 1857;69(1751):290. http://dx.doi.org/10.1016/S0140-6736(02)20230-5

Roumen RM. Anorectal melanoma in The Netherlands: a report of 63 patients. Eur J Surg Oncol. 1996 Dec;22(6):598-601. http://dx.doi.org/10.1016/S0748-7983(96)92346-X

Helmke BM, Otto HF. Anorectal melanoma. A rare and highly malignant tumor entity of the anal canal. Pathologe. 2004;25(3):171-7. German http://dx.doi.org/10.1007/s00292-003-0640-y

Goldman S1, Glimelius B, Påhlman L. Anorectal malignant melanoma in Sweden. Dis Colon Rectum. 1990;33(10):874-7. http://dx.doi.org/10.1007/BF02051925

Weinstock MA. Epidemiology and prognosis of anorectal melanoma. Gastroenterology. 1993;104(1):174-8.

Chang AE, Karnell LH, Menck HR. The National Cancer Data Base report on cutaneous and noncutaneous melanoma: a summary of 84,836 cases from the past decade. The American College of Surgeons Commission on Cancer and the American Cancer Society. Cancer. 1998;83(8):1664-78. http://dx.doi.org/10.1002/(SICI)1097-0142(19981015)83:8<1664::AID-CNCR23>3.0.CO;2-G

Podnos YD, Tsai NC, Smith D, Ellenhorn JD. Factors affecting survival in patients with anal melanoma. Am Surg. 2006;72(10):917-20.

Weyandt GH, Eggert AO, Houf M, Raulf F, , Bröcker EB, Becker JC. Anorectal melanoma: surgical management guidelines according to tumour thickness. Br J Cancer. 2003;89(11):2019-22. http://dx.doi.org/10.1038/sj.bjc.6601409

Ozgüroglu M, Ozaras R, Tahan V, Demirkesen C, Demir G, Dogusoy G, et al. Anorectal melanoma metastatic to the breast. J Clin Gastroenterol. 1999;29(2):197-9. http://dx.doi.org/10.1097/00004836-199909000-00021

Thibault C, Sagar P, Nivatvongs S, Ilstrup DM, Wolff BG. Anorectal melanoma- an incurable disease?. Dis Colon Rectum. 1997;40(6):661-8. http://dx.doi.org/10.1007/BF02140894

Hillenbrand A, Barth TF, Henne-Bruns D, Formentini A. Anorectal amelanotic melanoma. Colorectal Dis. 2008;10(6):612-5. http://dx.doi.org/10.1111/j.1463-1318.2007.01400.x

Pantalone D, Taruffi F, Paolucci R, Liguori P, Rastrelli M, Andreoli F. Malignant melanoma of the rectum. Eur J Surg. 2000;166(7):583-4. http://dx.doi.org/10.1080/110241500750008709

Cooper PH, Mills SE, Allen MS Jr. Malignant melanoma of the anus: report of 12 patients and analysis of 255 additional cases. Dis Colon Rectum. 1982;25(7):693-703. http://dx.doi.org/10.1007/BF02629543

Yap LB, Neary P. A comparison of wide local excision with abdominoperineal resection in anorectal melanoma. Melanoma Res. 2004;14(2):147-50. http://dx.doi.org/10.1097/00008390-200404000-00012

Poggi SH, Madison JF, Hwu WJ, Bayar S, Salem RR. Colonic melanoma, primary or regressed primary. J Clin Gastroenterol. 2000;30(4):441-4. http://dx.doi.org/10.1097/00004836-200006000-00019

Stoidis CN, Spyropoulos BG, Misiakos EP, Fountzilas CK, Paraskeva PP, Fotiadis CI. Diffuse anorectal melanoma; review of the current diagnostic and treatment aspects based on a case report. World J Surg Oncol. 2009;7:64. http://dx.doi.org/10.1186/1477-7819-7-64

Ulmer A, Metzger S, Fierlbeck G. Successful palliation of stenosing anorectal melanoma by intratumoral injections with natural interferon-beta. Melanoma Res. 2002;12(4):395-8. http://dx.doi.org/10.1097/00008390-200208000-00013

Yeh JJ, Weiser MR, Shia J, Hwu WJ. Response of stage IV anal mucosal melanoma to chemotherapy. Lancet Oncol. 2005;6(6);438-9. http://dx.doi.org/10.1016/S1470-2045(05)70212-6

Belli F, Gallino G, Tragni G, Andreola S, Leo E. Surgical and pathological prognostic factors in anorectal melanoma: The experience of the National Cancer Institute of Milano. Proceedings 12th Congress of the European Society of Surgical Oncology. Budapest; 2004:77.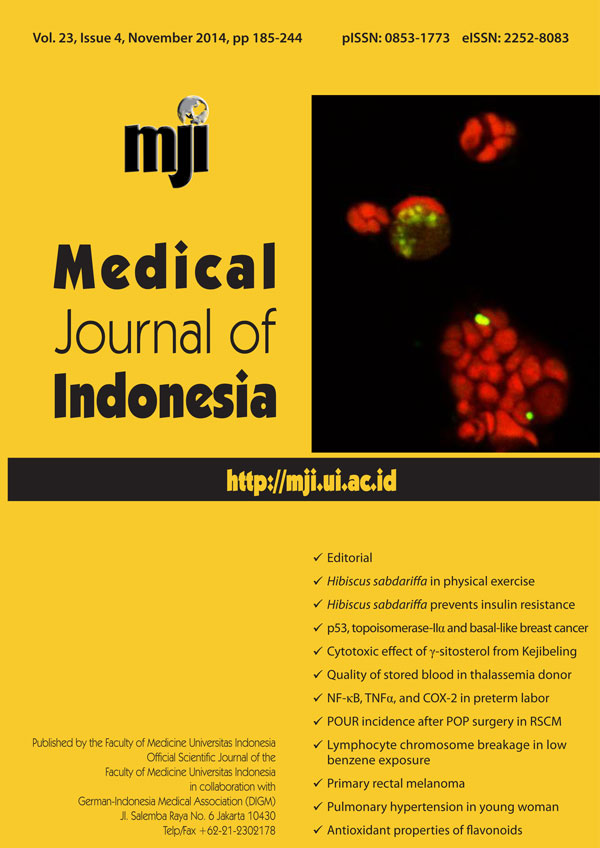 How to Cite
1.
Das S, Mandal TS, Paul S, Datta P, Sinhababu AK. Primary rectal melanoma - a case report. Med J Indones [Internet]. 2015Jan.27 [cited 2023Mar.29];23(4):229-31. Available from: http://mji.ui.ac.id/journal/index.php/mji/article/view/1006
Section
Case Report/Series
Copyright (c) 2015 Somak Das, Tuhin S. Mandal, Souvik Paul, Purnendu Datta, Aloke K. Sinhababu
This work is licensed under a Creative Commons Attribution-NonCommercial 4.0 International License.
Authors who publish with Medical Journal of Indonesia agree to the following terms:
Authors retain copyright and grant Medical Journal of Indonesia right of first publication with the work simultaneously licensed under a Creative Commons Attribution-NonCommercial License that allows others to remix, adapt, build upon the work non-commercially with an acknowledgment of the work's authorship and initial publication in Medical Journal of Indonesia.
Authors are permitted to copy and redistribute the journal's published version of the work non-commercially (e.g., post it to an institutional repository or publish it in a book), with an acknowledgment of its initial publication in Medical Journal of Indonesia.