ABOUT JOURNAL
| 
CITATIONS
|
STATISTIC
|
SUBMISSIONS
 |
ABSTRACTING & INDEXING
---
This quarterly medical journal is an official scientific journal of the Faculty of Medicine Universitas Indonesia in collaboration with German-Indonesian Medical Association (DIGM).
Abstracted and indexed in: Academic Journals Database, ASEAN Citation Index, BASE, CAB Abstracts, CiteFactor, CNKI, DOAJ, DRJI, EBSCO host, Electronic Journals Library, Embase, ESCI, Global Health, Google Scholar, Hinari, IMSEAR, ISC, ISJD, IPI, JournalTOCs, Open Access Articles, PKP index, Proquest, Scilit, Scopus, Ulrichsweb Global Serial Directory, WorldCat.
Accredited (2013-2018) by the Directorate General of Higher Education of the Ministry of Education and Culture of the Republic of Indonesia (No:58/DIKTI/Kep/2013).
Announcements
Update for subscribers in Indonesia

Thank you for all the readers that have subscribed this journal, Medical Journal of Indonesia. We would like to announce that starting from 2018, the price of the printed journal version is updated only for subscribers in Indonesia.

Posted: 2018-05-30
More...
Vol 27, No 1 (2018): March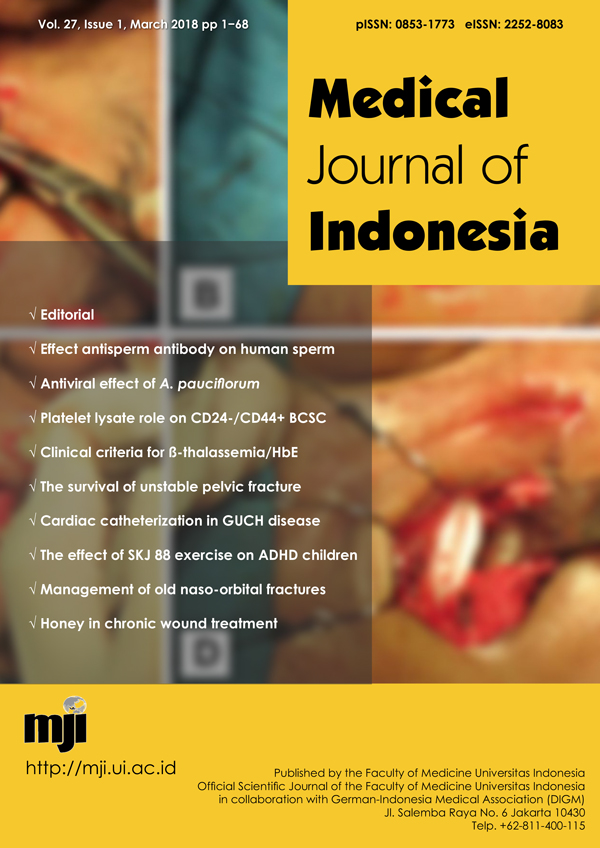 Table of Contents
Editorial
| | | |
| --- | --- | --- |
| | Agus Rizal A.H. Hamid | 1-2 |
Basic Medical Research
| | | |
| --- | --- | --- |
| | Dwi A. Pujianto, Hajizah Hajizah, Indra G. Mansur, Amarudin Amarudin | 3-11 |
| | | |
| --- | --- | --- |
| | Sri Hartati, Chie Aoki, Muhammad Hanafi, Marissa Angelina, Pratiwi Soedarmono, Hak Hotta | 12-8 |
| | | |
| --- | --- | --- |
| | Wiwi A. Kartolo, Jeanne A. Pawitan, Alida R. Harahap, Septelia I. Wanandi | 19-25 |
Clinical Research
| | | |
| --- | --- | --- |
| | Pustika A. Wahidiyat, Sudigdo Sastroasmoro, Suthat Fucharoen, Iswari Setianingsih, Siti A. Putriasih | 26-32 |
| | | |
| --- | --- | --- |
| | Komang A. Irianto, Muhammad Z. Chilmi, Gana Adyaksa | 33-7 |
| | | |
| --- | --- | --- |
| | Luh G.A.P. Dewi, Ni P.V.K. Yantie, Eka Gunawijaya | 38-43 |
Community Research
| | | |
| --- | --- | --- |
| | Listya T. Mirtha, Rini Sekartini | 44-53 |
Case Report
| | | |
| --- | --- | --- |
| | Alia Arianti, Yunia Irawati | 54-61 |
| | | |
| --- | --- | --- |
| | Putu E.P. Kefani, Ida B.A.D. Putra, Ratna R.N. Roosseno | 62-8 |