Permanent flame-blunted monofilament of middle cerebral artery occlusion technique for ischemia stroke induction in animal models
Yetty Ramli

Department of Neurology, Faculty of Medicine, Universitas Indonesia, Cipto Mangunkusumo National Hospital, Jakarta

Ahmad S. Alwahdy

Department of Neurology, Faculty of Medicine, Universitas Indonesia, Cipto Mangunkusumo National Hospital, Jakarta

Mohammad Kurniawan

Department of Neurology, Faculty of Medicine, Universitas Indonesia, Cipto Mangunkusumo National Hospital, Jakarta

Berry Juliandi

Department of Biology, Institut Pertanian Bogor, Bogor

Puspita E. Wuyung

Department of Pathology Anatomy, Faculty of Medicine, Universitas Indonesia, Cipto Mangunkusumo National Hospital, Jakarta

Yayi D.B. Susanto

Department of Pathology Anatomy, Faculty of Medicine, Universitas Indonesia, Cipto Mangunkusumo National Hospital, Jakarta
Keywords:
middle cerebral artery occlusion, monofilament, rat
Abstract viewed: 1781 times PDF downloaded: 698 times HTML downloaded: 228 times EPUB downloaded: 132 times
Abstract
Background: Rat is the most frequently used animal for ischemic stroke studies. Recently, middle cerebral artery occlusion (MCAO) by introducing various types of surgical monofilament intraluminally has been widely used, with their advantages and disadvantages. For permanent occlusion, problems with mortality in rats are higher than transient. In this study, we used permanent occlusion using modified monofilament by flaming on its tip which may reduce mortality rate, so that chronic phase of stroke can be learned extensively.
Methods: Three male Sprague-Dawley rats underwent permanent MCAO. The flame-blunted monofilament was introduced through common carotid artery. Hematoxylin eosin histopathology confirmation and functional assessment post-stroke induction were then evaluated.
Results: Evaluation was conducted on 3 rats in different time post-stroke induction (48 hours, 72 hours, and 3 weeks). Using histopathological examination, the infarction was proved in all 3 rats showing red neurons, perivascular edema and neutrophil spongiosis, in infarct and peri-infarct area. The changes in histopathology showed spongiosis were more dominant in 3 week-post-MCAO rats. On the other hand, red neurons and perivascular edema were less compared to 48 and 72-hour-post-MCAO rats.
Conclusion: Flame-blunted monofilament showed its efficacy in producing infarct area. The advantages of this technique are easy to perform with simple and less expensive modification of the monofilament. Conducting successful permanent occlusion with less mortality rate will give chances to do further research on stroke in chronic phase and its effect on novel treatment.
References
Bacigaluppi M, Comi G, Hermann DM. Animal models of ischemic stroke. Part two; modelling cerebral ischemia. Open Neurol J. 2010;4:34-8. https://doi.org/10.2174/1874205X01004010034

Park SY, Marasini S, Kim GH, Ku T, Choi C, Park MY, et al. A method for generate a mouse model of stroke: evaluation of parameters for blood flow, behavior, and survival. Exp Neurobiol. 2014;23(1):104-14. https://doi.org/10.5607/en.2014.23.1.104

Kaya AH, Erdogan H, Tasdemiroglu E. Searching evidences of stroke in animal models: a review of discrepancies. Turk Neurosurg. 2016;27(2):167-73. https://doi.org/10.5137/1019-5149.JTN.15373-15.2

Casals JB, Pieri NCG, Feitosa MLT, Ercolin ACM, Roballo KCS, Barreto RSN, et al. The use of animal models for stroke research: a review. Comp Med. 2011;61(4):305-13.

Molina CA, Saver JL. Extending reperfusion therapy for acute Ischemic stroke. Emerging pharmacological, mechanical, and imaging stategies. Stroke. 2005;36:2311-20.

Saver JL, Goyal M, vander Lugt A, Menon BK, Majole CBLM, Dippel DW, et al. Time to treatment with endovascular thrombectomy and outcomes from Ischemic stroke: a meta-analysis. JAMA. 2016;316:1279-88. https://doi.org/10.1001/jama.2016.13647

Fluri F, Schuhmann MK, Kleinschnitz C. Animal models of Ischemic stroke and their application in clinical research. Drug Des Devel Ther. 2015;9:3445-54. https://doi.org/10.2147/DDDT.S56071

Canazza A, Minati L, Boffano C, Parati E, Binks S. Experimental models of brain ischemia: a review of techniques, magnetic resonance imaging, and investigational cell-based therapies. Front Neurol. 2014;5:1-9. https://doi.org/10.3389/fneur.2014.00019

Longa, EZ, Weinstein PR, Carlson S, Cummins R. Reversible middle cerebral artery occlusion without craniectomy in rats. Stroke. 1989;20:84-91. https://doi.org/10.1161/01.STR.20.1.84

Chou WH., Choi DS, Zhang H, Mu D, McMahon T, Kharazia VN, et al. Neutrophil protein kinase Cdelta as a mediator of stroke-reperfusion injury. J Clin Invest. 2004;114:49-56. https://doi.org/10.1172/JCI200421655

Macrae IM. Preclinical stroke research-advantages and disadvantages of the most common rodent models of focal ischaemia. Br J Clin Pharmacol. 2011;164:1062-78. https://doi.org/10.1111/j.1476-5381.2011.01398.x

Rupadevi M, Parasuraman S, Raveedran R. Protocol for middle cerebral artery occlusion by an intraluminal suture method. J Pharmacother. 2011;2:36â9. https://doi.org/10.4103/0976-500X.77113

Guan Y,Wang Y, Yuan F, Lu H, Ren Y, et al. Effect of Suture Properties on Stability of Middle Cerebral Artery Occlusion Evaluated by Synchrotron Radiation Angiography. Stroke. 2012;43:888-91. https://doi.org/10.1161/STROKEAHA.111.636456

Lubjuhn J, Gastens A, Von WG, Bargiotas P, Herrmann O, Murikinati S, et al. Functional testing in a mouse stroke model induced by occlusion of the distal middle cerebral artery. J Neurosci Methods. 2009;184:95-103. https://doi.org/10.1016/j.jneumeth.2009.07.029

Rosell A, Agin V, Rahman M, Morancho A, Ali C, Koistinaho J, et al. Distal occlusion of the middle cerebral artery in mice: Are we ready to assess long-term functional outcome? Transl Stroke Res. 2013;4:297-307. https://doi.org/10.1007/s12975-012-0234-1

Margatitescu O, Mogoanta L, Pirici I, Pirici D, Cernea D,l. Histopathological changes in acute ischemic stroke. Rom J Morphol Embryol. 2009;50:327-39.

Colak G, Fillano A J, Johnson GV. The application of permanent middle cerebral artery in the mouse. J Vis Exp. 2011;53:1-4. https://doi.org/10.3791/3039

Tamura A, Graham DI, McCulloch J, Teasdale GM . Focal cerebral ischemia in the rat: 1. Description of technique and early neuropathological consequences following middle cerebral artery occlusion. J Cereb Blood Flow Metab. 1981;1:53-60. https://doi.org/10.1038/jcbfm.1981.6

Van Bruggen N, Thibodeaux H, Palmer JT, Lee WP, Fu L, Cairns B et al. VEGF antagonism reduces edema formation and tissue damage after ischemia/reperfusion injury in the mouse brain. J Clin Invest. 1999;104:1613â20. https://doi.org/10.1172/JCI8218

Kano T, Katayama Y, Tejima E, Lo EH. Hemorrhagic transformation after fibrinolytic therapy with tissue plasminogen activator in a rat thromboembolic model of stroke. Brain Res. 2000;854:245-8. https://doi.org/10.1016/S0006-8993(99)02276-3

Li F, Omae F, Fisher M. Spontaneous hyperthermia and its mechanism in the intraluminal suture middle cerebral artery occlusion model of rats. Stroke. 1999;30:2464-70. https://doi.org/10.1161/01.STR.30.11.2464

Herson PS., Traystman R. Animal model of stroke: translational potential at present and in 2050. Future Neurol. 2014;9:541-51. https://doi.org/10.2217/fnl.14.44

Braeuninger S, Kleinschnitz C. Rodent models of focal cerebral ischemia: procedural pitfalls and translational problems. Exp Transl Stroke Med. 2009;1:8. https://doi.org/10.1186/2040-7378-1-8

Guzel A, Rolz R, Nikkhah G, Kalert U.D, Maciaczyk J. A microsurgical procedure for middle cerebral artery occlusion by intraluminal monofilament insertion technique in the rat: a special emphasis on the methodology. Exp Transl Stroke Med. 2014;6:6. https://doi.org/10.1186/2040-7378-6-6

Yi Yang, Gary A.R. Blood-brain barrier breakdown in acute and chronic cerebrovascular disease. Stroke. 2011;42:3323-8. https://doi.org/10.1161/STROKEAHA.110.608257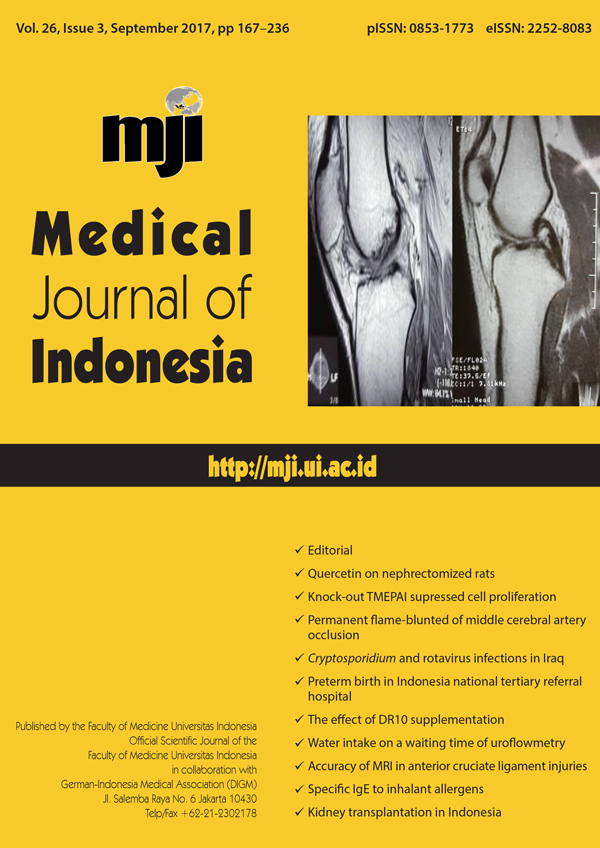 How to Cite
1.
Ramli Y, Alwahdy AS, Kurniawan M, Juliandi B, Wuyung PE, Susanto YD. Permanent flame-blunted monofilament of middle cerebral artery occlusion technique for ischemia stroke induction in animal models. Med J Indones [Internet]. 2017Nov.27 [cited 2023Jun.1];26(3):183-9. Available from: http://mji.ui.ac.id/journal/index.php/mji/article/view/1645
Section
Basic Medical Research
Copyright (c) 2017 Yetty Ramli, Ahmad S. Alwahdy, Mohammad Kurniawan, Berry Juliandi, Puspita E. Wuyung, Yayi D.B. Susanto
This work is licensed under a Creative Commons Attribution-NonCommercial 4.0 International License.
Authors who publish with Medical Journal of Indonesia agree to the following terms:
Authors retain copyright and grant Medical Journal of Indonesia right of first publication with the work simultaneously licensed under a Creative Commons Attribution-NonCommercial License that allows others to remix, adapt, build upon the work non-commercially with an acknowledgment of the work's authorship and initial publication in Medical Journal of Indonesia.
Authors are permitted to copy and redistribute the journal's published version of the work non-commercially (e.g., post it to an institutional repository or publish it in a book), with an acknowledgment of its initial publication in Medical Journal of Indonesia.