<em>Cryptosporidium spp.</em> and rotavirus gastroenteritis and change of incidence after rotavirus vaccination among children in Raparin Pediatrics Hospital, Erbil, Iraq
Sally S. Azeez

Department of Medical Diagnostic Laboratory, Raparin Pediatrics Hospital, Erbil

Hadi M. Alsakee

Department of Microbiology, College of Medicine, Hawler Medical University, Erbil
Keywords:
cryptosporidiosis, gastroenteritis, rotavirus, vaccine
Abstract
Background: Watery diarrhea is the most common medical problem among infants and young children, caused by different microbial etiology including Cryptosporidium spp. and rotavirus, which are usually misdiagnosed in conventional stool test. This study aimed to investigate the incidence of Cryptosporidium and rotavirus gastroenteritis among children in Erbil as well as evaluate the efficacy of rotavirus vaccination procedure applied in Erbil.
Methods: Fecal specimens were collected from 400 children (boys and girls), aged one month to five years old, who attended Raparin Pediatrics Hospital in Erbil complaining from diarrhea, between January to August 2014. Modified Ziehl Neelsen technique and nested PCR were used for detection of cryptosporidiosis while rotavirus infection was detected by rapid CerTest.
Results: Rate of detection of cryptosporidiosis was remarkably higher using PCR than Ziehl-Neelsen stain (0% versus 6%), and the infection was slightly higher among boys (6.25% vs 5.55%) and children ≤ 2 years (11.7%). The peak of infection reached during spring season (March and April) (9.5%). The detection rate of rotavirus was 32.0%, which was slightly higher among males (34.4% vs 30.0%) and in children between one to three years old (39.3%). The highest detection rate (38.6%) was recorded during winter season (January and February). The infection was significantly higher among non-vaccinated children (65.9% vs 14.1%; p<0.05).
Conclusion: The incidence of cryptosporidiosis is declining. However, rotavirus gastroenteritis was relatively high among young children in Erbil. Rotateq vaccine significantly reduced the incidence of rotavirus infection.
References
Nyarango RM, Aloo PA, Kabiru EW, Nyanchongi BO. The risk of pathogenic intestinal parasite infections in Kisii Municipality, Kenya. BMC Public Health. 2008;8:237. https://doi.org/10.1186/1471-2458-8-237
Maikai B V, Umoh JU, Lawal IA, Kudi AC, Ejembi CL, Xiao L. Molecular characterizations of Cryptosporidium, Giardia, and Enterocytozoon in humans in Kaduna State, Nigeria. Exp Parasitol. 2012;131(4):452-6. https://doi.org/10.1016/j.exppara.2012.05.011
Waldron LS, Dimeski B, Beggs PJ, Ferrari BC, Power ML. Molecular epidemiology, spatiotemporal analysis, and ecology of sporadic human cryptosporidiosis in Australia. Appl Environ Microbiol. 2011;77(21):7757-65. https://doi.org/10.1128/AEM.00615-11
Areeshi MY., Beeching NJ., Hart CA. Cryptosporidiosis in Saudi Arabia and neighboring countries. Ann Saudi Med. 2007;27(5):325-32. https://doi.org/10.5144/0256-4947.2007.325
Adamu H, Endeshaw T, Teka T, Kifle A, Petros B. The prevalence of intestinal parasites in paediatric diarrhoeal and non-diarrhoeal patients in Addis Ababa hospitals, with special emphasis on opportunistic parasitic infections and with insight into the demographic and socio-economic factors. Ethiop J Heal Dev. 2006;20(1):39-46. https://doi.org/10.4314/ejhd.v20i1.10010
Sim S, Yu J, Lee Y, et al. Prevalence of Cryptosporidium Infection among Inhabitants of 2 Rural Areas in White Nile State, Sudan. 2015;53(6):745-7. https://doi.org/10.3347/kjp.2015.53.6.745
Narci H, Ugur M, Kisinma A, Turan H. Age distribution and seasonal pattern of rotavirus infection in children under 5 years. Jundishapur J Microbiol. 2013;6(1):16-9. https://doi.org/10.5812/jjm.4626
Stephenson J. Health in Iraq. Jama. 2007;297(19):2069. https://doi.org/10.1001/jama.297.19.2069-a
Casemore DP. Laboratory methods for diagnosing cryptosporidiosis. J Clin Pathol. 1991;44(6):445-51. https://doi.org/10.1136/jcp.44.6.445
Helmy YA, Krücken J, Nöckler K, von Samson- Himmelstjerna G, Zessin KH. Molecular epidemiology of Cryptosporidium in livestock animals and humans in the Ismailia province of Egypt. Vet Parasitol. 2013;193(1–3):15–24. https://doi.org/10.1016/j.vetpar.2012.12.015
Koyee QM, Faraj AM. Prevalence of Cryptosporidium Spp. With other intestinal microorganisms among regular visitors of raparin pediatric hospital in Erbil City- Kurdistan Region, Iraq. Zanco J Pure Appl Sci. 2015;27(4):57-64.
Ali FM, Ali SAK. Cryptosporidosis in Sulaimini Pediatric Teaching Hospital and comparison of different diagnostic methods for its detection. Eur Sci J. 2013;9(36):454-64.
Saneian H, Yaghini O, Yaghini A, Modarresi M-R, Soroshnia M. Infection rate of Cryptosporidium parvum among diarrheic children in Isfahan. Iran J Pediatr. 2010;20(3):343-7.
Iqbal J, Khalid N, Hira PR. Cryptosporidiosis in Kuwaiti children: Association of clinical characteristics with cryptosporidium species and subtypes. J Med Microbiol. 2011;60(5):647-52. https://doi.org/10.1099/jmm.0.028001-0
Mahgoub ES, Almahbashi A, Abdulatif B. Cryptosporidiosis in children in a north Jordanian paediatric hospital. East Mediterr Heal J. 2004;10(4-5):494-501.
Tahira, F, Khan, HM, Shukla I, Fatima, S, Malik, MA , Shahid M. Prevalence of Cryptosporidium in children with diarrhoea in North Indian Tertiary Care Hospital. J Community Med Heal Educ. 2012;2(3):1-3. https://doi.org/10.4172/jcmhe.1000136
Ahmed HM, Coulter JBS, Nakagomi O, et al. Molecular characterization of rotavirus gastroenteritis strains, Iraqi Kurdistan. Emerg Infect Dis. 2006;12(5):824-6. https://doi.org/10.3201/eid1205.051422
Mor SM, Tzipori S. Cryptosporidiosis in children in Sub-Saharan Africa: a lingering challenge. Clin Infect Dis. 2008;47(7):915-21. https://doi.org/10.1086/591539
Ceyhan M, Alhan E., Salman N., et al. Multicenter prospective study on the burden of rotavirus gastroenteritis in Turkey, 2005-2006: A hospital-based study. J Infect Dis. 2009;200(Suppl 1):S234-8. https://doi.org/10.1086/605056
Elliott EJ, Dalby-Payne J. 2. Acute infectious diarrhoea and dehydration in children. Med J Aust. 2004;181(10):565-70.
Hasson DAJ. Prevalence of rota virus infection among children with acute gastroenteritis in Thi-Qar governorate. Thi-Qar Med J. 2009;3(1):88-100.
Yasir S. Diagnostic Study on NSP5 of human rotavirus in Najaf Governorate. Kufa J Nurs Sci. 2015;5(3):1-9.
Youssef M, Shurman A, Bougnoux M, Rawashdeh M, Bretagne S, Strockbine N. Bacterial, viral and parasitic enteric pathogens associated with acute diarrhea in hospitalized children from northern Jordan. FEMS Immunol Med Microbiol. 2000;28(3):257-63. https://doi.org/10.1111/j.1574-695X.2000.tb01485.x
Dulgheroff ACB, Figueiredo EF, Moreira LP, Moura LM, Gouvêa VS, Domingues AL. Distribution of rotavirus genotypes after vaccine introduction in the Triângulo Mineiro region of Brazil: 4-Year follow-up study. J Clin Virol. 2012;55(1):67–71. https://doi.org/10.1016/j.jcv.2012.06.003
Desselberger U, Huppertz HI. Immune responses to rotavirus infection and vaccination and associated correlates of protection. J Infect Dis. 2011;203(2):188-95. https://doi.org/10.1093/infdis/jiq031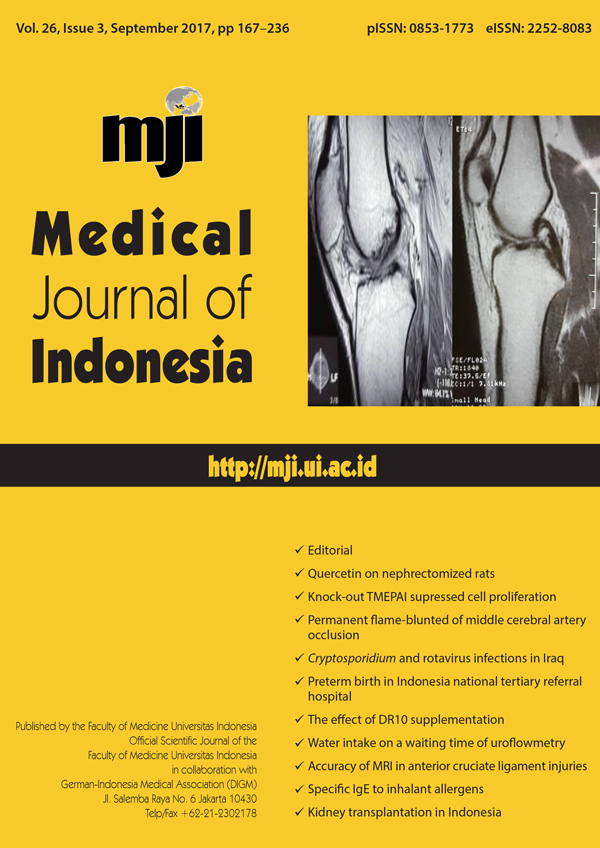 How to Cite
1.
Azeez SS, Alsakee HM. <em>Cryptosporidium spp.</em&gt; and rotavirus gastroenteritis and change of incidence after rotavirus vaccination among children in Raparin Pediatrics Hospital, Erbil, Iraq. Med J Indones [Internet]. 2017Nov.27 [cited 2023Nov.29];26(3):190-7. Available from: http://mji.ui.ac.id/journal/index.php/mji/article/view/1957
Section
Clinical Research
Copyright (c) 2017 Sally S. Azeez, Hadi M. Alsakee
This work is licensed under a Creative Commons Attribution-NonCommercial 4.0 International License.
Authors who publish with Medical Journal of Indonesia agree to the following terms:
Authors retain copyright and grant Medical Journal of Indonesia right of first publication with the work simultaneously licensed under a Creative Commons Attribution-NonCommercial License that allows others to remix, adapt, build upon the work non-commercially with an acknowledgment of the work's authorship and initial publication in Medical Journal of Indonesia.
Authors are permitted to copy and redistribute the journal's published version of the work non-commercially (e.g., post it to an institutional repository or publish it in a book), with an acknowledgment of its initial publication in Medical Journal of Indonesia.