The use of lower formalin-containing embalming solution for anatomy cadaver preparation
Viskasari P. Kalanjati

Lucky Prasetiowati

Haryanto Alimsardjono
Keywords:
Anatomy specimen, cadaver preparation, low formaldehyde solution
Abstract viewed: 2819 times PDF downloaded: 1087 times
Abstract
Background: We used cadaver embalming technique with a high concentration of formaldehyde (37% formaldehyde). However, it gives toxic effects which can endanger the technicians, lecturers and students. For that reason, the effective, efficient and safer embalming process is needed; in this article we describe the use of low formalin solution (5-7.5% formaldehyde) to achieve prior purposes.
Methods: Cadaver is embalmed by actively pumping low formalin-containing solution (5-7.5%) via femoral arteries. Further methods are detailed in this manuscript.
Results: Paler cadaver with more intact and easier to dissect specimen (drier and still moist with no fungal growth) was resulted by using this low formalin technique.
Conclusion: The use of low formalin-containing solution in cadaver embalming gave good quality results for anatomy teaching. (Med J Indones. 2012;21:203-7)
References
Coleman R, Kogan I. An improved low-formaldehyde embalming fluid to preserve cadavers for anatomy teaching. J Anat. 1998;192:443-6. https://doi.org/10.1046/j.1469-7580.1998.19230443.x

O'Sulivan E, Mitchell BS. An improved composition for embalming fluid to preserve cadaver for anatomy teaching in the United Kingdom. J Anat. 1993;182:295-7.

Saeed M, Rufai AA, Elsayed SE. Mummification to plastination. Saudi Med J. 2001;22(11):965-9.

Moore CM, Brown CM. Gunther von Hagens and body worlds part 1: the anatomist as prosektor and proplastiker. Anat Rec B New Anat. 2004;276(1):8-14. https://doi.org/10.1002/ar.b.20003

von Hagens G, Tiedemann K, Kriz W. The current potential of plastination. Anat Embryol (Berl). 1987;175(4):411-21. https://doi.org/10.1007/BF00309677

McQuillan PM, LeGrande Y, Wade R. Use of plastinated human specimens in teaching regional anesthetic techniques. International Journal of Plastination. 1994;8(1):15-8.

Dixit D, Athavia PD, Pathak HM. Toxic effects of embalming fluid on medical students and professionals. JIAFM. 2005;27(4):209-11.

Whitehead MC, Savoia MC. Evaluation of methods to reduce formaldehyde level of cadavers in the dissection laboratory. Clin Anat. 2008;21(1):75-81. https://doi.org/10.1002/ca.20567

Anderson SD. Practical light embalming technique for use in the surgical fresh tissue dissection laboratory. Clin Anat. 2006;19(1):8-11. https://doi.org/10.1002/ca.20216

Levine RL, Kieves S, Cathey G, Blinchevsky A, Acland R, Thompson R, et al. The use of lightly embalmed (fresh tissue) cadavers for resident laparoscopic training. J Minim Invasive Gynecol. 2006;13(5):451-6. https://doi.org/10.1016/j.jmig.2006.06.011

Paustenbach D, Alarie Y, Kulie T, Scahchter R, Smith N, Swenberg J, et al. A recommended occupational exposure limit for formaldehyde based on irritation. J Toxicol Environ Health.1997;50(3):217-63. https://doi.org/10.1080/009841097160465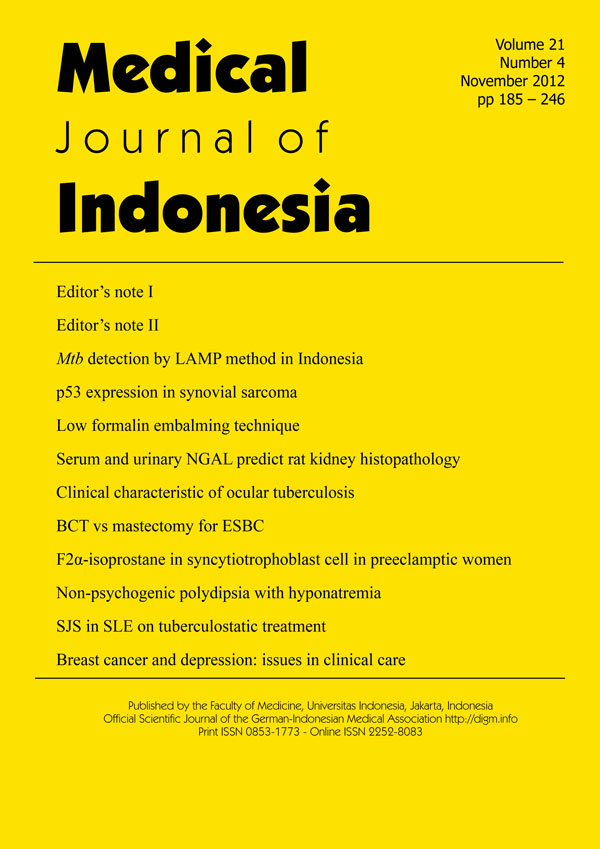 How to Cite
1.
Kalanjati VP, Prasetiowati L, Alimsardjono H. The use of lower formalin-containing embalming solution for anatomy cadaver preparation. Med J Indones [Internet]. 2012Nov.1 [cited 2021Dec.6];21(4):203-7. Available from: http://mji.ui.ac.id/journal/index.php/mji/article/view/505
Section
Basic Medical Research
Copyright (c) 2012 Viskasari P. Kalanjati, Lucky Prasetiowati, Haryanto Alimsardjono
This work is licensed under a Creative Commons Attribution-NonCommercial 4.0 International License.
Authors who publish with Medical Journal of Indonesia agree to the following terms:
Authors retain copyright and grant Medical Journal of Indonesia right of first publication with the work simultaneously licensed under a Creative Commons Attribution-NonCommercial License that allows others to remix, adapt, build upon the work non-commercially with an acknowledgment of the work's authorship and initial publication in Medical Journal of Indonesia.
Authors are permitted to copy and redistribute the journal's published version of the work non-commercially (e.g., post it to an institutional repository or publish it in a book), with an acknowledgment of its initial publication in Medical Journal of Indonesia.