The effect of ACTH4-10Pro8Gly9Pro10 and HMG-CoA reductase inhibitor in moderate head injury: clinical outcome and serum Bcl-2 concentration
Suzy Indharty

Departement of Neurosurgery, Faculty of Medicine, Universitas Sumatera Utara, Medan, Indonesia
Keywords:
ACTH4-10Pro8Gly9Pro10, Bcl-2, traumatic brain injury
Abstract viewed: 1392 times PDF downloaded: 650 times
Abstract
Background: An important component of brain tissue damage is apoptotic neuronal death. Bcl-2 is an anti-apoptotic protein, which inhibits the intrinsic pathway of apoptosis. ACTH4-10Pro8Gly9Pro10 and HMG-CoA reductase inhibitor are known for their neuroprotective effects. This study aimed to compare the effect of standard therapy, ACTH4-10Pro8Gly9Pro10, and HMG-CoA reductase inhibitor (simvastatin 40 mg/day) on serum Bcl-2 levels, clinical outcome, and reduction of hospital stay.
Methods: Sixty subjects with moderate head injury without any indication for surgery were taken consecutively and separated into three groups: standard treatment only (control group), standard treatment combined with ACTH4-10Pro8Gly9Pro10, and standard treatment combined with inhibitor of HMG-CoA reductase. Blood samples were taken on day-1 and day-5 from each subject for measurement of Bcl-2 concentration. Barthel Index and MMSE were measured at discharge and hospital length of stay was noted. Difference in mean was analyzed with one way ANOVA and correlation between Bcl-2 and clinical outcome was measured with Pearson correlation test.
Results: Bcl-2 serum levels on day-1 and day-5 were tespectively as follows: in control group were 1.39 ± 0.75 and 1.48 ± 0.77 ng/mL; in ACTH4-10Pro8Gly9Pro10 group 1.39 ± 0.70 and 3.70 ± 1.01 ng/mL which was significantly higher compared to other groups and associated with the shortest length of stay. In simvastatin group, 1.53 ± 0.55 and 2.17 ± 0.56 ng/mL. We found the length of stay in the ACTH4-10Pro8Gly9Pro10 group to be significantly shorter (p < 0.001). The correlation of clinical outcome (Barthel index and MMSE) with serum Bcl-2 levels was not significant.
Conclusion: ACTH4-10Pro8Gly9Pro10 significantly increased serum Bcl-2 concentration in head injury and associated with shorter length of stay. An increase of serum Bcl-2 concentration was also found in simvastatin group, but it was not significant. (Med J Indones. 2013;22:221-6. doi: 10.13181/mji.v22i4.604)
References
Faul M, Xu L, Wald MM, Coronado V. Traumatic brain injury in the United States: emergency department visits, hospitalizations and deaths 2002–2006. Atlanta, GA: CDC, National Center for Injury Prevention and Control; 2010.

Marshall LF. Head injury: recent past, present, and future. Neurosurgery. 2000;47(3):546-61. http://dx.doi.org/10.1097/00006123-200009000-00002

Yakovlev AG, Faden AI. Caspase-dependent apoptotic pathways in CNS injury. Mol Neurobiol. 2001;24(1-3):131-44. http://dx.doi.org/10.1385/MN:24:1-3:131

Hockenbery D, Nunez G, Milliman C, Schreiber RD, Korsmeyer SJ. Bcl-2 is an inner mitochondrial membrane protein that blocks programmed cell death. Nature. 1990;348(6299):334-6. http://dx.doi.org/10.1038/348334a0

Danial NN, Korsmeyer SJ. Cell death: critical control points. Cell. 2004;116(2):205-19. http://dx.doi.org/10.1016/S0092-8674(04)00046-7

Shacka JJ, Roth KA. Regulation of neuronal cell death and neurodegeneration by members of the Bcl-2 family: therapeutic implication. Curr Drug Targets CNS Neurol Disord. 2005;4(1):25-39. http://dx.doi.org/10.2174/1568007053005127

Clark RS, Chen J, Watkins SC, Kochanek PM, Chen M, Stetler RA, et al. Apoptosis-suppressor gene bcl-2 expression after traumatic brain injury in rats. J Neurosci. 1997;17(23):9172-82.

Chen J, Simon RP, Nagayama T, Zhu R, Loeffert JE, Watkins SC, et al. Suppression of endogenous bcl-2 expression by antisense treatment exacerbates ischemic neuronal death. J Cereb Blood Flow Metab. 2000;20(7):1033-9. http://dx.doi.org/10.1097/00004647-200007000-00002

Skvortsova VI, Gusev EI, Efremova NM, Gubskaya OB, Zhuravleva EY, Myasoedov NF. Effects of neuropeptide Semax (ACTH 4-10) in acute ischemic stroke. European Journal of Neurology. 2002;9 Suppl 2:164.

Balduini W, Mazzoni E, Carloni S, De Simoni MG, Perego C, Sironi L, et al. Prophylactic but not delayed administration of simvastatin protects against long-lasting cognitive and morphological consequences of neonatal hypoxic-ischemic brain injury, reduces interleukin-1beta and tumor necrosis factor-alpha mRNA induction, and does. Stroke. 2003;34(8):2007-12.

Vaughan CJ, Delanty N, Basson CT. Do statins afford neuroprotection in patients with cerebral ischaemia and stroke? CNS Drugs. 2001;15(8):589-96. http://dx.doi.org/10.2165/00023210-200115080-00002

Jick H, Zornberg GL, Jick SS, Seshadri S, Drachman DA. Statins and the risk of dementia. Lancet. 2000;356(9242):1627-31. http://dx.doi.org/10.1016/S0140-6736(00)03155-X

Zacco A, Togo J, Spence K, Ellis A, Lloyd D, Furlong S, et al. 3-Hydroxy-3-methylglutaryl coenzyme A reductase inhibitors protect cortical neurons from excitotoxicity. J Neurosci. 2000;23(11):104-11.

Johnson-Anuna LN, Eckert GP, Keller JH, Igbavboa U, Franke C, Fechner T, et al. Chronic administration of statins alters multiple gene expression patterns in mouse cerebral cortex. J Pharmacol Exp Ther. 2000;312(2):786-93. http://dx.doi.org/10.1124/jpet.104.075028

Kraus JF, McArthur DL. Epidemiology of head injury. In: Cooper PR, editor. Head injury. Baltimore: Williams & Wilkins; 2003. p. 1-26.

Bruns J, Hauser WA. The epidemiology of traumatic brain injury: a review. Epilepsia. 2003;44 Suppl 10:2-10. http://dx.doi.org/10.1046/j.1528-1157.44.s10.3.x

Uzan M, Erman H, Tanriverdi T, Sanus GZ, Kafadar A, Uzun H. Evaluation of apoptosis in cerebrospinal fluid of patients with severe head injury. Acta Neurochir (Wien). 2006;148(11):1157-64. http://dx.doi.org/10.1007/s00701-006-0887-1

Wagner AK, McCullough EH, Niyonkuru C, Ozawa H, Loucks TL, Dobos JA, et al. Acute serum hormone levels: characterization and prognosis after severe traumatic brain injury. J Neurotrauma. 2011;28(6):871-88. http://dx.doi.org/10.1089/neu.2010.1586

Johson-Anuna LN, Eckert GP, Franke C, Igbavboa U, Muller WE, Wood WG. Simvastatin protects neuron from cytotoxicity by up-regulating Bcl-2 m-RNA and protein. J Neurochem. 2007;101(1):77-86. http://dx.doi.org/10.1111/j.1471-4159.2006.04375.x

Franke C, Nöldner M, Abdel-Kader R, Johnson-Anuna LN, Wood G, Müller WE, et al. Bcl-2 upregulation and neuroprotection in guinea pig brain following chronic simvastatin treatment. Neurobiol Dis. 2007;25(2):438-45. http://dx.doi.org/10.1016/j.nbd.2006.10.004

Clark RS, Kochanek PM, Adelson PD, Bell M, Carcillo J, Chen M, et al. Increases in bcl-2 protein in cerebrospinal fluid and evidence for programmed cell death in infants and children after severe traumatic brain injury. J Pediatr. 2000;137(2):197-204. http://dx.doi.org/10.1067/mpd.2000.106903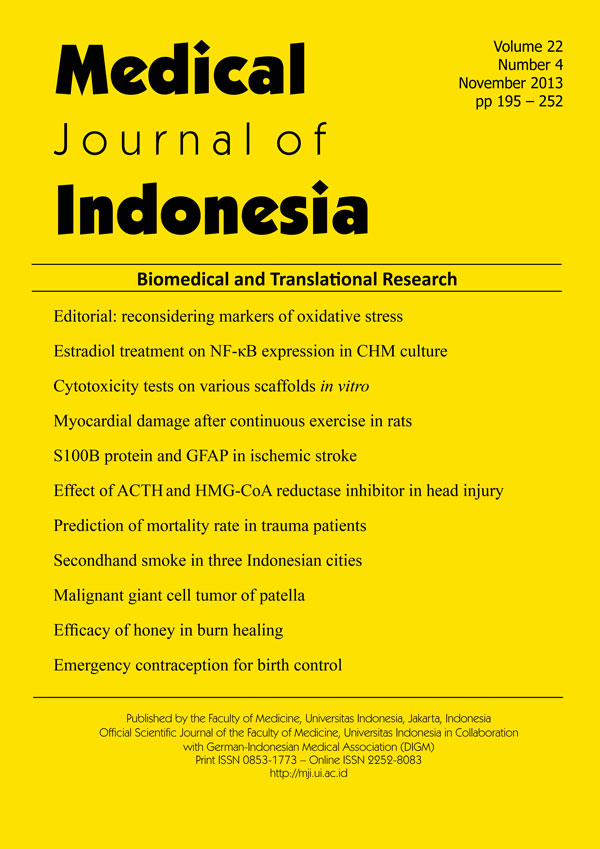 How to Cite
1.
Indharty S. The effect of ACTH<sub>4-10</sub>Pro<sup>8</sup>Gly<sup>9</sup>Pro<sup>10</sup&gt; and HMG-CoA reductase inhibitor in moderate head injury: clinical outcome and serum Bcl-2 concentration. Med J Indones [Internet]. 2013Dec.13 [cited 2023Jun.4];22(4):221-6. Available from: http://mji.ui.ac.id/journal/index.php/mji/article/view/604
Section
Clinical Research
Copyright (c) 2013 Suzy Indharty
This work is licensed under a Creative Commons Attribution-NonCommercial 4.0 International License.
Authors who publish with Medical Journal of Indonesia agree to the following terms:
Authors retain copyright and grant Medical Journal of Indonesia right of first publication with the work simultaneously licensed under a Creative Commons Attribution-NonCommercial License that allows others to remix, adapt, build upon the work non-commercially with an acknowledgment of the work's authorship and initial publication in Medical Journal of Indonesia.
Authors are permitted to copy and redistribute the journal's published version of the work non-commercially (e.g., post it to an institutional repository or publish it in a book), with an acknowledgment of its initial publication in Medical Journal of Indonesia.