A rare case of migration of ballistic projectile from left to right main bronchus
Edwin Yosef Widjaja

Department of Thoracic, Cardiac, and Vascular Surgery, Faculty of Medicine, Universitas Airlangga, Dr. Soetomo General Academic Hospital, Surabaya, Indonesia

https://orcid.org/0000-0001-5072-497X

Dhihintia Jiwangga

Department of Thoracic, Cardiac, and Vascular Surgery, Faculty of Medicine, Universitas Airlangga, Dr. Soetomo General Academic Hospital, Surabaya, Indonesia

https://orcid.org/0000-0002-6767-0768

Chikita Nur Rachmi

Department of Thoracic, Cardiac, and Vascular Surgery, Dr. Ramelan Navy Hospital, Surabaya, Indonesia
Keywords:
ballistic projectile, bronchus, foreign-body migration, thoracotomy
Abstract viewed: 310 times PDF downloaded: 227 times HTML downloaded: 52 times EPUB downloaded: 70 times
Abstract
A foreign body in the bronchus due to a ballistic projectile is very uncommon. A 45-year-old man presented to the hospital after being accidentally shot. The initial radiographic assessment found a bullet in his left thoracic cavity. With the help of an X-ray, an urgent left posterolateral thoracotomy was conducted, but no foreign body was found. The foreign body had migrated to the contralateral chest cavity, as determined by the C-arm. On the following day, a thorax computed tomography scan was conducted, and it was discovered that the foreign body had already migrated to the right lower bronchus. A right thoracotomy was then performed to remove the foreign body. He was moved to the intensive care unit and discharged with a stable condition. In conclusion, migration of a foreign body in the bronchus is rare. A thorough strategy is required to prevent the object from migrating even further.
References
Shields TW, LoCicero J, Reed CE, Feins RH, editors. General thoracic surgery. 7th ed. Philadelphia, Lippincott Williams & Wilkins; 2009.

Wiseman NE. The diagnosis of foreign body aspiration in childhood. J Pediatr Surg. 1984;19(5):531-5. https://doi.org/10.1016/S0022-3468(84)80097-4

O'Connor JV, Haan JM, Wright JL. Spent bullet in the bronchus. Am Surg. 2006;72(4):345-6. https://doi.org/10.1177/000313480607200414

Swanson KL, Edell ES. Tracheobronchial foreign bodies. Chest Surg Clin N Am. 2001;11(4):861-72.

Rhee PM, Moore EE, Joseph B, Tang A, Pandit V, Vercruysse G. Gunshot wounds: a review of ballistics, bullets, weapons, and myths. J Trauma Acute Care Surg. 2016;80(6):853-67. https://doi.org/10.1097/TA.0000000000001037

Holmen LB. Gunshot wounds to the chest [Internet]. Universitetet i Oslo; 2013 [cited 2021 Feb 9]. Available from: https://www.duo.uio.no/bitstream/handle/10852/38984/Prosjektoppgave---skuddskader-i-brystet.pdf?sequence=1.

Inci I, Ozçelik C, Taçyildiz I, Nizam O, Eren N, Ozgen G. Penetrating chest injuries: unusually high incidence of high-velocity gunshot wounds in civilian practice. World J Surg. 1998;22(5):438-42. https://doi.org/10.1007/s002689900412

O'Connor JV, Adamski J. The diagnosis and treatment of non-cardiac thoracic trauma. J R Army Med Corps. 2010;156(1):5-14. https://doi.org/10.1136/jramc-156-01-02

Patterson GA, Cooper JD, Deslauriers J, Lerut AEMR, Luketich JD, Rice TW, editors. Pearson's thoracic and esophageal surgery, 3rd ed. Philadelphia: Churchill Livingstone; 2008.

Patrini D, Lawrence D, Lampridis S, Minervini F, Giorgi L, Palermo R, et al. The role of a multidisciplinary team in chest wall trauma management. J Vis Surg. 2020;6:19. https://doi.org/10.21037/jovs.2019.12.01

Babatasi G, Massetti M, Bhoyroo S, Le Page O, Khayat A. Pulmonary artery bullet injury following thoracic gunshot wound. Eur J Cardiothorac Surg. 1999;15(1):87-90. https://doi.org/10.1016/S1010-7940(98)00264-4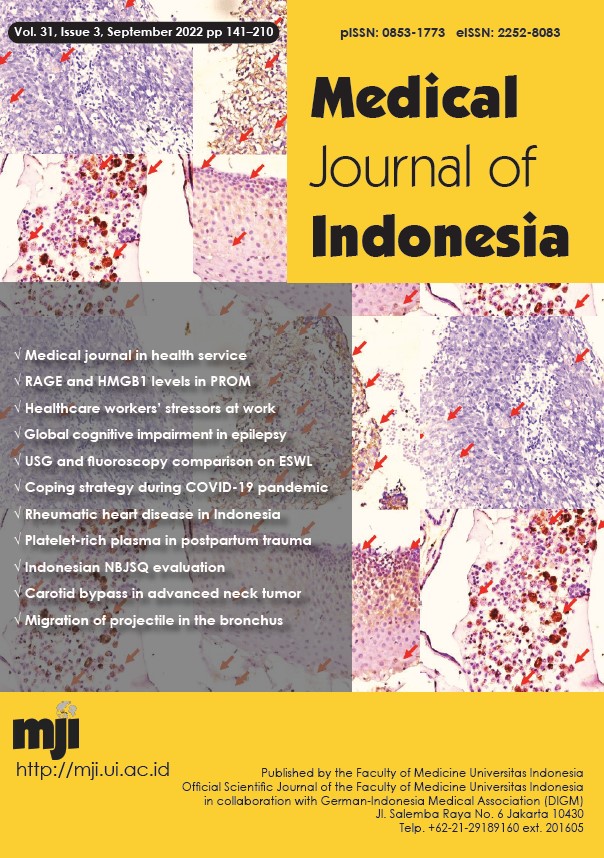 How to Cite
1.
Widjaja EY, Jiwangga D, Rachmi CN. A rare case of migration of ballistic projectile from left to right main bronchus. Med J Indones [Internet]. 2022Dec.2 [cited 2023May31];31(3):207-10. Available from: http://mji.ui.ac.id/journal/index.php/mji/article/view/6125
Section
Case Report/Series
Copyright (c) 2022 Edwin Yosef Widjaja, Dhihintia Jiwangga, Chikita Nur Rachmi
This work is licensed under a Creative Commons Attribution-NonCommercial 4.0 International License.
Authors who publish with Medical Journal of Indonesia agree to the following terms:
Authors retain copyright and grant Medical Journal of Indonesia right of first publication with the work simultaneously licensed under a Creative Commons Attribution-NonCommercial License that allows others to remix, adapt, build upon the work non-commercially with an acknowledgment of the work's authorship and initial publication in Medical Journal of Indonesia.
Authors are permitted to copy and redistribute the journal's published version of the work non-commercially (e.g., post it to an institutional repository or publish it in a book), with an acknowledgment of its initial publication in Medical Journal of Indonesia.