Delayed diagnosis of nasopharyngeal carcinoma in a patient with early signs of unilateral ear disorder
Marlinda Adham

Department of Otorhinolaryngology, Faculty of Medicine, Universitas Indonesia, Cipto Mangunkusumo Hospital, Jakarta

Dadan Rohdiana

Department of Otorhinolaryngology, Faculty of Medicine, Universitas Indonesia, Cipto Mangunkusumo Hospital, Jakarta

Ika D. Mayangsari

Department of Otorhinolaryngology, Faculty of Medicine, Universitas Indonesia, Cipto Mangunkusumo Hospital, Jakarta

Zanil Musa

Department of Otorhinolaryngology, Faculty of Medicine, Universitas Indonesia, Cipto Mangunkusumo Hospital, Jakarta
Abstract viewed: 1969 times PDF downloaded: 3364 times
Abstract
Nasopharyngeal carcinoma (NPC) is the most frequent head and neck malignancy in Indonesia. Misdiagnosis of NPC is common because of unspecific symptoms as unilateral ear complaint. This case reminds doctors of the early symptoms of NPC and of other factors which lead to misdiagnosis and addresses also patients and their families. Reported is a 44 years old man with unilateral ear disorder that had been treated by otorhinolaryngologists, an ophthalmologist, a neurologist, and dentist first, but diagnosed with nasopharyngeal carcinoma stage IVA (T4N1M0) one year later. NPC has unspecific early symptoms such as unilateral ear disorder. Primarily doctors, but also patients and their families should be aware of unilateral ear complaint.
Keywords: misdiagnosis, nasopharyngeal carcinoma, unilateral ear disorders
References
Yoshizaki T, Ito M, Murono S, Wakisaka N, Kondo S, Endo K. Current understanding and management of nasopharyngeal carcinoma. Auris Nasus Larynx. 2012;39(2):137-44. http://dx.doi.org/10.1016/j.anl.2011.02.012

Tabuchi K, Nakayama M, Nishimura B, Hayashi K, Hara A. Early detection of nasopharyngeal carcinoma. International Journal of Otolaryngology. 2011;2011:1-6. http://dx.doi.org/10.1155/2011/638058

Chan AT, Teo PM, Johnson PJ. Nasopharyngeal carcinoma. Ann Oncol. 2002;13(7):1007-15. http://dx.doi.org/10.1093/annonc/mdf179

Adham M, Kurniawan AN, Muhtadi AI, Roezin A, Hermani B, Gondhowiardjo S, et al. Nasopharyngeal carcinoma in Indonesia: epidemiology, incidence, signs, and symptoms at presentation. Chin J Cancer. 2012;31(4):185-96. http://dx.doi.org/10.5732/cjc.011.10328

Wildeman MA, Fles R, Adham M, Mayangsari ID, Luirink I, Sandberg M, et al. Short-term effect of different teaching methods on nasopharyngeal carcinoma for general practitioners in Jakarta, Indonesia. Plos ONE. 2012;7(3):1-7. http://dx.doi.org/10.1371/journal.pone.0032756

Low WKC, Rangabashyam M. Ear-related issues in patients with nasopharyngeal carcinoma. In: Chen SS, editor. Carcinogenesis, diagnosis, and molecular targeted treatment for nasopharyngeal carcinoma. Croatia: InTech; 2012. p. 155-78.

Daniel A, Fasunla AJ. Nasopharyngeal cancer mimicking otitic barotrauma in a resource-challenged center: a case report. J Med Case Rep. 2011;5:532. http://dx.doi.org/10.1186/1752-1947-5-532

Lee AW, Poon YF, Foo W, Law SC, Cheung FK, Chan DK, et al. Retrospective analysis of 5037 patients with nasopharyngeal carcinoma treated during 1976-1985: overall survival and patterns of failure. Int J Radiat Oncol Biol Phys. 1992;23(2):261-70. http://dx.doi.org/10.1016/0360-3016(92)90740-9

Sing TT, Subramaniam SK. Factors of late presentation and diagnosis of nasopharyngeal carcinoma in Sarawak Malaysia. The Internet Journal of Head and Neck Surgery. 2007;1(1):1.

Abdullah NE, Adam AAM, Khalifa EH, Hassan LAM, Ibrahim ME, Hamad KM, et al. Nasopharyngeal cancer in Sudan: epidemiology, clinical and histological characteristics. Clin Med Insights Ear Nose Throat. 2011;4:5-11. http://dx.doi.org/10.4137/CMENT.S5825

Abdullah B, Alias A, Hassan S. Challenges in the management of nasopharyngeal carcinoma: a review. Malays J Med Sci. 2009;16(4):50-4.

Muthanna AO, Alaryani A. Clinical presentation of nasopharyngeal cancer in Yemen. Egypt J Biomed Sci. 2007;23(1):237-43. http://dx.doi.org/10.4314/ejbs2.v23i1.40306

Alabi BS, Badmos KB, Afolabi OA, Buhari MO, Segun-Busari S. Clinico-pathological pattern of nasopharyngeal carcinoma in Ilorin, Nigeria. Niger J Clin Pract. 2010;13(4):445-8.

Al-Rajhi N, El-Sebaie M, Khafaga Y, AlZahrani A, Mohamed G, Al-Amro A. Nasopharyngeal carcinoma in Saudi Arabia: clinical presentation and diagnostic delay. East Mediterr Health J. 2009;15(5):1301-7.

Prasad U, Pua KC. Nasopharyngeal carcinoma: a delay in diagnosis. Med J Malaysia. 2000;55(2):230-5.

Mackie AM, Epstein JB, Wu JS, Stevenson-Moore P. Nasopharyngeal carcinoma: the role of the dentist in assessment, early diagnosis and care before and after cancer therapy. Oral Oncol. 2000;36(5):397-403. http://dx.doi.org/10.1016/S1368-8375(00)00034-8

Smerq, J. Sharma, M. The Risk Factor: Nasopharyngeal Carcinoma. IJPCR. 2011;3(3):48-51.

Glynn F, Keogh IJ, Ali TA, Timon CI, Donnelly M. Routine nasopharyngeal biopsy in adults presenting with isolated serous otitis media: is it justified? J Laryngol Otol. 2006;120(6):439-41. http://dx.doi.org/10.1017/S0022215106000685

Brennan B. Nasopharyngeal carcinoma. Orphanet Journal of Rare Diseases. 2006;1:23. http://dx.doi.org/10.1186/1750-1172-1-23

Wei WI, Sham JST. Nasopharyngeal carcinoma. Lancet. 2005;365(9476):2041-54. http://dx.doi.org/10.1016/S0140-6736(05)66698-6

IARC. Pathology and genetics of head and neck tumours. World Health Organization Classification of Tumours. Lyon. 2005.

Hsu HC, Chen CL, Hsu MM, Lynn TC, Tu SM, Huang SC. Pathology of nasopharyngeal carcinoma. Proposal of a new histologic classification correlated with prognosis. Cancer. 1987;59(5):945-51. http://dx.doi.org/10.1002/1097-0142(19870301)59:5<945::AID-CNCR2820590516>3.0.CO;2-B

National Comprehensive Cancer Network. NCCN clinical practice guideline in oncology (NCCN guidelines) head and neck cancer. Version 2. 2011.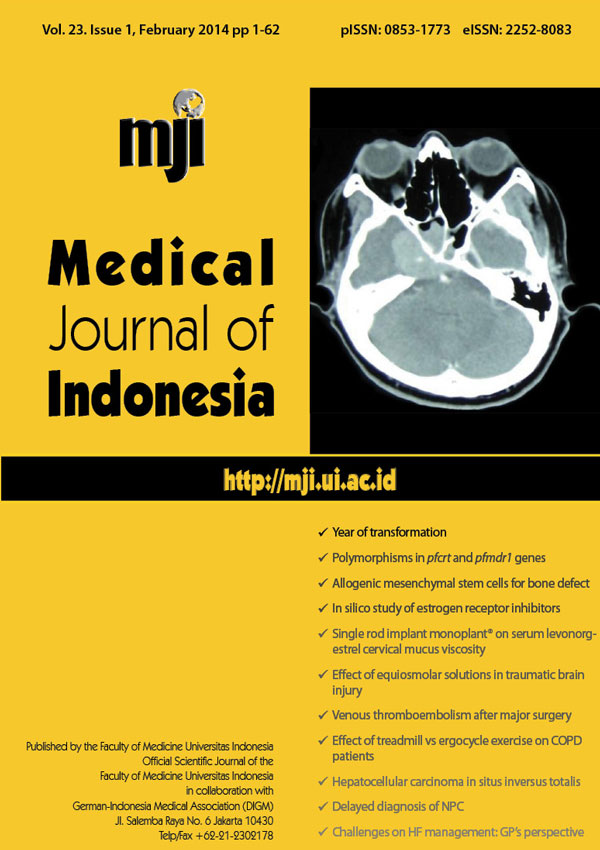 How to Cite
1.
Adham M, Rohdiana D, Mayangsari ID, Musa Z. Delayed diagnosis of nasopharyngeal carcinoma in a patient with early signs of unilateral ear disorder. Med J Indones [Internet]. 2014Mar.11 [cited 2022Oct.2];23(1):52-7. Available from: http://mji.ui.ac.id/journal/index.php/mji/article/view/689
Section
Case Report/Series
Copyright (c) 2014 Marlinda Adham, Dadan Rohdiana, Ika D. Mayangsari, Zanil Musa
This work is licensed under a Creative Commons Attribution-NonCommercial 4.0 International License.
Authors who publish with Medical Journal of Indonesia agree to the following terms:
Authors retain copyright and grant Medical Journal of Indonesia right of first publication with the work simultaneously licensed under a Creative Commons Attribution-NonCommercial License that allows others to remix, adapt, build upon the work non-commercially with an acknowledgment of the work's authorship and initial publication in Medical Journal of Indonesia.
Authors are permitted to copy and redistribute the journal's published version of the work non-commercially (e.g., post it to an institutional repository or publish it in a book), with an acknowledgment of its initial publication in Medical Journal of Indonesia.