Increased vimentin mRNA expression in MCF-7 breast cancer cell line after repeated endoxifen-treatment
Paramita Paramita

Faculty of Medicine, Universitas Indonesia, Jakarta

Melva Louisa

Departement of Pharmacology and Therapeutics, Faculty of Medicine, Universitas Indonesia, Jakarta

Nafrialdi Nafrialdi

Departement of Pharmacology and Therapeutics, Faculty of Medicine, Universitas Indonesia, Jakarta
Keywords:
endoxifen, EMT, vimentin
Abstract viewed: 4996 times PDF downloaded: 1272 times HTML downloaded: 45 times EPUB downloaded: 110 times
Abstract
Background: Epithelial mesenchymal transition (EMT) plays a significant role in the development of cancer cell resistance to drugs. Vimentin, a type III intermediate filament protein, is a marker of EMT. Vimentin's over-expression in cancer correlates well with increased tumor growth, change in cell shape and poor prognosis. Endoxifen is an active metabolite of tamoxifen  and has become a new potent agent in the treatment of breast cancer. This is a study that aimed to investigate the effect of endoxifen exposure with or without estradiol on cell viability, cell morphology and EMT progression through the analysis of vimentin mRNA expression after 4-week treatment.
Methods: Endoxifen, 100 nM or 1,000 nM, with or without beta-estradiol were given repeatedly to MCF-7 cells. Cells treated with dimethyl sulfoxide (DMSO) 0.001% were used as control. After 2- and 4-week exposure, the cells were counted, analyzed for mRNA vimentin expression, and observed for morphological changes.
Results: Compared to control, there were significant decreases in vimentin mRNA expressions in endoxifen and endoxifen+β-estradiol treated cells after 2-weeks, which then significantly increased after 4-week compared with the 2-week exposure. We found no change in morphology of MCF-7 cells.
Conclusion: Repeated exposure of endoxifen might induce EMT progression through increased expression of vimentin in MCF-7 breast cancer cell line.
References
Wu X, Hawse JR, Subramaniam M, Goetz MP, Ingle JN, Spelsberg TC. The tamoxifen metabolite, endoxifen, is a potent antiestrogen that targets estrogen receptor alpha for degradation in breast cancer cells. Cancer Res. 2009;69(5):1722-7. https://doi.org/10.1158/0008-5472.CAN-08-3933

Hawse JR, Subramaniam M, Cicek M, Wu X, Gingery A, Grygo SB, et al. Endoxifen's molecular mechanism of action are concentration dependent and different than that of other anti-estrogens. PLoS One. 2013;8(1):e54613. https://doi.org/10.1371/journal.pone.0054613

Hawse JR, Subramaniam M, Wu X, Negron V, Muzaffer C, Lingle WL, et al. Abstract PD05-11: development, characterization, and effective in vitro treatment of an endoxifen resistant breast cancer cell line. Cancer Res. 2010;70(24):1. https://doi.org/10.1158/0008-5472.sabcs10-pd05-11

Housman G, Byler S, Heerboth S, Lapinska K, Longacre M, Snyder N, et al. Drug resistance in cancer: an overview. Cancers. 2014;6(3):1769-92. https://doi.org/10.3390/cancers6031769

Satelli A, Li S. Vimentin in cancer and its potential molecular target in cancer therapy. Cell Mol Life Sci. 2012;68(18):3033-46. https://doi.org/10.1007/s00018-011-0735-1

Mendez MG, Kojima S, Goldman RD. Vimentin induces changes in cell shape, motility, and adhesion during the epithelial to mesenchymal transition. FASEB J. 2010;24(6):1838-51. https://doi.org/10.1096/fj.09-151639

Micalizzi DS, Farabaugh SM, Ford HL. Epithelial-mesenchymal transition in cancer: parallels between normal development and tumor progression. J Mammary Gland Biol Neoplasia. 2010;15(2):117-34. https://doi.org/10.1007/s10911-010-9178-9

Savagner P. The epithelial-mesenchymal transition (EMT) phenomenon. Ann Oncol. 2010;21(7):vii89-92. https://doi.org/10.1093/annonc/mdq292

Kalluri R, Weinberg RA. The basic of epithelial-mesenchymal transition. J Clin Invest. 2009;119(6):1420-8. https://doi.org/10.1172/JCI39104

Wang Y, Zhou BP. Epithelial-mesenchymal transition--a hallmark of breast cancer metastasis. Cancer Hallm. 2013;1(1):38-49. https://doi.org/10.1166/ch.2013.1004

Voulgari A, Pintzas A. Epithelial-mesenchymal transition in cancer metastasis: mechanisms, markers, and strategies to overcome drug resistance in the clinic. Biochim Biophys Acta. 2009;1796(2):75-90. https://doi.org/10.1016/j.bbcan.2009.03.002

Kusinska RU, Kordek R, Pluciennik E, Bednarek AK, Piekarski JH, Potemski P. Does vimentin help to delineate the so-called 'basal type breast cancer'? J Exp Clin Cancer Res. 2009;28(1):118. https://doi.org/10.1186/1756-9966-28-118

Kidd ME, Shumaker DK, Ridge KM. The role of vimentin intermediate filaments in the progression of lung cancer. Am J Respir Cell Mol Biol. 2014;50(1):1-6. DOI: 10.1165/rcmb.2013-0314TR

Yang J, Bielenberg DR, Rodig SJ, Doiron R, Clifton MC, Kung AL, et al. Lipocalin 2 promotes breast cancer progression. Proc Natl Acad Sci USA. 2009;106(10):3913-8. https://doi.org/10.1073/pnas.0810617106

Folkerd EJ, Lønning PE, Dowsett M. Interpreting plasma estrogen levels in breast cancer: caution needed. J Clin Oncol. 2014;32(14):1396-400. https://doi.org/10.1200/JCO.2013.53.9411

Jamalzadeh L, Ghafoori H, Sariri R, Rabuti H, Nasirzade J, Hasani H, et al. Cytotoxic effects of some common organic solvents on MCF-7, RAW-264.7 and human umbilical vein endothelial cells. Avicenna J Med Biochem. 2016;4(1):e33453. https://doi.org/10.17795/ajmb-33453

Yan XD, Li M, Yuan Y, Mao N, Pan LY. Biological comparison of ovarian cancer resistant cell lines to cisplatin and Taxol by two different administrations. Oncol Rep. 2007;17(5):1163-9. https://doi.org/10.3892/or.17.5.1163

Louie MC, McClellan A, Siewit C, Kawabata L. Estrogen receptor regulates E2F1 expression to mediate tamoxifen resistance. Mol Cancer Res. 2010;8(3):343-52. https://doi.org/10.1158/1541-7786.MCR-09-0395

Carlet J, Jarlier V, Harbarth S, Voss A, Goosens H, Pittet D, et al. Ready for a world without antibiotics? The pensières antibiotic resistance call to action. Antimicrob Resist Infect Control. 2012;1(1):11. https://doi.org/10.1186/2047-2994-1-11

Dong W, Zhang H, Li J, Guan H, He L, Wang Z, et al. Estrogen induces metastatic potential of papillary thyroid cancer cells through estrogen receptor α and β. Int J Endocrinol. 2013;2013(941568):1-6. https://doi.org/10.1155/2013/941568

Jiménez-Salazar JE, Posadas-Rodríguez P, Lazzarini-Lechuga RC, Luna-López A, Zentella-Dehesa A, Gómez-Quiroz LE, et al. Membrane-initiated estradiol signaling of epithelial-mesenchymal transition-associated mechanisms through regulation of tight junctions in human breast cancer cells. Horm Cancer. 2014;5(3):161–73. https://doi.org/10.1007/s12672-014-0180-3

Zhao G, Nie Y, Lv M, He L, Wang T, Hou Y. ERβ-mediated estradiol enhances epithelial mesenchymal transition of lung adenocarcinoma through increasing transcription of midkine. Mol Endocrinol. 2012;26(8):1304-15. https://doi.org/10.1210/me.2012-1028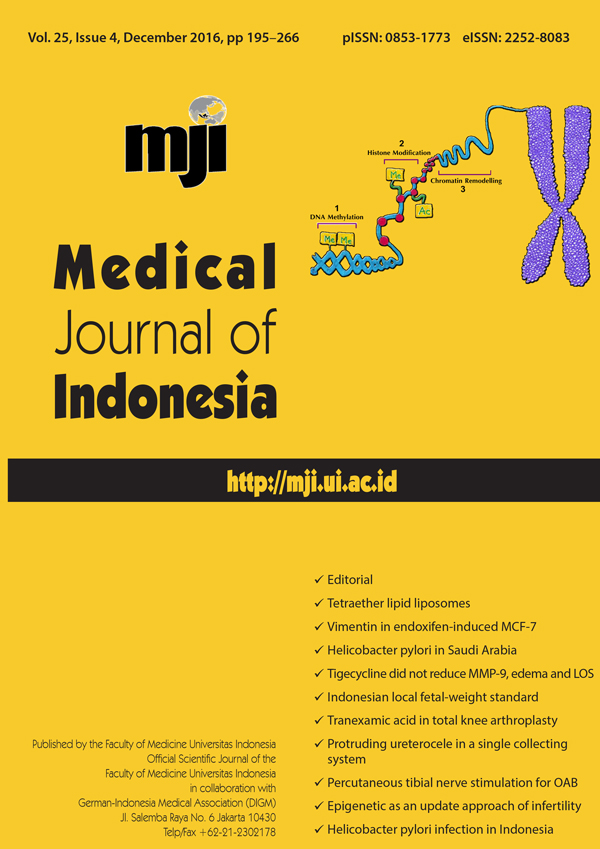 How to Cite
1.
Paramita P, Louisa M, Nafrialdi N. Increased vimentin mRNA expression in MCF-7 breast cancer cell line after repeated endoxifen-treatment. Med J Indones [Internet]. 2017Jan.25 [cited 2023Jun.9];25(4):207-13. Available from: https://mji.ui.ac.id/journal/index.php/mji/article/view/1397
Section
Basic Medical Research
Copyright (c) 2017 Paramita Paramita, Melva Louisa, Nafrialdi Nafrialdi
This work is licensed under a Creative Commons Attribution-NonCommercial 4.0 International License.
Authors who publish with Medical Journal of Indonesia agree to the following terms:
Authors retain copyright and grant Medical Journal of Indonesia right of first publication with the work simultaneously licensed under a Creative Commons Attribution-NonCommercial License that allows others to remix, adapt, build upon the work non-commercially with an acknowledgment of the work's authorship and initial publication in Medical Journal of Indonesia.
Authors are permitted to copy and redistribute the journal's published version of the work non-commercially (e.g., post it to an institutional repository or publish it in a book), with an acknowledgment of its initial publication in Medical Journal of Indonesia.