The effects of quercetin on oxidative stress and fibrosis markers in chronic kidney disease rat model
Kamalia Layal

Department of Pharmacology and Therapeutics, Faculty of Medicine, University of Indonesia, Jakarta

Ika S. Perdhana

Department of Pharmacology and Therapeutics, Faculty of Medicine, University of Indonesia, Jakarta

Melva Louisa

Department of Pharmacology and Therapeutics, Faculty of Medicine, University of Indonesia, Jakarta

Ari Estuningtyas

Department of Pharmacology and Therapeutics, Faculty of Medicine, University of Indonesia, Jakarta

Vivian Soetikno

Department of Pharmacology and Therapeutics, Faculty of Medicine, University of Indonesia, Jakarta
Keywords:
chronic kidney disease, nephrectomy, Nrf2, oxidative stress, quercetin
Abstract
Background: Oxidative stress may play a role in the pathogenesis of (CKD), Nuclear factor erythroid 2-related factor 2 (Nrf2) is a transcription factor involved in cell defense mechanism against oxidative stress. In this study, we examined the effect of quercetin, a polyphenplic antioxidant anti fibrosis compund in fruits and vegetables, on the 5/6 nephrectomy-induced CKD progression model rats through modulation of Nrf2 expression.
Methods: Male Sprague-Dawley rats were randomly divided into normal control group (C), untreated 5/6 nephrectomy (Nx), quercetin-treated 5/6 nephrectomy (100 mg/kgBW/day orally) (NxQ), and captopril-treated 5/6 nephrectomy (10 mg/kgBW/day orally) (NxK) for 8 weeks. At the end of study, all animals were sacrified. Urine, blood, and kidney tissues were taken for examination of proteinuria, plasma creatinine, urea, malondialdehyde (MDA), glutathione peroxidase (GPx) activity, Nrf2, Keap1, heme oxygenase-1 (HO-1) expressions, and renal fibrosis.
Results: Quercetin administration did not affect the level of protein in urine, plasma creatinine, and urea. However, it tended to reduce the level of MDA, increase GPx activity, Nrf2, Keap1, and HO-1 expression as well as the degree of fibrosis.
Conclusion: In 5/6 nephrectomized rats, quercetin tended to ameliorate the level of MDA, GPx activity, Nrf2, Keap1, and HO-1 expression. In addition, quercetin tended to decrease the degree of fibrosis in the remnant kidney.
References
Quiroz Y, Ferrebuz A, Vaziri ND, Iturbe BR. Effect of chronic antioxidant therapy with superoxide dismutase-mimetic drug, tempol, on progression of renal disease in rats with renal mass reduction. Nephron Exp Nephrol. 2009;112:e31-e42. https://doi.org/10.1159/000210577
K/DOQI. Clinical practice guidelines for chronic kidney disease: evaluation, classification and stratification. National Kidney Foundation; 2008. New York.
Rivera JR, Ortiz A, Egido J. Antioxidant in kidney disease: the impact of bardoxolone methyl. Int J Nephrol. 2012.
Kementerian Kesehatan RI. Badan Penelitian dan Pengembangan. Riskesdas 2013. Jakarta. Indonesian.
Aminzadeh MA, Nicholas SB, Norris KC, Vaziri ND. Role of impaired Nrf2 activation in the pathogenesis of oxidative stress and inflammation in chronic tubule-interstitial nephropathy. Nephrol Dial Transpl. 2013. https://doi.org/10.1093/ndt/gft022
Glorieux G, Mullen W, Duranton F, Filip S, Gayrard N, Husi H, Schepers E, et al. New insights in molecular mechanisms involved in chronic kidney disease using high-resolution plasma proteome analysis. Nephrol Dial Transplant. 2015;30:1842-52. https://doi.org/10.1093/ndt/gfv174.14
Soetikno V, Sari FR, Lakshmanan AP, Arumugam S, Harima M, Suzuki K, et al. Curcumin alleviate oxidative stress, inflammation, and renal fibrosis in remnant kidney through the Nrf2-keap1 pathway. Mol Nutr Food Res. 2013;57:1649-59. https://doi.org/10.1002/mnfr.201200540
Ma Q. Role of Nrf2 in oxidative stress and toxicity. Annu Rev Pharmacol Toxicol. 2013;53:401â26. https://doi.org/10.1146/annurev-pharmtox-011112-140320
Boots AW, Haenen GRMM, Bast A. Health effect of quercetin: from antioxidant to nutraceutical. Eur J Pharmacol. 2008;585:325-37. https://doi.org/10.1016/j.ejphar.2008.03.008
Sriraksa N, Wattanathorn J, Muchimapura S, Tiamkao S, Brown K, Chaisiwamongkol K. Cognitive enhancing effect of quercetin in a rat model of parkinson's disease induced by 6-hydroxydopamine. Evidence-Based Complementary and Alternative Medicine. 2012.
Lin SY, Wang YY, Chen YC, Chuang YH, Pan PH, Chen CJ. Beneficial effect of quercetin on cholestatic liver injury. Journal of Nutritional Biochemistry. 2014.
Chen SF, Nien S, Wu CH, Liu CL, Chang YC, Lin YS. Reappraisal of the anticancer efficacy of quercetin in oral cancer cells. Journal of the Chinese Medical Association. 2013;76:146-52. https://doi.org/10.1016/j.jcma.2012.11.008
Kleemann R, Verschuren L, Morrison M, Zadelaar S, Erk MJV, Wielinga PY, Kooistra T. Anti-inflammatory, anti-proliverative and anti-atherosclerotic effect of quercetin in human in vitro and in vivo models. Atherosclerosis. 2011;218:44-52. https://doi.org/10.1016/j.atherosclerosis.2011.04.023
Gargouri B, Mansour RB, Abdallah FB, Elfekih A, Lassoued S, Khaled H. Protective effect of quercetin against oxidative stress caused by dimethoate in human peripheral blood lymphocytes. Lipids in Health and Disease. 2011. https://doi.org/10.1186/1476-511X-10-149
Tanigawa S, Fujii M, Hou DX. Action of Nrf2 and keap 1 in ARE-medaited NQO1 expression by quercetin. Free Radical Biology & Medicine. 2007;42:1690-1703. https://doi.org/10.1016/j.freeradbiomed.2007.02.017
Wang C, Pan Y, Zhang QY, Wang FM, Kong LD. Quercetin and allopurinol ameliorate kidney injury in STZ-treated rats with regulation of renal NLRP3 inflammasome activation and lipid accumulation. PLoS One. 2012;7(6):e38285. https://doi.org/10.1371/journal.pone.0038285
Gibson-Corley KN, Olivier AK, Meyerholz DK. Principles for valid histopathologic scoring in research. Vet Pathol. 2013 Nov;50(6):1007-15 https://doi.org/10.1177/0300985813485099
Livak KJ, Schmittgen TD. Analysis of relative gene expression data using real-time quantitative PCR and 2-ÎÎCT method. Methods. 2001;25:402-8. https://doi.org/10.1006/meth.2001.1262
Fedorova LV, Tamirisa A, Kennedy DJ, Haller ST, Budnyy G, Shapiro JI, et al. Mitochondrial impairment in the five-sixth nephrectomy model of chronic renal failure: proteomic approach. BMC Nephrology. 2013;14:209. https://doi.org/10.1186/1471-2369-14-209
Rangan GK, Wang Y, Harris DCH. Dietary quercetin augment activator protein-1 and doesn't reduce NF- κB in the renal cortex of rats with established chronic glomerular disease. Nephron. 2002;90:313–9. https://doi.org/10.1159/000049067
Amann K, Gassmann P, Buzello M, Orth SR, Tornig J, Gross ML, et al. Effect of ACE inhibition and bradykinin antagonism on cardiovascular changes in uremic rats. Kidney International. 2000;58:153â61. https://doi.org/10.1046/j.1523-1755.2000.00163.x
Kim HJ, Vaziri ND. Contribution of impaired Nrf2-Keap1 pathway to oxidative stress and inflammation in chronic renal failure. Am J Physiol Renal Physiol. 2010;298:F662-71. https://doi.org/10.1152/ajprenal.00421.2009
Ahmed AK, Kamath NS, El Kossi M, El Nahas AM. The impact of stopping inhibitors of the renin-angiotensin system in patients with advanced chronic kidney disease. Nephrol Dial Transplant. 2010 Dec;25(12):3977-82. https://doi.org/10.1093/ndt/gfp511
Palmer BF. Angiotensin converting enzyme inhibitors and angiotensin receptor blockers: what to do if serum creatinine and or serum potassium concentration rises. Nephrol Dial Transplant. 2003;18:1973-5. https://doi.org/10.1093/ndt/gfg282
Meyer TW, Hostetter TH. Uremia. N Engl J Med. 2007;357:1316-25. https://doi.org/10.1056/NEJMra071313
Sindhu RK, Ehdaie A, Farman F, Dhaliwal KK, Nguyen T, Zhan CD, et al. Expression of catalase and glutathione peroxidase in renal insufficiency. Biochimica et Biophysica Acta. 2005:86-92. https://doi.org/10.1016/j.bbamcr.2004.08.013
Cho MH. Renal fibrosis. Korean J Pediatr. 2010;53(7):735-40. https://doi.org/10.3345/kjp.2010.53.7.735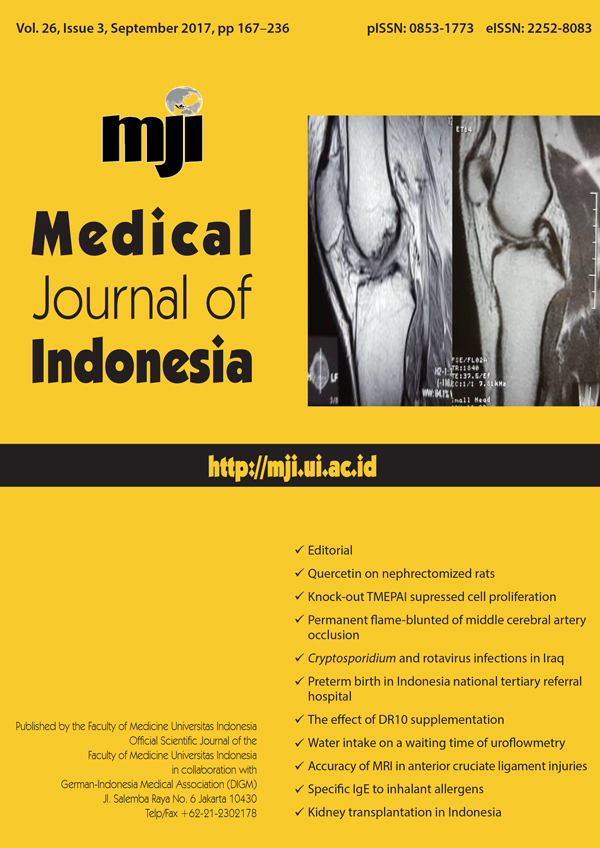 How to Cite
1.
Layal K, Perdhana IS, Louisa M, Estuningtyas A, Soetikno V. The effects of quercetin on oxidative stress and fibrosis markers in chronic kidney disease rat model. Med J Indones [Internet]. 2017Nov.27 [cited 2023Dec.7];26(3):169-77. Available from: https://mji.ui.ac.id/journal/index.php/mji/article/view/1462
Section
Basic Medical Research
Copyright (c) 2017 Kamalia Layal, Ika S. Perdhana, Melva Louisa, Ari Estuningtyas, Vivian Soetikno
This work is licensed under a Creative Commons Attribution-NonCommercial 4.0 International License.
Authors who publish with Medical Journal of Indonesia agree to the following terms:
Authors retain copyright and grant Medical Journal of Indonesia right of first publication with the work simultaneously licensed under a Creative Commons Attribution-NonCommercial License that allows others to remix, adapt, build upon the work non-commercially with an acknowledgment of the work's authorship and initial publication in Medical Journal of Indonesia.
Authors are permitted to copy and redistribute the journal's published version of the work non-commercially (e.g., post it to an institutional repository or publish it in a book), with an acknowledgment of its initial publication in Medical Journal of Indonesia.