Adipose derived stem cell conditioned medium effect on proliferation phase of wound healing in Sprague Dawley rat
Twidy Tarcisia

Department of Histology, Faculty of Medicine, Universitas Tarumanagara, Jakarta

Lia Damayanti

Department of Histology, Faculty of Medicine, Universitas Indonesia, Jakarta

Radiana D. Antarianto

Department of Histology, Faculty of Medicine, Universitas Indonesia, Jakarta

Yefta Moenadjat

Department of Surgery, Faculty of Medicine, Universitas Indonesia, Jakarta

Jeanne A. Pawitan
Keywords:
ADSC-CM, angiogenesis, collagen density, epithelialization, wound healing
Abstract viewed: 1851 times PDF downloaded: 1445 times HTML downloaded: 207 times EPUB downloaded: 135 times
Abstract
Background: Disintegration of skin tissue can lead to disability and death. Recent studies on wound therapy applied stem cells and adipose derived stem cell conditioned medium (ADSC-CM) to improve wound healing. However, the role of ADSC-CM in wound healing mechanism in terms of angiogenesis, quantity of collagen, and epithelialization is not fully understood. Therefore, this study aimed to analyze the levels of growth factors (VEGF and EGF) in ADSC-CM and histological features of angiogenesis, epithelialization, and collagen density after skin incision in Sprague Dawley rats.
Methods: Thirty rats were injured at the back (full thickness wound) and treated topically with ADSC-CM, culture medium, basal medium, and without treatment. Mice were sacrificed on days 3, 7, 14, 21 and 28. After sacrificed, tissue samples were examined microscopically to assess angiogenesis, epithelialization, and collagen density. Concentrations of VEGF and EGF in ADSC-CM were measured by ELISA.
Results: Clinically, wound that was treated with ADSC-CM showed improvement in wound healing process. ADSC-CM treated wound showed the highest epithelialization ratio and the fastest wound closure.
Conclusion: There were no statistical significant differences between groups that were treated with ADSC-CM and not. However, topical ADSC-CM treated wound revealed a better clinical improvement in epithelialization.
References
Kondo T, Ishida Y. Molecular pathology of wound healing. Forensic Sci Int. 2010;203(1–3):93–8. https://doi.org/10.1016/j.forsciint.2010.07.004

Badan Penelitian dan Pengembangan Kesehatan Kementerian Kesehatan RI. Prevalensi cedera dan penyebabnya. In: Riset kesehatan dasar Riskesdas 2013. Jakarta; Kementerian Kesehatan RI:2013. p. 101. Indonesian.

Dinh T, Braunagel S, Rosenblum BI. Growth factors in wound healing; the present and the future? Clin Podiatr Med Surg. 2015;32(1):109–19. https://doi.org/10.1016/j.cpm.2014.09.010

Mirza RE, Koh TJ. Contributions of cell subsets to cytokine production during normal and impared wound healing. Cytokine. 2015;71(2):409–12. https://doi.org/10.1016/j.cyto.2014.09.005

Guo S, DiPietro LA. Factors affecting wound healing. J Dent Res. 2010;89(3):219–29. https://doi.org/10.1177/0022034509359125

Velnar T, Bailey T, Smrkolj V. The wound healing process: an overview of the cellular and molecular mechanism. J Int Med Res. 2009;37(5):1528–42. https://doi.org/10.1177/147323000903700531

Harper D, Young A, Mc Naught C-E. The physiology of wound healing. Surgery. 2014;32:445–50. https://doi.org/10.1016/j.mpsur.2014.06.010

Pawitan JA. Prospect of stem cell conditioned medium in regenerative medicine. Biomed Res Int. 2014;2014:965849. https://doi.org/10.1155/2014/965849

Lee SH, Jin SY, Song JS, Seo KK, Cho KH. Paracrine effects of adipose-derived stem cells on keratinocytes and dermal fibroblasts. Ann Dermatol. 2012;24(2):136–43. https://doi.org/10.5021/ad.2012.24.2.136

Walter MNM, Wright KT, Fuller HS, MacNeil S, Johnson WEB. Mesenchymal stem cell-conditioned medium accelerates skin wound healing: an in vitro study of fibroblast and keratinocyte scratch assays. Exp Cell Res. 2010;316:1271–81. https://doi.org/10.1016/j.yexcr.2010.02.026

Kim J, Lee JH, Yeo SM, Chung HM, Chae JI. Stem cell recruitment factors secreted from cord blood-derived stem cell that are not secreted from mature endothelial cells enhance wound healing. In Vitro Cell Dev Biol. 2014;50(2):146–54. https://doi.org/10.1007/s11626-013-9687-0

Greaves NS, Ashcorft KJ, Baguneid M, Bayat A. Current understanding of molecular and cellular mechanisms in fibroplasia and angiogenesis during acute wound healing. J Dermatol Sci. 2013;72(3):206–17. https://doi.org/10.1016/j.jdermsci.2013.07.008

Chen D, Hao H, Fu X, Han W. Insight into reepithelialization: how do mesenchymal stem cells perform? Stem Cells Int. 2016;2016:6120173. http://dx.doi.org/10.1155/2016/6120173

Bellavia G, Fasanaro P, Melchionna R, Capogrossi MC, Napolitano M. Transcriptional control of skin reepithelialization. J Dermatol Sci. 2014;73(1):3–9. https://doi.org/10.1016/j.jdermsci.2013.08.007

Bielefeld KA, Amini-Nik S, Alman BA. Cutaneous wound healing: recruiting developmental pathways for regeneration. Cell Mol Life Sci. 2013;70(12):2059–81. https://doi.org/10.1007/s00018-012-1152-9

Santoro MM, Gaudino G. Cellular and molecular facets of keratinocyte reepithelization during wound healing. Exp Cell Res. 2005;304(1):274–86. https://doi.org/10.1016/j.yexcr.2004.10.033

Kwon SH, Bhang SH, Jang HK, Rhim T, Kim BS. Conditioned medium of adipose-derived stromal cell culture in three-dimensional bioreactors for enhanced wound healing. J Surg Res. 2015;194(1):8–17. https://doi.org/10.1016/j.jss.2014.10.053

Bhang SH, Lee S, Shin JY, Lee TJ, Jang HK, Kim BS. Efficacious and clinically relevant conditioned medium of human adipose-derived stem cells for therapeutic angiogenesis. Mol Ther. 2014;22(4):862–72. https://doi.org/10.1038/mt.2013.301

She T, Hu D, Zhang J, Zhang W, Liu J, Chen G, et al. Cytobiological effect of adipose-derived stem cells treated with insulin on HaCat cells. Zhonqquo Xiu Fu Chong Jian Wai Ke Za Zhi. 2009;23(6):727–31.

Park BS, Kim WS, Choi JS, Kim HK, Won JH, Ohkubo F, et al. Hair growth stimulation by conditioned medium of adipose-derived stem cells is enhanced by hypoxia: evidence of increased growth factor secretion. Biomed Res. 2010;31(1):27–34. https://doi.org/10.2220/biomedres.31.27

Kryger Z, Zhang F, Dogan T, Cheng C, Lineaweaver WC, Buncke HJ. The effects of VEGF on survival of a random flap in the rat: exaination of various routes of adminitration. Br J Plast Surg. 2000;53(3):234–9. https://doi.org/10.1054/bjps.1999.3315

Rohani MG, Parks WC. Matrix remodeling by MMPs during wound repair. Matrix Biol. 2015;44–46:113–21. https://doi.org/10.1016/j.matbio.2015.03.002

Hu L, Zhao J, Liu J, Gong N, Chen L. Effects of adipose stem cell-conditioned medium on the migration of vascular endothelial cells, fibroblasts and keratinocytes. Exp Ther Med. 2013;5:701–6. https://doi.org/10.3892/etm.2013.887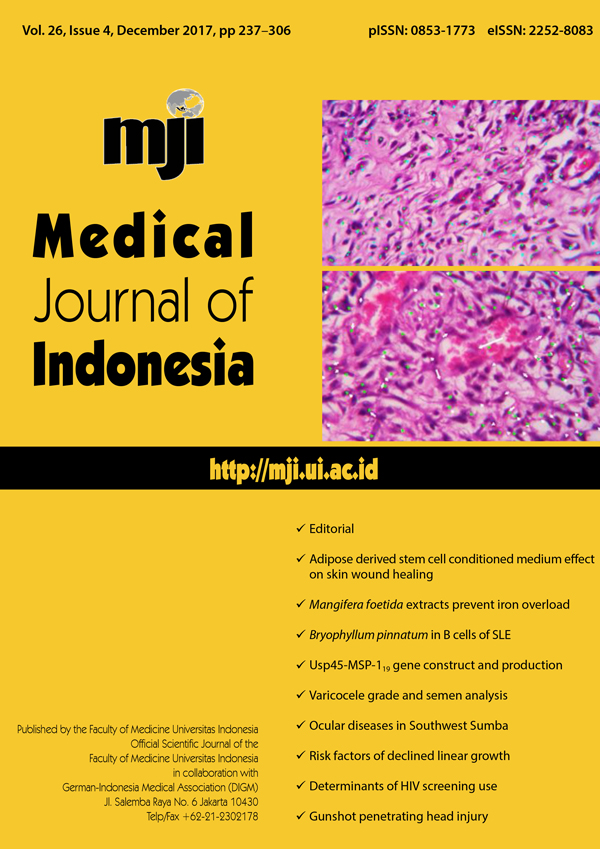 How to Cite
1.
Tarcisia T, Damayanti L, Antarianto RD, Moenadjat Y, Pawitan JA. Adipose derived stem cell conditioned medium effect on proliferation phase of wound healing in Sprague Dawley rat. Med J Indones [Internet]. 2018Feb.14 [cited 2023Sep.29];26(4):239-45. Available from: https://mji.ui.ac.id/journal/index.php/mji/article/view/1755
Section
Basic Medical Research
Copyright (c) 2018 Twidy Tarcisia, Lia Damayanti, Radiana D. Antarianto, Yefta Moenadjat, Jeanne A. Pawitan
This work is licensed under a Creative Commons Attribution-NonCommercial 4.0 International License.
Authors who publish with Medical Journal of Indonesia agree to the following terms:
Authors retain copyright and grant Medical Journal of Indonesia right of first publication with the work simultaneously licensed under a Creative Commons Attribution-NonCommercial License that allows others to remix, adapt, build upon the work non-commercially with an acknowledgment of the work's authorship and initial publication in Medical Journal of Indonesia.
Authors are permitted to copy and redistribute the journal's published version of the work non-commercially (e.g., post it to an institutional repository or publish it in a book), with an acknowledgment of its initial publication in Medical Journal of Indonesia.