Pneumothorax in critically COVID-19 patients with mechanical ventilation
Allen Widysanto

Siloam Hospital Kelapa Dua, Tangerang, Indonesia; Faculty of Medicine, Universitas Pelita Harapan, Tangerang, Indonesia

https://orcid.org/0000-0003-3598-2545

Titis Dewi Wahyuni

Siloam Hospital Kelapa Dua, Tangerang, Indonesia; Faculty of Medicine, Universitas Pelita Harapan, Tangerang, Indonesia

https://orcid.org/0000-0003-1999-3287

Leonardo Helasti Simanjuntak

Siloam Hospital Kelapa Dua, Tangerang, Indonesia; Faculty of Medicine, Universitas Pelita Harapan, Tangerang, Indonesia

https://orcid.org/0000-0001-6670-704X

Samuel Sunarso

Siloam Hospital Kelapa Dua, Tangerang, Indonesia; Faculty of Medicine, Universitas Pelita Harapan, Tangerang, Indonesia

Sylvia Sagita Siahaan

Siloam Hospital Kelapa Dua, Tangerang, Indonesia; Faculty of Medicine, Universitas Pelita Harapan, Tangerang, Indonesia

Catherine Gunawan

Faculty of Medicine, Universitas Pelita Harapan, Tangerang, Indonesia

https://orcid.org/0000-0001-9853-0752

Angela

Faculty of Medicine, Universitas Pelita Harapan, Tangerang, Indonesia

https://orcid.org/0000-0001-5261-6999

Teodorus Alfons Pratama

Faculty of Medicine, Universitas Pelita Harapan, Tangerang, Indonesia

https://orcid.org/0000-0002-0042-0158
Keywords:
COVID-19, disseminated intravascular coagulation, hypoxia, respiratory distress syndrome
Abstract
Coronavirus disease 2019 (COVID-19) is a public health emergency caused by SARS-CoV-2. A few studies reported pneumothorax in patients with COVID-19. Pneumothorax is associated with an increased morbidity and mortality. Hence, it should be considered during the treatment and follow-up of patients with COVID-19. Herein, we reported four cases of pneumothorax in critical COVID-19 patients hospitalized in the ICU and treated with a mechanical ventilation. All patients were diagnosed with COVID-19, type 1 respiratory failure, and acute respiratory distress syndrome. All patients developed pneumothorax during mechanical ventilation, although the ventilator settings were set to lung-protective strategy.
References
Sun J, He WT, Wang L, Lai A, Ji X, Zhai X, et al. COVID-19: epidemiology, evolution, and cross-disciplinary perspectives. Trends Mol Med. 2020;26(5):483−95. https://doi.org/10.1016/j.molmed.2020.02.008
Siddiqi HK, Mehra MR. COVID-19 illness in native and immunosuppressed states: a clinical-therapeutic staging proposal. J Hear Lung Transplant. 2020;39(5):405−7. https://doi.org/10.1016/j.healun.2020.03.012
Remuzzi A, Remuzzi G. COVID-19 and Italy: what next? Lancet. 2020;395(10231):1225−8. https://doi.org/10.1016/S0140-6736(20)30627-9
Grasselli G, Zangrillo A, Zanella A, Antonelli M, Cabrini L, Castelli A, et al. Baseline characteristics and outcomes of 1591 patients infected with SARS-CoV-2 admitted to ICUs of the Lombardy region, Italy. JAMA. 2020;323(16):1574−81. https://doi.org/10.1001/jama.2020.5394
Ucpinar BA, Sahin C, Yanc U. Spontaneous pneumothorax and subcutaneous emphysema in COVID-19 patient: case report. J Infect Public Health. 2020;13(6):887−9. https://doi.org/10.1016/j.jiph.2020.05.012
Aiolfi A, Biraghi T, Montisci A, Bonitta G, Micheletto G, Donatelli F, et al. Management of persistent pneumothorax with thoracoscopy and blebs resection in COVID-19 patients. Ann Thorac Surg. 2020;110(5):e413−5. https://doi.org/10.1016/j.athoracsur.2020.04.011
Hsu CW, Sun SF. Iatrogenic pneumothorax related to mechanical ventilation. World J Crit Care Med. 2014;3(1):8−14. https://doi.org/10.5492/wjccm.v3.i1.8
Aydin S, Öz G, Dumanli A, Balci A, Gencer A. A case of spontaneous pneumothorax in Covid-19 pneumonia. J Surg Res. 2020;3(2):096−101. https://doi.org/10.26502/jsr.10020060
Sun R, Liu H, Wang X. Mediastinal emphysema, giant bulla, and pneumothorax developed during the course of COVID-19 pneumonia. Korean J Radiol. 2020;21(5):541−4. https://doi.org/10.3348/kjr.2020.0180
Gattinoni L, Chiumello D, Caironi P, Busana M, Romitti F, Brazzi L, et al. COVID-19 pneumonia: different respiratory treatments for different phenotypes? Intensive Care Med. 2020;46(6):1099−102. https://doi.org/10.1007/s00134-020-06033-2
Wright BJ. Lung-protective ventilation strategies and adjunctive treatments for the emergency medicine patient with acute respiratory failure. Emerg Med Clin North Am. 2014;32(4):871−87. https://doi.org/10.1016/j.emc.2014.07.012
Möhlenkamp S, Thiele H. Ventilation of COVID-19 patients in intensive care units. Herz. 2020:1−3. https://doi.org/10.1007/s00059-020-04923-1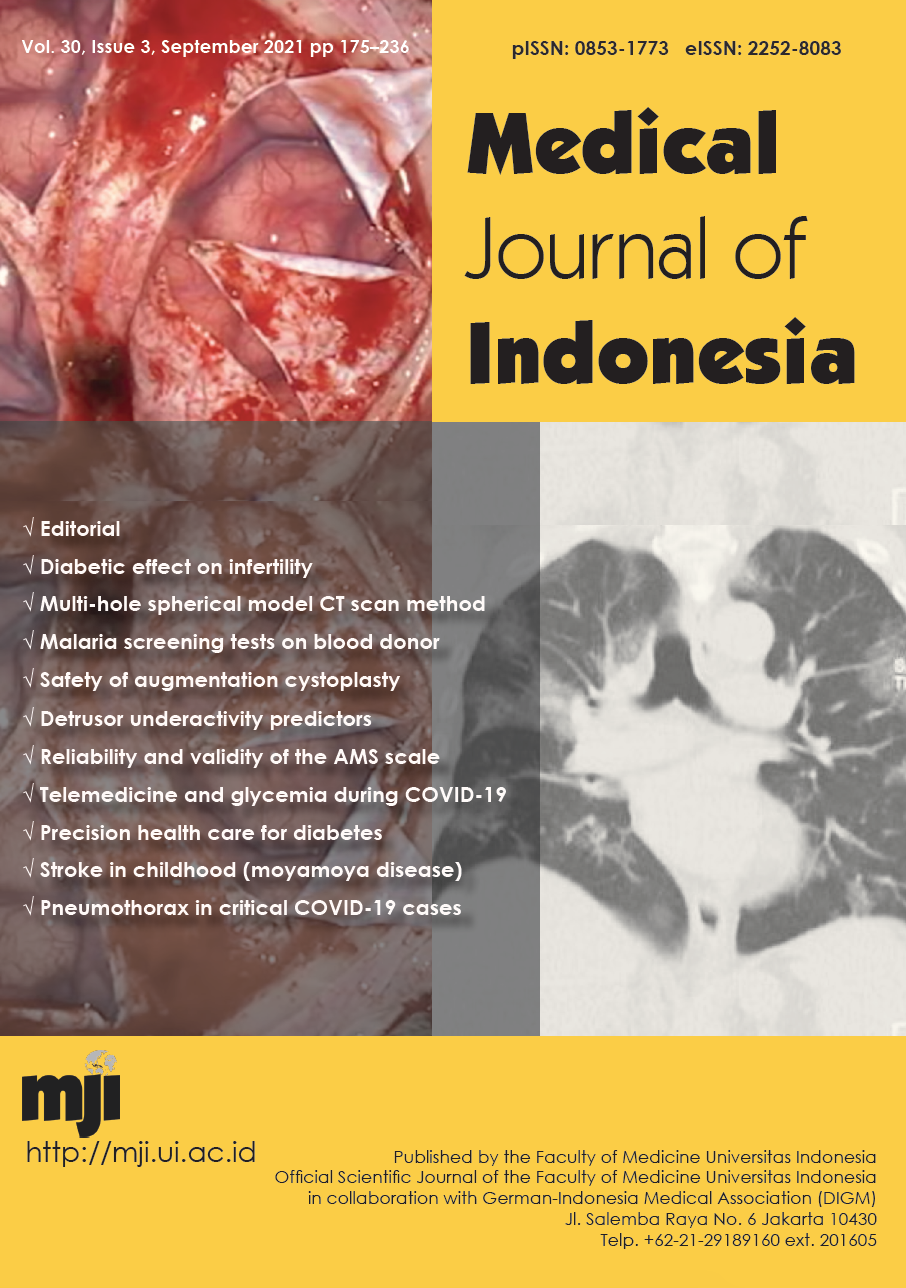 How to Cite
1.
Widysanto A, Wahyuni TD, Simanjuntak LH, Sunarso S, Siahaan SS, Gunawan C, Angela, Pratama TA. Pneumothorax in critically COVID-19 patients with mechanical ventilation. Med J Indones [Internet]. 2021May21 [cited 2023Dec.2];30(3):232-6. Available from: https://mji.ui.ac.id/journal/index.php/mji/article/view/4798
Section
Case Report/Series
Copyright (c) 2021 Allen Widysanto, Titis Dewi Wahyuni, Leonardo Helasti Simanjuntak, Samuel Sunarso, Sylvia Sagita Siahaan, Catherine Gunawan, Angela; Teodorus Alfons Pratama
This work is licensed under a Creative Commons Attribution-NonCommercial 4.0 International License.
Authors who publish with Medical Journal of Indonesia agree to the following terms:
Authors retain copyright and grant Medical Journal of Indonesia right of first publication with the work simultaneously licensed under a Creative Commons Attribution-NonCommercial License that allows others to remix, adapt, build upon the work non-commercially with an acknowledgment of the work's authorship and initial publication in Medical Journal of Indonesia.
Authors are permitted to copy and redistribute the journal's published version of the work non-commercially (e.g., post it to an institutional repository or publish it in a book), with an acknowledgment of its initial publication in Medical Journal of Indonesia.