Acalypha indica root extract increases post-hypoxic rat hippocampal tissue culture cell viability via phospholipase A2 inhibition
Sophie Yolanda

Department of Physiology, Faculty of Medicine, Universitas Indonesia, Jakarta, Indonesia

Trinovita Andraini

Department of Physiology, Faculty of Medicine, Universitas Indonesia, Jakarta, Indonesia

Indra Kusuma

Department of Physiology, Faculty of Medicine, Universitas Indonesia, Jakarta, Indonesia
Keywords:
Acalypha indica Linn, cell viability, hypoxia, neurogenesis, phospholipase A2
Abstract viewed: 2438 times PDF downloaded: 617 times
Abstract
Background: Phospholipase A2 (PLA2) is involved in inflammation and cell death following stroke, and inhibition of its activity may promote neuroregeneration. This study aimed to observe the influence of Acalypha indica Linn root extract towards relative cell viability and PLA2 enzyme level in post-hypoxic hippocampal tissue culture.
Methods: Experimental in vitro study using 24 primary neuronal cell cultures obtained from Sprague Dawley rat exposed to hypoxia with 5% O2 / 5% CO2 / N2 balanced gas for 24 hours. Post-hypoxia, Acalypha indica Linn root extract was added at doses of 10, 15, and 20 mg/mL to three treatment groups. No treatment was given to the control group. Each group consists of six samples. After 72 hours of incubation, relative cell viability was measured using 3-(4,5-dimethylthiazol-2-yl)-2,5-diphenyltetrazolium bromide (MTT) examination, and phospholipase A2 enzyme level was determined using ELISA.
Results: PLA2 enzyme level of rat hippocampal tissue culture treated with Acalypha indica Linn root extract at 10, 15, and 20 mg/mL were significantly lower than that of control (5.55 ng/mL, 6.85 ng/mL, and 7.42 ng/mL vs 7.96 ng/mL, p < 0.05).
Conclusion: Acalypha indica Linn root extract increases the relative cell viability and decreases the PLA2 enzyme level of post-hypoxic mouse hippocampal tissue with the optimal dose of the extract at 10 mg/mL.
References
Wang Y, Ma T, Li M, Sun X, Wang Y, Gu S. Regulated hypoxia/reperfusion-dependent modulation of ERK1/2, cPLA2, and Bcl-2/Bax: a potential mechanism of neuroprotective effect of penehycidine hydrochloride. Int J Neurosci. 2011;121(8):442-9. http://dx.doi.org/10.3109/00207454.2011.570611

Becker JU, editors. Stroke, ischemic. 2008. Available from: http://www.emedicine.com/EMERG/topic558.htm.

Zhang RL, Zhang ZG, Chopp M. Neurogenesis in the adult ischemic brain: generation, migration, survival, and restorative therapy. Neuroscientist. 2005;11(5): 408-16. http://dx.doi.org/10.1177/1073858405278865

Ding G, Jiang Q, Li L. Magnetic resonance imaging investigation of axonal remodeling and angiogenesis after embolic stroke in sildenafil-treated rats. J Cereb Blood Flow Metab. 2008;28(8):1440-8. http://dx.doi.org/10.1038/jcbfm.2008.33

Titsworth WL, Liu NK, Xu XM. Role of secretory phospholipase A2 in CNS inflammation: implications in traumatic spinal cord injury. CNS Neurol Disord Drug Targets. 2008;7(3): 254-69. http://dx.doi.org/10.2174/187152708784936671

Wang Q, Tang XN, Yenari MA. The inflammatory response in stroke. J Neuroimmunol. 2007;184(1-2):53-68. http://dx.doi.org/10.1016/j.jneuroim.2006.11.014

Culmsee C, Krieglstein J. Ischaemic brain damage after stroke: new insights into efficient therapeutic startegies. EMBO Reports. 2007;8(2):129-33. http://dx.doi.org/10.1038/sj.embor.7400892

Adibhatla RM, Hatcher JF. Phospholipase A(2), reactive oxygen species, and lipid peroxidation in CNS pathologies.. BMB Rep. 2008;41(8):560-567. http://dx.doi.org/10.5483/BMBRep.2008.41.8.560

Gabryel B, Bielecka A, Stolecka A, Bernacki J, Langfort J. Cytosolic phospholipase A2 inhibition is involved in the protective effect of nortiptyline in primary astrocyte cultures exposed to combined oxygen-glucose deprivation. Pharmacol Rep. 2010;62(5):814-26.

Ekdahl CT, Claasen JH, Bonde S, Kokaia Z, Lindvall O. Inflammation is detrimental for neurogenesis in adult brain. Proc Natl Acad Sci USA. 2003;100(23):13632-7. http://dx.doi.org/10.1073/pnas.2234031100

Vexler ZS, Tang XN, Yenari M. Inflammation in adult and neonatal stroke. Clin Neurosci Res. 2006;6(5):293-313. http://dx.doi.org/10.1016/j.cnr.2006.09.008

Yagita Y, Kitagawa K, Ohtsuki T, et al. Neurogenesis by progenitor cells in the ischemic adult rat hippocampus. Stroke. 2001;32(8):1890-6. http://dx.doi.org/10.1161/01.STR.32.8.1890

Arai K, Ikegaya Y, Nakatani Y, Kudo I, Nishiyama N, Matsuki N. Phospholipase A2 mediates ischemic injury in the hippocampus: a regional difference of neuronal vulnerability. Eur J Neurosci. 2001;13(12): 2319-23. http://dx.doi.org/10.1046/j.0953-816x.2001.01623.x

Farooqui AA, Ong WY, Horrocks LA. Inhibitors of brain phospholipase A2 activity: their neuropharmacological effects and therapeutic importance for the treatment of neurologic disorders. Pharmacol Rev. 2006;58(3):591-620. http://dx.doi.org/10.1124/pr.58.3.7

Chen S, Yao L, Cunningham TJ. Secreted phospholipase A2 involvement in neurodegeneration: differential testing of prosurvival and anti-inflammatory effects of enzyme inhibition. PLoS ONE 2012; 7(6): e39257. http://dx.doi.org/10.1371/journal.pone.0039257

Purwaningsih EH, Ibrahim N, Zain H. The nerve protection and in vivo therapeutic effect of Acalypha indica extract in frogs. Med J Indones. 2010;19:96-102. http://dx.doi.org/10.13181/mji.v19i2.389

Indian Medicinal Plants Growersâ Consortium. Acalypha indica L [Internet]. 2007 [cited 2009 Jan 12]. Available from: impgc.com.

Yolanda S, Bachtiar EW, Ibrahim N. Increased cell viability and proliferation in post-hypoxic hippocampal tissue culture treated with Acalypha indica root extract. Med J Indones. 2011;20(2):94-9. http://dx.doi.org/10.13181/mji.v20i2.433

Nirmal N, Praba GO, Velmurugan D. Modeling studies on phospholipase A2-inhibitor complexes. Indian J Biochem Biophys. 2008;45(4): 256-62.

Gozal E, Sachleben Jr LR, Rane MJ, Vega C, Gozal D. Mild sustained and intermittent hypoxia induce apoptosis in PC-12 cells via different mechanisms. Am J Physiol Cell Physiol. 2005;288(3):535-42. http://dx.doi.org/10.1152/ajpcell.00270.2004

Haas S, Weidner N, Winkler J. Adult stem cell therapy in stroke. Curr Opin Neurol. 2005;18(1):59-64. http://dx.doi.org/10.1097/00019052-200502000-00012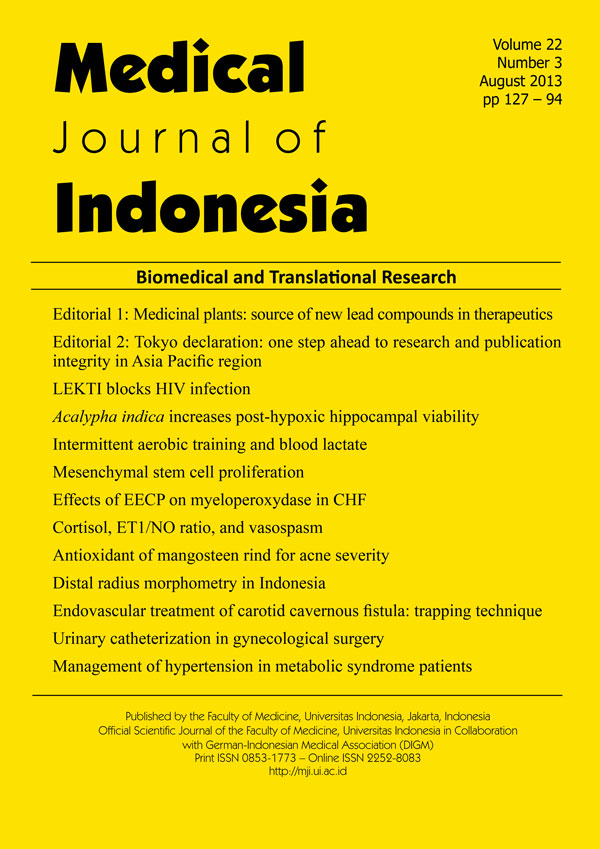 How to Cite
1.
Yolanda S, Andraini T, Kusuma I. <em>Acalypha indica </em> root extract increases post-hypoxic rat hippocampal tissue culture cell viability via phospholipase A<sub>2</sub&gt; inhibition. Med J Indones [Internet]. 2013Aug.22 [cited 2023Jun.10];22(3):136-40. Available from: https://mji.ui.ac.id/journal/index.php/mji/article/view/581
Section
Basic Medical Research
Copyright (c) 2013 Sophie Yolanda, Trinovita Andraini, Indra Kusuma
This work is licensed under a Creative Commons Attribution-NonCommercial 4.0 International License.
Authors who publish with Medical Journal of Indonesia agree to the following terms:
Authors retain copyright and grant Medical Journal of Indonesia right of first publication with the work simultaneously licensed under a Creative Commons Attribution-NonCommercial License that allows others to remix, adapt, build upon the work non-commercially with an acknowledgment of the work's authorship and initial publication in Medical Journal of Indonesia.
Authors are permitted to copy and redistribute the journal's published version of the work non-commercially (e.g., post it to an institutional repository or publish it in a book), with an acknowledgment of its initial publication in Medical Journal of Indonesia.