Effects of Hibiscus sabdariffa Linn. on insulin-like growth factor binding protein 3 (IGFBP-3) to prevent overtraining syndrome
Ermita I.I. Ilyas

Department of Physiology, Faculty of Medicine, Universitas Indonesia, Jakarta

Neng T. Kartinah

Department of Physiology, Faculty of Medicine, Universitas Indonesia, Jakarta

Trinovita Andraini

Department of Physiology, Faculty of Medicine, Universitas Indonesia, Jakarta

Roman A. Goenarjo

Department of Physiology, Faculty of Medicine, Universitas Indonesia, Jakarta

Donna N. Kahandjak

Department of Physiology, Faculty of Medicine, University of Palangkaraya, Palangkaraya
Keywords:
Hibiscus sabdariffa Linn., IGFBP-3, overtraining
Abstract viewed: 1183 times PDF downloaded: 710 times
Abstract
Background: Excessive physical exercises (overtraining) can increase the production of reactive oxygen species (ROS). One of the indicators of overtraining syndrome is a decrease in insulin-like growth factor binding protein 3 (IGFBP-3). Administration of Hibiscus sabdariffa Linn., a powerful antioxidant, is expected to boost endogenous antioxidants, and thus prevents overtraining. The aim of this study is to determine the effect of H. sabdariffa on IGFBP-3 levels in rats under "overtraining physical excersice".
Methods: This experimental study was conducted on 30 male rats (Rattus norvegicus 200-250 grams), randomly allocated into 5 groups: 1) control group (C); 2) control with H. sabdariffa (C-Hib); 3) mild aerobic exercise (A-Ex); 4) overtraining exercise (OT); 5) overtraining exercise with H. Sabdariffa (OT-Hib). H. sabdariffa (400 mg/kg/d, 11 weeks) were administered orally via syringe cannula. IGFBP-3 was measured by using ELISA (Cusa bio kit) and data were analyzed with ANOVA test.
Results: Plasma level of IGFBP-3 in the C and OT groups were 17.4 ± 10 mIU/L, the lowest in OT groups (10.7 ± 9.9 mIU/L) and the OT-Hib group had the highest level (31.5 ± 6.2 mIU/L). There was significant difference of the level IGFBP-3 in OT groups with A-Ex groups (10.7 ± 9.9 vs 23.5 ± 9.7 mIU/L; p < 0,05). The significant difference was also observed in the level of IGFBP 3 between C groups and the OT-Hib groups (17.4 ± 10 vs 31.5 ± 6.2; p < 0.05).
Conclusion: Administration of H. sabdariffa can prevent the decrease of IGFBP-3 levels in overtraining rats, indicating its role in preventing overtraining syndrome.
References
Bischler TK. The utility of resting levels of IGF-I and IGFBP-3 as markers of training status in elite athletes [thesis]. Canada: University of Lethbridge; 2007 [cited 2012 Jun 6]. Available from:https://www.uleth.ca/dspace/handle/10133/651

Cunha GS, Ribeiro JL, Oliveira AR. Overtraining: theories, diagnosis and markers. Rev Bras Med Esporte. 2006;12(5):267e-71e.

Kreher JB, Schwartz JB. Overtraining syndrome: a practical guide. Sports Health. 2012;4(2):128-38. http://dx.doi.org/10.1177/1941738111434406

Brenner JS; American Academy of Pediatrics Council on Sports Medicine and Fitness. Overuse injuries, overtraining, and burnout in child and adolescent athletes. Pediatrics. 2007;119(6):1242-5. http://dx.doi.org/10.1542/peds.2007-0887

Fry AC, Schilling BK, Weiss LW, Chiu LZ. Z. β2-Adrenergic receptor downregulation and performance decrements during high-intensity resistance exercise overtraining. J Appl Physiol (1985). 2006;101(6):1664-72. http://dx.doi.org/10.1152/japplphysiol.01599.2005

Marcello BM. Overtraining in sport: physiological, psychological and performance effect of participation in division I competitive softball [dissertation]. Texas: Baylor University; 2006 [cited 2012 jun 17]. Available from: https://beardocs.baylor.edu/xmlui/handle/2104/4959

Elloumi M, El Elj N, Zaouali M, Maso F, Filaire E, Tabka Z, et al. IGFBP-3, a sensitive marker of physical training and overtraining. Br J Sports Med. 2005;39(9):604-10. http://dx.doi.org/10.1136/bjsm.2004.014183

Capoluongo E, Pitocco D, Santonocito C, Concolino P, Santini SA, Manto A, et al. Association between serum free IGF-I and IGFBP-3 levels in type-I diabetes patients affected with associated autoimmune disease or diabetic complications. Eur Cytokine Netw. 2006;17(3):167- 74.

Wang SC, Lee SF, Wang CJ, Lee CH, Lee WC, Lee HJ. Aqueous Extract from Hibiscus sabdariffa Linnaeus Ameliorate Diabetic Nephropathy via Regulating Oxidative Status and Akt/Bad/14-3--3γ in an Experimental Animal Model. Evid Based Complement Alternat Med. 2011;2011:938126. http://dx.doi.org/10.1093/ecam/nep181

Hohl R, Ferraresso RL, De Oliveira RB, Lucco R, Brenzikofer R, De Macedo DV. Development and characterization of an overtraining animal model. Med Sci Sports Exerc. 2009 May;41(5):1155-63. http://dx.doi.org/10.1249/MSS.0b013e318191259c

Mahadevan N, Shivali, Kamboj P. Hibiscus Sabdariffa Linn.- An overview. NPR. 2008;8(1):77-83.

Kowalczyk E, Krzesiński P, Kura M, Szmigiel B, Błaszczyk J. Anthocyanins in medicine. Pol J Pharmacol. 2003;55(5):699-702.

Margonis K, Fatouros IG, Jamurtas AZ, Nikolaidis MG, Douroudos I, Chatzinikolaou A, et.al. Oxidative stress biomarkers responses to physical overtraining: implications for diagnosis. Free Radic Biol Med. 2007;43(6):901-10. http://dx.doi.org/10.1016/j.freeradbiomed.2007.05.022

Xiao W, Chen P, Dong J. Effect of overtraining on sceletal muscle growth and gene expression. Int J Sports Med. 2012 Oct;33(10):846-53. http://dx.doi.org/10.1055/s-0032-1311585

Rosendal L, Langberg H, Flyvbjerg A, Frystyk J, Ørskov H, Kjaer M. Physical capacity influences the response of insulin -like growth factor and its binding protein to training. J Appl Physiol (1985). 2002;93(5):1669-75.

Goodman HM. Basic Medical Endocrinology. 4th ed. China: Elsevier; 2009.

Yadav S, Khrisnamurthy S. Insulin-like growth factors and growth hormone deficiency. Indian Pediatr. 2007;44(5):349-53.

Taipale RS, Häkkinen K. Acute hormonal and force responses to combined strength and endurance loadings in men and woman: The "Order Effect". PLoS ONE. 2013;8(2):e55051. http://dx.doi.org/10.1371/journal.pone.0055051

Banerjee AK, Mandal A, Chanda D, Chakraborti S. Oxidant, antioxidant and physical exercise. Mol Cell Biochem. 2003;253(1-2):307-12. http://dx.doi.org/10.1023/A:1026032404105

Essa MM, Subramanian P. Hibiscus sabdariffa affects ammonium chloride induced hyperammonemic rats. Evid Based Complement Alternat Med. 2007;4(3):321-8. http://dx.doi.org/10.1093/ecam/nel087

Daniel D, Aduwamai UH, Blessing V, Michael AA. Antioxidan and Antiperoxidative activities of aqueous extract of Hibiscus sabdariffa L. calyx on alcohol-induced hepatic lipid peroxidation in rats. American Journal of Biochemistry. 2013;3(2):62-65.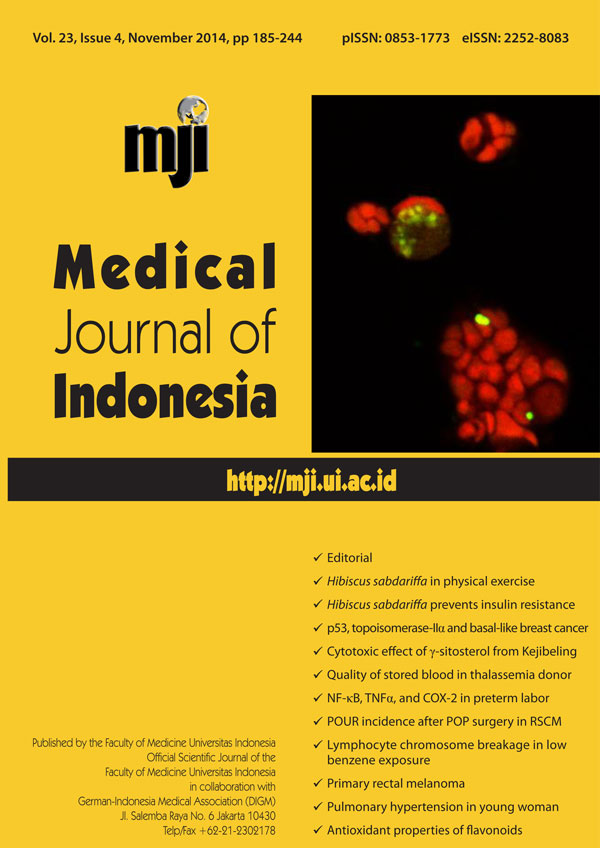 How to Cite
1.
Ilyas EI, Kartinah NT, Andraini T, Goenarjo RA, Kahandjak DN. Effects of <em>Hibiscus sabdariffa</em&gt; Linn. on insulin-like growth factor binding protein 3 (IGFBP-3) to prevent overtraining syndrome. Med J Indones [Internet]. 2015Jan.26 [cited 2023Jun.1];23(4):187-91. Available from: https://mji.ui.ac.id/journal/index.php/mji/article/view/991
Section
Basic Medical Research
Copyright (c) 2015 Ermita I.I. Ilyas, Neng T. Kartinah, Trinovita Andraini, Roman A. Goenarjo, Donna N. Kahandjak
This work is licensed under a Creative Commons Attribution-NonCommercial 4.0 International License.
Authors who publish with Medical Journal of Indonesia agree to the following terms:
Authors retain copyright and grant Medical Journal of Indonesia right of first publication with the work simultaneously licensed under a Creative Commons Attribution-NonCommercial License that allows others to remix, adapt, build upon the work non-commercially with an acknowledgment of the work's authorship and initial publication in Medical Journal of Indonesia.
Authors are permitted to copy and redistribute the journal's published version of the work non-commercially (e.g., post it to an institutional repository or publish it in a book), with an acknowledgment of its initial publication in Medical Journal of Indonesia.