Hepatocellular carcinoma in situs inversus totalis-a case report
Thuingaren Sareo

Department of Radiotherapy, Regional Institute of Medical Sciences, Imphal - 795004, Manipur

Yumkhaibam S. Devi

Department of Radiotherapy, Regional Institute of Medical Sciences, Imphal - 795004, Manipur

Laishram J. Singh

Department of Radiotherapy, Regional Institute of Medical Sciences, Imphal - 795004, Manipur
Abstract viewed: 685 times PDF downloaded: 397 times
Abstract
A 43-year old male presented with persistent discomfort and pain upper abdomen (epigastrium) more on left side associated with fever on and off, along with fatigue and loss of appetite for the last four months. Physical examination revealed mass on left hypochondrium extending to epigastrium with mild distension of the abdomen. Imaging studies of the patient showed dextrocardia on chest x-ray  postero-anterior (PA) view, thoracic and abdominal CT scan showed situs inversus totalis with multiple SOL (space occupying lesion) in right lobe of liver with largest measuring 8x6 cm2 in the 4th segment. USG-guided FNAC of the mass showed features of hepatocellular carcinoma. Thereupon, hepatocellular carcinoma in situs inversus totalis was diagosed to this patient and was clinically staged as T3aN0M0. He was given sorafenib 400 mg orally twice daily with an advice to come for regular assessment every 4 week.
Keywords: hepatocellular carcinoma, situs inversus totalis, case report


References
David LB, Adrian MD, Laura AD. Cancer of the liver. In: Devita VT, Hellman S, Rosenberg SA, editors. Cancer principles and practice of oncology. 9th ed. Philadelphia: JB Lippincott; 2011. p. 997-1018.

Kamiike W, Itakura T, Tanaka H, Hatanaka N, Nakamuro M, Miyata M, et al. Hepatic segmentectomy on primary liver cancer with situs inversus totalis. HPB Surg. 1996;9(3):169-72. http://dx.doi.org/10.1155/1996/29894

Kanematsu T, Matsumata T, Kohno H, Sugimachi K, Inokuchi K. Hepatocellular carcinoma with situs inversus. Cancer. 1983;51(3):549-52. http://dx.doi.org/10.1002/1097-0142(19830201)51:3<549::AID-CNCR2820510331>3.0.CO;2-F

Brueckner M, D'Eustachio P, Horwich AL. Linkage mapping of a mouse gene, iv, that controls left-right asymmetry of the heart and viscera. Proc Natl Acad of Sci USA. 1989;86(13):5035-8. http://dx.doi.org/10.1073/pnas.86.13.5035

Gedda L, Sciacca A, Brenci G, Villatico S, Bonanni G, Gueli N, et al. Situs viscerum specularis in monozygotic twins. Acta Genet Med Gemellol (Roma). 1984;33(1):81-5.

Xu LB, Wang J, Liu C, Pang HW, Chen YJ, Ou QJ, et al. Staging systems for predicting survival of patients with hepatocellular carcinoma after surgery. World J Gastroenterol. 2010;16(41):5257-62. http://dx.doi.org/10.3748/wjg.v16.i41.5257

Lee YC, Cohet C, Yang YC, Stayner L, Hashibe M, Straif K.. Meta-analysis of epidemiologic studies on cigarette smoking and liver cancer. Int J Epidemiol. 2009;38(6):1497-511. http://dx.doi.org/10.1093/ije/dyp280

Gandini S, Botteri E, Iodice S, Boniol M, Lowenfels AB, Maisonneuve P, et al. Tobacco smoking and cancer: a meta-analysis. Int J Cancer. 2008;122(1):155-64. http://dx.doi.org/10.1002/ijc.23033

Morgan TR, Mandayam S, Jamal MM. Alcohol and hepatocellular carcinoma. Gastroenterology. 2004;127:S87-96. http://dx.doi.org/10.1053/j.gastro.2004.09.020

Holzman D, Ott PM, Felix H. Diagnostic approach to primary ciliary dyskinesia: A review. Eur J pediatr. 2000;159(1-2):95-8. http://dx.doi.org/10.1007/PL00013813

Gutgesell HP. Cardiac malposition and heterotaxy. In: Garson AG Jr. Fisher DJ, Neish SR, editors. Science and Practice of Pediatric Cardiology. Vol 2. 2nded. Baltimore: Williams & Wilkins; 1998. p. 1539-61.

Higgins CB. Essentials of cardiac radiology and imaging. Philadelphia: JB Lippincott; 1992. p. 283-331.

Forner A, Llovet JM, Bruix J. Hepatocellular carcinoma. Lancet. 2012;379(9822):1245-55. http://dx.doi.org/10.1016/S0140-6736(11)61347-0

Harada T, Shigeta K, Noda K, Fukumoto Y, Nishimura H, Mizuta M, et al. Clinical implications of alpha-fetoprotein in liver cirrhosis: five-year follow-up study. Hepatogastroenterology. 1980;27(3):169-75.

N, T. (2017). Mau nanya dong dok. [online] Mau nanya dong dok. Available at: https://nanyadongdok.blogspot.com [Accessed 2 Jul. 2017].

Lawrence TS, Robertson JM, Anscher MS, Jirtle RL, Ensminger WD, Fajardo LF. Hepatic toxicity resulting from cancer treatment. Int J Radiat Oncol Biol Phys. 1995;31(5):1237-48. http://dx.doi.org/10.1016/0360-3016(94)00418-K

Zeng ZC, Tang ZY, Fan J, Qin LX, Ye SL, Zhou J, et al. Consideration of role of radiotherapy for lymph node metastases in patients with HCC: retrospective analysis for prognostic factors from 125 patients. Int J Radiat Oncol Biol Phys. 2005;63(4):1067-76. http://dx.doi.org/10.1016/j.ijrobp.2005.03.058

Kaizu T1, Karasawa K, Tanaka Y, Matuda T, Kurosaki H, Tanaka S, et al. Radiotherapy for osseous metastases from hepatocellular carcinoma: a retrospective study of 57 patients. Am J Gastroenterol. 1998;93(11):2167-71. http://dx.doi.org/10.1111/j.1572-0241.1998.00614.x

Tunc B, Filik L, Tezer-Filik I, Sahin B. Brain metastasis of hepatocellular carcinoma: a case report and review of the literature. World J Gastroenterol. 2004;10(11):1688-9.

Salhab M, Canelo R. An overview of evidence-based management of hepatocellular carcinoma: a meta-analysis. J Cancer Res Ther. 2011;7(4):463-75. http://dx.doi.org/10.4103/0973-1482.92023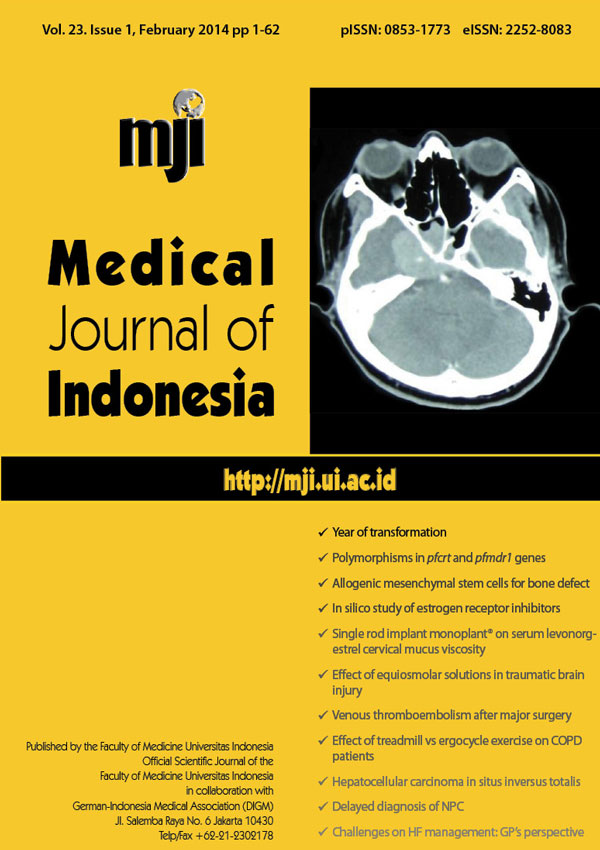 How to Cite
1.
Sareo T, Devi YS, Singh LJ. Hepatocellular carcinoma in situs inversus totalis-a case report. Med J Indones [Internet]. 2014Mar.11 [cited 2020Aug.5];23(1):48-1. Available from: http://mji.ui.ac.id/journal/index.php/mji/article/view/690
Section
Case Report/Series
Copyright (c) 2014 Thuingaren Sareo, Yumkhaibam S. Devi, Laishram J. Singh
This work is licensed under a Creative Commons Attribution-NonCommercial 4.0 International License.
Authors who publish with Medical Journal of Indonesia agree to the following terms:
Authors retain copyright and grant Medical Journal of Indonesia right of first publication with the work simultaneously licensed under a Creative Commons Attribution-NonCommercial License that allows others to remix, adapt, build upon the work non-commercially with an acknowledgment of the work's authorship and initial publication in Medical Journal of Indonesia.
Authors are permitted to copy and redistribute the journal's published version of the work non-commercially (e.g., post it to an institutional repository or publish it in a book), with an acknowledgment of its initial publication in Medical Journal of Indonesia.