Metaverse in Medical Education
Agus Rizal Ardy Hariandy Hamid

From Medical Journal of Indonesia; Department of Urology, Faculty of Medicine, Universitas Indonesia, Cipto Mangunkusumo Hospital, Jakarta, Indonesia; Medical Technology, Indonesia Medical Education and Research Institute (IMERI), Jakarta, Indonesia

Ferdiansyah Sultan Ayasasmita Rusdhy

Universitas Airlangga, Surabaya, Indonesia

Prasandhya Astagiri Yusuf

Department of Medical Physiology and Biophysics, Faculty of Medicine Universitas Indonesia, Jakarta, Indonesia; Medical Technology, Indonesia Medical Education and Research Institute (IMERI), Jakarta, Indonesia

https://orcid.org/0000-0002-4212-0794
References
Skalidis I, Muller O, Fournier S. CardioVerse: the cardiovascular medicine in the era of Metaverse. Trends Cardiovasc Med. 2022:S1050-1738(22)00071-8. https://doi.org/10.1016/j.tcm.2022.05.004
Zhang X, Chen Y, Hu L, Wang Y. The metaverse in education: definition, framework, features, potential applications, challenges, and future research topics. Front Psychol. 2022;13:1016300. https://doi.org/10.3389/fpsyg.2022.1016300
Smart J, Cascio J, Paffendorf J. Metaverse roadmap: pathway to the 3D web [Internet]. Ann Arbor (MI): Acceleration Studies Foundation; 2007 [cited 2021 Nov 29]. Available from: https://metaverseroadmap.org/MetaverseRoadmapOverview.pdf.
Alharbi Y, Al-Mansour M, Al-Saffar R, Garman A, Alraddadi A. Three-dimensional virtual reality as an innovative teaching and learning tool for human anatomy courses in medical education: a mixed methods study. Cureus. 2020;12(2):e7085. https://doi.org/10.7759/cureus.7085
Gonzalez AA, Lizana PA, Pino S, Miller BG, Merino C. Augmented reality-based learning for the comprehension of cardiac physiology in undergraduate biomedical students. Adv Physiol Educ. 2020;44(3):314-22. https://doi.org/10.1152/advan.00137.2019
Al-Elq AH. Simulation-based medical teaching and learning. J Family Community Med. 2010;17(1):35-40. https://doi.org/10.4103/1319-1683.68787
Grant D, Marriage S. Training using medical simulation: Figure 1. Arch Dis Child. 2011;97(3):255-9. https://doi.org/10.1136/archdischild-2011-300592
Meerdink M, Khan J. Comparison of the use of manikins and simulated patients in a multidisciplinary in situ medical simulation program for healthcare professionals in the United Kingdom. J Educ Eval Health Prof. 2021;18:8. https://doi.org/10.3352/jeehp.2021.18.8
Buttussi F, Chittaro L, Valent F. A virtual reality methodology for cardiopulmonary resuscitation training with and without a physical mannequin. J Biomed Inform. 2020;111:103590. https://doi.org/10.1016/j.jbi.2020.103590
Abulfaraj MM, Jeffers JM, Tackett S, Chang T. Virtual reality vs. high-fidelity mannequin-based simulation: a pilot randomized trial evaluating learner performance. Cureus. 2021;13(8):e17091. https://doi.org/10.7759/cureus.17091
Sommer GM, Broschewitz J, Huppert S, Sommer CG, Jahn N, Jansen-Winkeln B, et al. The role of virtual reality simulation in surgical training in the light of COVID-19 pandemic: visual spatial ability as a predictor for improved surgical performance: a randomized trial. Medicine (Baltimore). 2021;100(50):e27844. https://doi.org/10.1097/MD.0000000000027844
Kantamaneni K, Jalla K, Renzu M, Jena R, Kannan A, Jain R, et al. Virtual reality as an affirmative spin-off to laparoscopic training: an updated review. Cureus. 2021;13(8):e17239. https://doi.org/10.7759/cureus.17239
Ghazanfar H, Rashid S, Hussain A, Ghazanfar M, Ghazanfar A, Javaid A. Cadaveric dissection a thing of the past? the insight of consultants, fellows, and residents. Cureus. 2018;10(4):e2418. https://doi.org/10.7759/cureus.2418
Kovacs G, Levitan R, Sandeski R. Clinical cadavers as a simulation resource for procedural learning. AEM Educ Train. 2018;2(3):239-47. https://doi.org/10.1002/aet2.10103
Chia TI, Oyeniran OI, Ajagbe AO, Onigbinde OA, Oraebosi MI. The symptoms and stress experienced by medical students in anatomy dissection halls. J Taibah Univ Med Sci. 2020;15(1):8-13. https://doi.org/10.1016/j.jtumed.2020.01.001
Chang HJ, Kim HJ, Rhyu IJ, Lee YM, Uhm CS. Emotional experiences of medical students during cadaver dissection and the role of memorial ceremonies: a qualitative study. BMC Med Educ. 2018;18(1):255. https://doi.org/10.1186/s12909-018-1358-0
Weyhe D, Uslar V, Weyhe F, Kaluschke M, Zachmann G. Immersive anatomy atlas-empirical study investigating the usability of a virtual reality environment as a learning tool for anatomy. Front Surg. 2018;5:73. https://doi.org/10.3389/fsurg.2018.00073
Lungu AJ, Swinkels W, Claesen L, Tu P, Egger J, Chen X. A review on the applications of virtual reality, augmented reality and mixed reality in surgical simulation: an extension to different kinds of surgery. Expert Rev Med Devices. 2021;18(1):47-62. https://doi.org/10.1080/17434440.2021.1860750
Hamacher A, Whangbo TK, Kim SJ, Chung KJ. Virtual reality and simulation for progressive treatments in urology. Int Neurourol J. 2018;22(3):151-60. https://doi.org/10.5213/inj.1836210.105
Cai JL, Zhang Y, Sun GF, Li NC, Yuan XL, Na YQ. Proficiency of virtual reality simulator training in flexible retrograde ureteroscopy renal stone management. Chin Med J (Engl). 2013;126(20):3940-3.
Rad AA, Vardanyan R, Thavarajasingam SG, Zubarevich A, Van den Eynde J, Sá MP, et al. Extended, virtual and augmented reality in thoracic surgery: a systematic review. Interact Cardiovasc Thorac Surg. 2022;34(2):201-11. https://doi.org/10.1093/icvts/ivab241
Iskander M, Ogunsola T, Ramachandran R, McGowan R, Al-Aswad LA. Virtual reality and augmented reality in ophthalmology: a contemporary prospective. Asia Pac J Ophthalmol (Phila). 2021;10(3):244-52. https://doi.org/10.1097/APO.0000000000000409
Piromchai P. Virtual reality surgical training in ear, nose and throat surgery. Int J Clin Med. 2014;5(10):558-66. https://doi.org/10.4236/ijcm.2014.510077
Hasan LK, Haratian A, Kim M, Bolia IK, Weber AE, Petrigliano FA. Virtual reality in orthopedic surgery training. Adv Med Educ Pract. 2021;12:1295-301. https://doi.org/10.2147/AMEP.S321885
Casso G, Schoettker P, Savoldelli GL, Azzola A, Cassina T. Development and initial evaluation of a novel, ultraportable, virtual reality bronchoscopy simulator: the computer airway simulation system. Anesth Analg. 2019;129(5):1258-64. https://doi.org/10.1213/ANE.0000000000003316
Grottke O, Ntouba A, Ullrich S, Liao W, Fried E, Prescher A, et al. Virtual reality-based simulator for training in regional anaesthesia. Br J Anaesth. 2009;103(4):594-600. https://doi.org/10.1093/bja/aep224
Sankaranarayanan G, Odlozil CA, Hasan SS, Shabbir R, Qi D, Turkseven M, et al. Training on a virtual reality cricothyroidotomy simulator improves skills and transfers to a simulated procedure. Trauma Surg Acute Care Open. 2022;7(1):e000826. https://doi.org/10.1136/tsaco-2021-000826
Aslani N, Behmanesh A, Garavand A, Maleki M, Davoodi F, Shams R. The virtual reality technology effects and features in cardiology interventions training: a scoping review. Med J Islam Repub Iran. 2022;36:77. https://doi.org/10.47176/mjiri.36.77
Besharati Tabrizi L, Mahvash M. Augmented reality-guided neurosurgery: accuracy and intraoperative application of an image projection technique. J Neurosurg. 2015;123(1):206-11. https://doi.org/10.3171/2014.9.JNS141001
Dennler C, Jaberg L, Spirig J, Agten C, Götschi T, Fürnstahl P, et al. Augmented reality-based navigation increases precision of pedicle screw insertion. J Orthop Surg Res. 2020;15:174. https://doi.org/10.1186/s13018-020-01690-x
Lee H, Woo D, Yu S. Virtual reality metaverse system supplementing remote education methods: based on aircraft maintenance simulation. Appl Sci. 2022;12(5):2667. https://doi.org/10.3390/app12052667
Koo H. Training in lung cancer surgery through the metaverse, including extended reality, in the smart operating room of Seoul National University Bundang Hospital, Korea. J Educ Eval Health Prof. 2021;18:33. https://doi.org/10.3352/jeehp.2021.18.33
Giannone F, Felli E, Cherkaoui Z, Mascagni P, Pessaux P. Augmented reality and image-guided robotic liver surgery. Cancers (Basel). 2021;13(24):6268. https://doi.org/10.3390/cancers13246268
Checcucci E, Verri P, Amparore D, Cacciamani GE, Rivas JG, Autorino R, et al. The future of robotic surgery in urology: from augmented reality to the advent of metaverse. Ther Adv Urol. 2023;15:17562872231151853. https://doi.org/10.1177/17562872231151853
Piana A, Gallioli A, Amparore D, Diana P, Territo A, Campi R, et al. Three-dimensional augmented reality-guided robotic-assisted kidney transplantation: breaking the limit of atheromatic plaques. Eur Urol. 2022;82(4):419-26. https://doi.org/10.1016/j.eururo.2022.07.003
Liu G, Deng Y, Zhang S, Lin T, Guo H. Robot-assisted versus conventional open kidney transplantation: a meta-analysis. Biomed Res Int. 2020;2020:2358028. https://doi.org/10.1155/2020/2358028
van Leeuwen FWB, van der Hage JA. Where robotic surgery meets the metaverse. Cancers (Basel). 2022;14(24):6161. https://doi.org/10.3390/cancers14246161
Calabrò RS, Cerasa A, Ciancarelli I, Pignolo L, Tonin P, Iosa M, et al. The arrival of the metaverse in neurorehabilitation: fact, fake or vision? Biomedicines. 2022;10(10):2602. https://doi.org/10.3390/biomedicines10102602
Georgiev DD, Georgieva I, Gong Z, Nanjappan V, Georgiev GV. Virtual reality for neurorehabilitation and cognitive enhancement. Brain Sci. 2021;11(2):221. https://doi.org/10.3390/brainsci11020221
Park MJ, Kim DJ, Lee U, Na EJ, Jeon HJ. A literature overview of virtual reality (vr) in treatment of psychiatric disorders: recent advances and limitations. Front Psychiatry. 2019;10:505. https://doi.org/10.3389/fpsyt.2019.00505
Cerasa A, Gaggioli A, Marino F, Riva G, Pioggia G. The promise of the metaverse in mental health: the new era of MEDverse. Heliyon. 2022;8(11):e11762. https://doi.org/10.1016/j.heliyon.2022.e11762
Tashjian VC, Mosadeghi S, Howard AR, Lopez M, Dupuy T, Reid M, et al. Virtual reality for management of pain in hospitalized patients: results of a controlled trial. JMIR Ment Health. 2017;4(1):e9. https://doi.org/10.2196/mental.7387
Haerling KA. Cost-utility analysis of virtual and mannequin-based simulation. Simul Healthc. 2018;13(1):33-40. https://doi.org/10.1097/SIH.0000000000000280
Chang E, Kim HT, Yoo B. Virtual reality sickness: a review of causes and measurements. Int J Hum-Comput Interact. 2020;36(17):1658-82. https://doi.org/10.1080/10447318.2020.1778351
Wang Z, Kasman M, Martinez M, Rege R, Zeh H, Scott D, et al. A comparative human-centric analysis of virtual reality and dry lab training tasks on the da Vinci surgical platform. J Med Robot Res. 2019;04(03n04):1942007. https://doi.org/10.1142/S2424905X19420078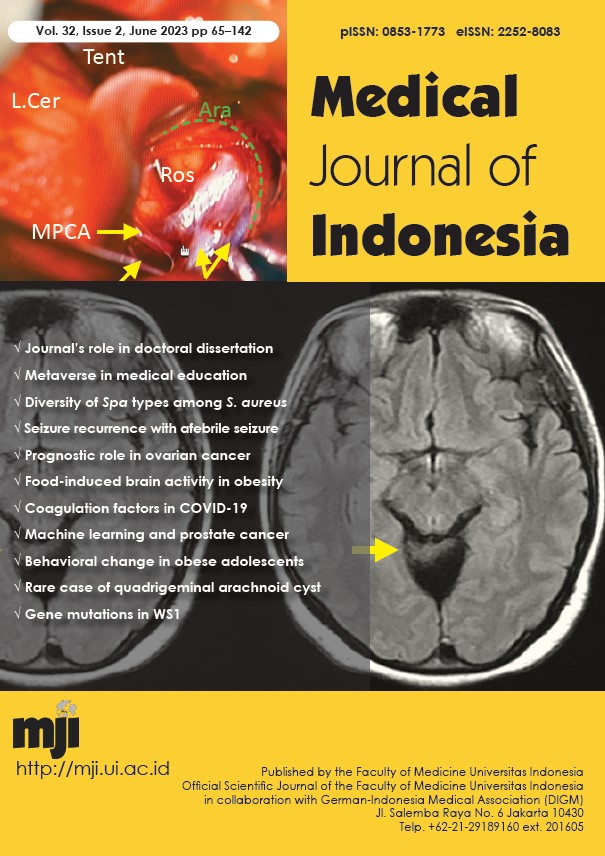 How to Cite
1.
Hamid ARAH, Rusdhy FSA, Yusuf PA. Metaverse in Medical Education. Med J Indones [Internet]. 2023Sep.19 [cited 2023Dec.6];32(2):67-4. Available from: http://mji.ui.ac.id/journal/index.php/mji/article/view/6932
Copyright (c) 2023 Agus Rizal Ardy Hariandy Hamid, Ferdiansyah Sultan Ayasasmita Rusdhy, Prasandhya Astagiri Yusuf
This work is licensed under a Creative Commons Attribution-NonCommercial 4.0 International License.
Authors who publish with Medical Journal of Indonesia agree to the following terms:
Authors retain copyright and grant Medical Journal of Indonesia right of first publication with the work simultaneously licensed under a Creative Commons Attribution-NonCommercial License that allows others to remix, adapt, build upon the work non-commercially with an acknowledgment of the work's authorship and initial publication in Medical Journal of Indonesia.
Authors are permitted to copy and redistribute the journal's published version of the work non-commercially (e.g., post it to an institutional repository or publish it in a book), with an acknowledgment of its initial publication in Medical Journal of Indonesia.