Association between varicocele grade and semen analysis parameter
Ira Ariyati

Department of Radiology, Faculty of Medicine, Universitas Indonesia, Cipto Mangunkusumo Hospital, Jakarta

Rahmad Mulyadi

Department of Radiology, Faculty of Medicine, Universitas Indonesia, Cipto Mangunkusumo Hospital, Jakarta

Ponco Birowo

Department of Urology, Faculty of Medicine, Universitas Indonesia, Cipto Mangunkusumo Hospital, Jakarta

Budi Wiweko

Department of Obstetrics and Gynecology, Faculty of Medicine, Universitas Indonesia, Cipto Mangunkusumo Hospital, Jakarta

Joedo Prihartono

Department of Community Medicine, Faculty of Medicine, Universitas Indonesia, Jakarta
Keywords:
semen analysis, ultrasound examination, varicocele's grade
Abstract viewed: 2796 times PDF downloaded: 1193 times HTML downloaded: 3235 times EPUB downloaded: 167 times
Abstract
Background: Varicocele is a condition characterized by elongation, dilatation and tortuousity of spermatic vein in pampiniform plexus. Approximately 50% of infertility cases among men are caused by varicocele. The varicocele may affect the components of sperm. This study aimed to determine the association between varicocele grade based on ultrasound Doppler examination and sperm concentration, sperm motility, and sperm morphology based on semen analysis examination.
Methods: This was a descriptive, cross-sectional study which used secondary data from 85 patients that visited Department of Urology, Cipto Mangunkusumo Hospital, then underwent ultrasonography examination at Department of Radiology, Cipto Mangunkusumo Hospital and semen analysis examination at Department of Obstetrics and Gynecology, Cipto Mangunkusumo General Hospital.
Results: Varicocele grade was significantly associated with sperm morphology, concentration and motility (all p<0.05). Significant association was found between maximum condition and semen analysis component.
Conclusion: Varicocele grade may affect semen analysis component.
References
Will MA, Swain J, Fode M, Sonksen J, Chistman GM, Ohl D. The great debate: Varicocele treatment and impact on fertility. Fertil Steril. 2011;95(3):841–52. https://doi.org/10.1016/j.fertnstert.2011.01.002

Al-Ali BM, Marszalek M, Syamloul R, Pummer K, Trummer H. Clinical parameters and semen analysis in 716 Austrian patients with varicocele. Urology. 2010;75(5):1069–73. https://doi.org/10.1016/j.urology.2009.11.042

Abdel-Meguid TA, Al-Sayyad A, Tayib A, Farsi HM. Does Varicocele Repair Improve Male Infertility? An Evidence-Based Perspective From a Randomized, Controlled Trial. Eur Urol. 2011;59:455–61. https://doi.org/10.1016/j.eururo.2010.12.008

Mori MM, Bertolla RP, Fraietta R, Ortiz V, Cedenho AP. Does varicocele grade determine extent of alteration to spermatogenesis in adolescents. Fertil Steril. 2008;90(5):1769–73. https://doi.org/10.1016/j.fertnstert.2007.09.052

Yasumoto R, Kobayakawa H, Kawamura M, Iwai S, Yuuki K, Ohyama T, et al. Clinical studies of varicocele report 1: Clinical statistical analysis of varicocele. Kurenai. 1988;34:309–11.

Pilatz A, Altinkilic B, Kohler E, Marconi M, Weidner W. Color doppler ultrasound imaging in varicoceles is the venous diameter sufficient for predicting clinical and subclinical varicocele. World J Urol. 2011;29(5):645–50. https://doi.org/10.1007/s00345-011-0701-4

WHO Laboratory Manual for the Examination and Processing of Human Semen. Fifth edition. 2010.

Esteves SC, Miyaoka R, Agarwal A. An update on the clinical assessment of the infertile male. Clinics (Sao Paulo). 2011;66(4):691–700. https://doi.org/10.1590/S1807-59322011000400026

Roth M, Amory J, Page ST. Treatment of male infertility secondary to morbid obesity. Nat Clin Pract Endocrinol Metab. 2008;4(7):415–9. https://doi.org/10.1038/ncpendmet0844

Hasan R, Dian A, Hanif M, Yusuf A, Hassan H. Comparison of the efficacy of laparoscopic versus open high ligation of varicoceles. Ann Pak Inst Med Sci. 2013;9(2):68–73.

Abbas MW, Kamal M, Murtaza G. Varicocele; comparison of complications in open surgery versus laparoscopic surgical management of varicocele among adolescents at a tertiary care hospital. Professional Med J. 2017;24(8):1099–104. https://doi.org/10.17957/TPMJ/17.4169

Kantartzi PD, Goulis ChD, Goulis GD, Papadimas I. Male infertility and varicocele myths and reality. Hippokratia. 2007;11(3):99–104.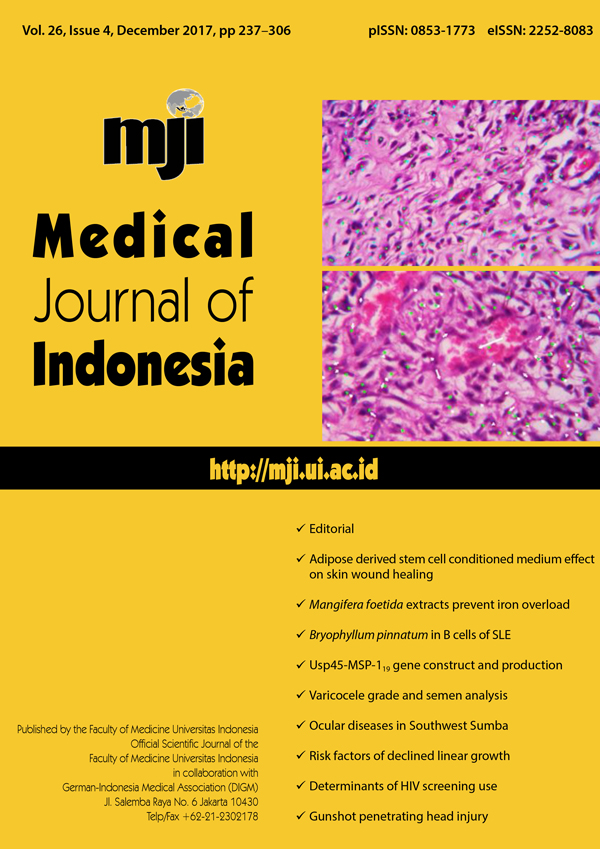 How to Cite
1.
Ariyati I, Mulyadi R, Birowo P, Wiweko B, Prihartono J. Association between varicocele grade and semen analysis parameter. Med J Indones [Internet]. 2018Feb.14 [cited 2023Oct.1];26(4):270-6. Available from: https://mji.ui.ac.id/journal/index.php/mji/article/view/1623
Section
Clinical Research
Copyright (c) 2018 Ira Ariyati, Rahmad Mulyadi, Ponco Birowo, Budi Wiweko, Joedo Prihartono
This work is licensed under a Creative Commons Attribution-NonCommercial 4.0 International License.
Authors who publish with Medical Journal of Indonesia agree to the following terms:
Authors retain copyright and grant Medical Journal of Indonesia right of first publication with the work simultaneously licensed under a Creative Commons Attribution-NonCommercial License that allows others to remix, adapt, build upon the work non-commercially with an acknowledgment of the work's authorship and initial publication in Medical Journal of Indonesia.
Authors are permitted to copy and redistribute the journal's published version of the work non-commercially (e.g., post it to an institutional repository or publish it in a book), with an acknowledgment of its initial publication in Medical Journal of Indonesia.