Detection of Mycobacterium leprae using real-time PCR in paucibacillary leprosy patients with negative acid-fast bacilli smears
Arleen Devita

Department of Microbiology, Faculty of Medicine, Universitas Trisakti, Jakarta, Indonesia

https://orcid.org/0000-0003-2383-3737

Fera Ibrahim

Department of Clinical Microbiology, Faculty of Medicine, Universitas Indonesia, Cipto Mangunkusumo Hospital, Jakarta, Indonesia

Sri Linuwih Susetyo Wardhani Menaldi

Department of Dermatology and Venereology, Faculty of Medicine, Cipto Mangunkusumo Hospital, Universitas Indonesia, Jakarta, Indonesia

https://orcid.org/0000-0003-3687-1871

Angky Budianti

Department of Clinical Microbiology, Faculty of Medicine, Universitas Indonesia, Cipto Mangunkusumo Hospital, Jakarta, Indonesia

https://orcid.org/0000-0001-6368-257X

Andi Yasmon

Department of Clinical Microbiology, Faculty of Medicine, Universitas Indonesia, Cipto Mangunkusumo Hospital, Jakarta, Indonesia

https://orcid.org/0000-0002-3999-4976
Keywords:
Mycobacterium leprae, paucibacillary leprosy, real-time PCR
Abstract viewed: 1207 times PDF downloaded: 879 times HTML downloaded: 141 times EPUB downloaded: 379 times
Abstract
BACKGROUND Leprosy is an infectious disease that is still a health problem worldwide, including in Indonesia. The clinical symptoms are similar to other skin diseases and it is difficult to establish a diagnosis for paucibacillary (PB) leprosy. Current serological and histopathological tests have limitations, especially in patients with negative acid-fast bacilli (AFB). Serological tests often give false-negative results, while histopathological results often consist of non-specific inflammation. Probe-based real-time polymerase chain reaction (RT-PCR) assays is an alternative test that may be more sensitive and more specific to detect Mycobacterium leprae.
METHODS This study was done in June 2015 until March 2016; detected M. leprae in PB patients with negative AFB smears using TaqMan® probe-based RT-PCR assay on slit skin scrapings and skin biopsy specimens from 24 patients. The skin scrapings were obtained from skin tissue on ear lobes, skin lesions, as well as those from biopsy. Samples were tested with RT-PCR while histopathological examinations were only performed on skin from biopsy.
RESULTS The RT-PCR assay showed positive results of 21%, 25%, and 96% for specimens obtained from skin scrapings of the ear lobe, skin lesions, and skin biopsy, respectively. On the other hand, the positive rate for the histopathological test from skin biopsy was 79%. It indicated that the TaqMan® RT-PCR assay could increase the diagnostic capacity of histopathological examination by as much as 17%.
CONCLUSIONS TaqMan® PCR assay can improve the diagnostic capacity of histopathological examinations, which could be used as the new gold standard for the diagnosis of leprosy.
References
Indonesian Ministry of Health. National guidelines for leprosy control program. Jakarta [Indonesia]; 2012. Indonesian.

Kumar B, Dogra S. Leprosy: a disease with diagnostic and management challanges! Indian J Dermatol Venereol Leprol. 2009;75(2):111-5. https://doi.org/10.4103/0378-6323.48653

Yan W, Xing Y, Yuan LC, Yang RD, Tan FY, Zhang Y, et al. Application of RLEP real-time PCR for detection of M. leprae DNA in paraffin-embedded skin biopsy specimens for diagnosis of paucibacillary leprosy. Am J Trop Med Hyg. 2014;90:524-9. https://doi.org/10.4269/ajtmh.13-0659

Lastoria JC, Morgado de Abreu MAM. Leprosy: a review of laboratory and therapeutic aspects - part 2. An Bras Dernatol. 2014;89:389-403. https://doi.org/10.1590/abd1806-4841.20142460

Parkash O. Serological detection of leprosy employing Mycobacterium leprae derived serine-rich 45 kDa, ESAT-6, CFP- 10 and PGL-I: a compilation of data from studies in Indian populations. Lepr Rev 2011;82:383-8.

Kamal R, Natrajan M, Katoch K, Katoch V. Evaluation of diagnostic role of in situ PCR on slit skin smears in pediatric leprosy. Indian J Lepr. 2010;82:195-200.

Goulart IM, Goulart LR. Leprosy: diagnostic and control challanges for a worldwide disease. Arch Dermatol Res. 2008;300(6):269-90. https://doi.org/10.1007/s00403-008-0857-y

Martinez AN, Talhari C, Moraes MO, Talhari S. PCR-based techniques for leprosy diagnosis: from laboratory to the clinic. PLoS Negl Trop Dis. 2014;8(4):e2655. https://doi.org/10.1371/journal.pntd.0002655

Job CK, Jayakumar J, Williams DL, Gillis TP. Role of polymerase chain reaction in the diagnosis of early leprosy. Int J Lepr. 1997;65:461-4.

Martinez AN, Britto CFPC, Nery JAC, Sampaio EP, Jardim MR, Sarno EN, et al. Evaluation of real-time PCR and conventional PCR targeting complex 85 genes for detection of Mycobacterium leprae DNA in skin biopsy samples from patients diagnosed with leprosy. J Clin Microbiol. 2006;44(9):3154-9. https://doi.org/10.1128/JCM.02250-05

Espy MJ, Uhl JR, Sloan LM, Buckwalter SP, Jones MF, Vetter EA, et al. Real-time PCR in clinical microbiology: application for routine laboratory testing. Clin Microbiol Rev. 2006;19(1):165-256. https://doi.org/10.1128/CMR.19.1.165-256.2006

Rudeeaneksin J, Srisungngam S, PathomSawanpanyalert, Sittiwakin T, Likanonsakul S, Pasadorn S, et al. LightCyclerTM real-time PCR for rapid detection and quantitation of Mycobacterium leprae in skin specimens. FEMS Immunol Med Microbiol. 2008;54:263-70. https://doi.org/10.1111/j.1574-695X.2008.00472.x

Truman RW, Andrews PK, Robbins NY, Adams LB, Krahenbuhi JL, Gillis TP. Enumeration of Mycobacterium leprae using real-time PCR. PLoS Negl Trop Dis. 2008;2(11):e328. https://doi.org/10.1371/journal.pntd.0000328

McCall MN, McMurray HR, Land H, Almudevar A. On non-detects in qPCR data. Bioinformatics. 2014;30(16):2310-6. https://doi.org/10.1093/bioinformatics/btu239

Setapathy J, Kar BR, Job CK. Presence of Mycobacterium leprae in epidermal cells of lepromatous skin and its significance. Indian J Dermatol Venereol Leprol. 2005;71(4):267-9. https://doi.org/10.4103/0378-6323.16620

Turankar RP, Pandey S, Lavania M, Singh I, Nigam A, Darlong J, et al. Comparative evaluation of PCR amplification of RLEP, 16s rRNA, rpoT and Sod A gene targets for detection of M. leprae DNA from clinical and environmental samples. Int J Mycobacteriol. 2015;4:54-9. https://doi.org/10.1016/j.ijmyco.2014.11.062

Wichitwechkarn J, Karnjan S, Shuntawuttisettee S, Sornprasit C, Kampirapap K, Peerapakorn S. Detection of Mycobacterium leprae infection by PCR. J Clin Microbiol. 1995;33(1):45-9.

Kampirapap K, Singtham N, Klatser PR, Wiriyawipart S. DNA amplification for detection of leprosy and assessment of efficacy of leprosy chemotherapy. Int J Lepr. 1997;66(1):16-21.

Dayal R, Singh S, Mathur P, Katoch V, Katoch K, Natrajan M. Diagnostic value of in situ polymerase chain reaction in leprosy. Indian J Pediatr. 2005;72:1043-6. https://doi.org/10.1007/BF02724408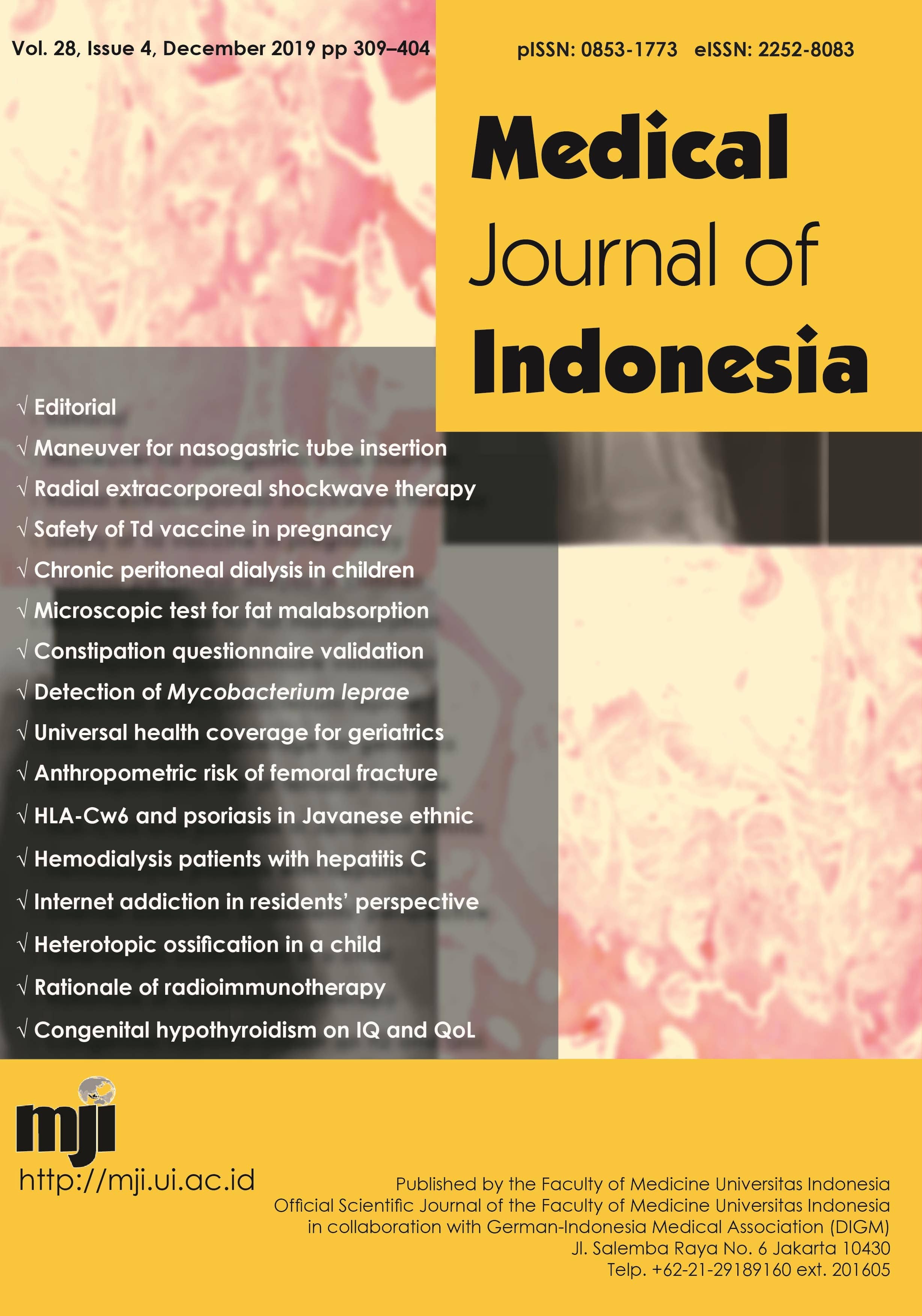 How to Cite
1.
Devita A, Ibrahim F, Menaldi SLSW, Budianti A, Yasmon A. Detection of <em>Mycobacterium leprae</em&gt; using real-time PCR in paucibacillary leprosy patients with negative acid-fast bacilli smears. Med J Indones [Internet]. 2019Dec.13 [cited 2023Sep.29];28(4):351-7. Available from: http://mji.ui.ac.id/journal/index.php/mji/article/view/2643
Section
Clinical Research
Copyright (c) 2019 Arleen Devita, Fera Ibrahim, Sri Linuwih SW Menaldi, Angky Budianti, Andi Yasmon
This work is licensed under a Creative Commons Attribution-NonCommercial 4.0 International License.
Authors who publish with Medical Journal of Indonesia agree to the following terms:
Authors retain copyright and grant Medical Journal of Indonesia right of first publication with the work simultaneously licensed under a Creative Commons Attribution-NonCommercial License that allows others to remix, adapt, build upon the work non-commercially with an acknowledgment of the work's authorship and initial publication in Medical Journal of Indonesia.
Authors are permitted to copy and redistribute the journal's published version of the work non-commercially (e.g., post it to an institutional repository or publish it in a book), with an acknowledgment of its initial publication in Medical Journal of Indonesia.