ABOUT JOURNAL
| 
CITATIONS
|
STATISTIC
|
SUBMISSIONS
 |
ABSTRACTING & INDEXING
---
This quarterly medical journal is an official scientific journal of the Faculty of Medicine Universitas Indonesia in collaboration with German-Indonesian Medical Association (DIGM).
Abstracted and indexed in: EBSCO host, ASEAN Citation Index, BASE, CAB Abstracts, CiteFactor, CNKI, Dimensions, DOAJ, Electronic Journals Library, Embase, ESCI, GARUDA, Global Health, Google Scholar, Hinari, IMSEAR, ISC, JournalTOCs, Microsoft Academic, PKP index, Proquest, Scilit, Scopus, SINTA, Ulrichsweb Global Serial Directory, WorldCat.
Accredited (2016-2020) by the Directorate General of Research and Development Strengthening of the Ministry of Research, Technology and Higher Education of the Republic of Indonesia (No:21/E/KPT/2018).
Announcements
New update for Instruction for Authors Medical Journal of Indonesia

We would like to thank all the authors who have trusted us in publishing in Medical Journal of Indonesia. The latest update of our authors' guideline is in March 2019. Some additional requirements are:

Cover letter is needed and addressed to Editor-in-chief which should contain statement about all previous submissions of the manuscript and previous reports that might be regarded as redundant publication of the work and mention whether the work have been presented in a congress.
We encourage authors to register all clinical trial to any registration and if you can not provided, you need to explain it also in the cover letter.
Funding sources need to be written separately.
Symbols in tables or figures are in sequence. *, †, ‡, §, ¶, **, ††, ‡‡, §§,  ¶¶, etc
Abstract in Indonesian language and synopsis are no longer needed.
Start from 2019, all authors will be written completely without any abbreviation. The complete address of the corresponding author (include full address, tel/fax number of the institution) will also be printed.

For complete instructions please see it here.

Posted: 2019-04-16
More...
Vol 27, No 4 (2018): December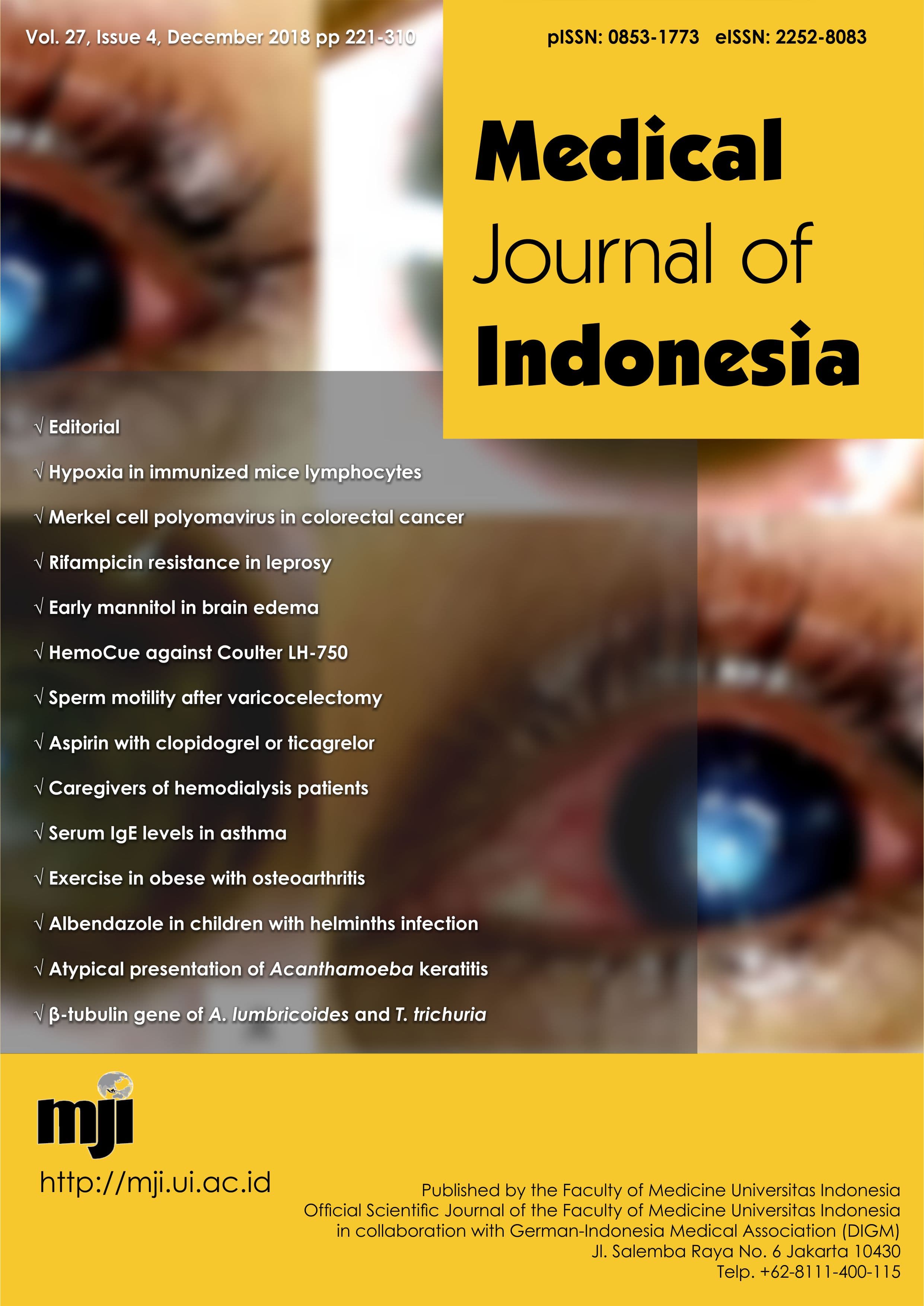 Table of Contents
Editorial
Basic Medical Research
| | | |
| --- | --- | --- |
| | Citra Praditi, Ani R. Prijanti, Sri W.A. Jusman, Mohamad Sadikin | 223-8 |
Clinical Research
| | | |
| --- | --- | --- |
| | Mohammad Hadi Karbalaie Niya, Fahimeh Safarnezhad Tameshkel, Mahdi Alemrajabi, Mahsa Taherizadeh, Mohsen Keshavarz, Mohsen Rezaee, Hossein Keyvani | 229-36 |
| | | |
| --- | --- | --- |
| | Yulia Siskawati, Evita H. Effendi, Lili Legiawati, Sri L. Menaldi | 237-43 |
| | | |
| --- | --- | --- |
| | Putu A. Sekarningrum, Dyah K. Wati, IGN Made Suwarba, I Nyoman B. Hartawan, Dewi S. Mahalini, IB Gede Suparyatha | 244-9 |
| | | |
| --- | --- | --- |
| | Sultan A.M. Saghir, Amer A. Almaiman, Aishah K.A. Shatar, Norris Naim, Huda S. Baqir | 250-5 |
| | | |
| --- | --- | --- |
| | Gede W.K. Duarsa, I Komang O. Krishna, Pande M.W. Tirtayasa, I Wayan Yudiana, Kadek B. Santosa, Tjokorda G.B. Mahadewa, Anak A.G. Oka | 256-61 |
| | | |
| --- | --- | --- |
| | Nafrialdi Nafrialdi, Novita M. Handini, Instiaty Instiaty, Ika P. Wijaya | 262-70 |
| | | |
| --- | --- | --- |
| | Lucky A. Bawazier, Ignatius Stanley, Wicensius Sianipar, Suhardjono Suhardjono | 271-8 |
| | | |
| --- | --- | --- |
| | Iris Rengganis, Dirga S. Rambe, Cleopas M. Rumende, Murdani Abdullah | 279-83 |
| | | |
| --- | --- | --- |
| | Tirza Z. Tamin, Natalia Loekito | 284-92 |
Community Research
| | | |
| --- | --- | --- |
| | Saleha Sungkar, Fitry B.J. Tambunan, Meutia N. Gozali, Gladys Kusumowidagdo, Sri Wahdini | 293-8 |
Case Report
| | | |
| --- | --- | --- |
| | Fitri Muslim, Ratna Sitompul, Lukman Edwar | 299-303 |
Brief Communication
| | | |
| --- | --- | --- |
| | Yuliana Yuliana, Yenny Djuardi, Taniawati Supali | 304-9 |
Corrigendum