ABOUT JOURNAL
| 
CITATIONS
|
STATISTIC
|
SUBMISSIONS
 |
ABSTRACTING & INDEXING
---
This quarterly medical journal is an official scientific journal of the Faculty of Medicine Universitas Indonesia in collaboration with German-Indonesian Medical Association (DIGM).
Abstracted and indexed in: Academic Journals Database, ASEAN Citation Index, BASE, CAB Abstracts, CiteFactor, CNKI, DOAJ, DRJI, EBSCO host, Electronic Journals Library, Embase, ESCI, Global Health, Google Scholar, Hinari, IMSEAR, ISC, ISJD, IPI, JournalTOCs, Open Access Articles, PKP index, Proquest, Scilit, Scopus, Ulrichsweb Global Serial Directory, WorldCat.
Accredited (2013-2018) by the Directorate General of Higher Education of the Ministry of Education and Culture of the Republic of Indonesia (No:58/DIKTI/Kep/2013).
Announcements
New publication fee

Starting 2017 issue, to enhance the quality of this journal, we need to increase the publication fee to US$ 300 for foreign authors and IDR 3,000,000,- for Indonesian authors. The cost of each printed page that contains colored figure still remains (US$50 or IDR 500,000).

We also expanded the waiver policy, and not limit to group A and group B countries. All authors may ask a waive, and they need to send letter of waiver to editor-in-chief explaining the importance of the study and why author(s) need to be waived. The decision is made prior to the process of the review and it is the editors' priviledge to approve or reject the request.

Posted: 2017-05-16
More...
Vol 26, No 2 (2017): June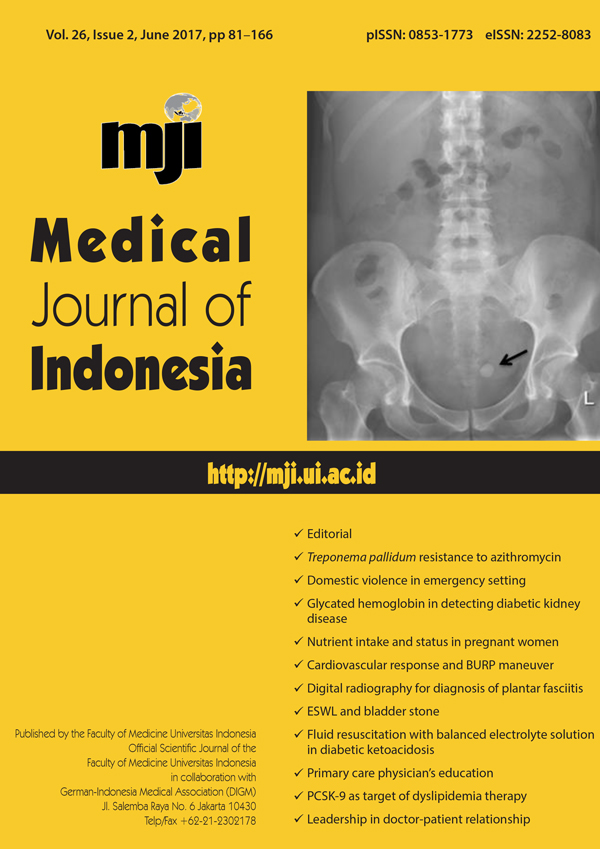 Table of Contents
Editorial
| | | |
| --- | --- | --- |
| | Jörg Haier, Jürgen Schäfers, Hans-Joachim Freisleben | 83-5 |
Basic Medical Research
| | | |
| --- | --- | --- |
| | Desy A. Gultom, Yeva Rosana, Ida Efendi, Wresti Indriatmi, Andi Yasmon | 90-6 |
Clinical Research
| | | |
| --- | --- | --- |
| | Dedi Afandi, Mohammad T. Indrayana, Iriandanu Nugraha, Dinda Danisha | 97-101 |
| | | |
| --- | --- | --- |
| | Sojib Bin Zaman, Naznin Hossain, Ahmed E. Rahman, Sheikh M.S. Islam | 102-8 |
| | | |
| --- | --- | --- |
| | Noroyono Wibowo, Saptawati Bardosono, Rima Irwinda, Inayah Syafitri, Atikah S. Putri, Natasya Prameswari | 109-15 |
| | | |
| --- | --- | --- |
| | Arif H.M. Marsaban, Aldy Heriwardito, I G.N.A.D. Yundha | 116-21 |
| | | |
| --- | --- | --- |
| | Marcel Prasetyo, Thariqah Salamah, Trifonia P. Siregar | 122-7 |
| | | |
| --- | --- | --- |
| | Isaac A. Deswanto, Ari Basukarno, Ponco Birowo, Nur Rasyid | 128-33 |
| | | |
| --- | --- | --- |
| | Dita Aditianingsih, Anne S. Djaja, Yohanes W.H. George | 134-40 |
Review Article
| | | |
| --- | --- | --- |
| | Indah S. Widyahening, Rodri Tanoto, Fedri Rinawan, Elsa P. Setiawati, Zorayda E. Leopando | 141-51 |
| | | |
| --- | --- | --- |
| | Bambang Dwiputra, Anwar Santoso, Kian K. Poh | 152-7 |
Brief Communication