ABOUT JOURNAL
| 
CITATIONS
|
STATISTIC
|
SUBMISSIONS
 |
ABSTRACTING & INDEXING
---
This quarterly medical journal is an official scientific journal of the Faculty of Medicine Universitas Indonesia in collaboration with German-Indonesian Medical Association (DIGM).
Abstracted and indexed in: Academic Journals Database, CAB Abstracts, CiteFactor, CNKI, DOAJ, DRJI, EBSCO host, Electronic Journals Library, Global Health, Google Scholar, HINARI, IMSEAR, ISJD, IPI, InnoSpace, JournalTOCs, New Jour, Open Access Articles, Proquest, Ulrichsweb Global Serial Directory, WorldCat.
Accredited (2013-2018) by the Directorate General of Higher Education of the Ministry of Education and Culture of the Republic of Indonesia (No:58/DIKTI/Kep/2013).
Announcements
Medical Journal of Indonesia joins CrossCheck

Starting 2015, to ensure that the published articles are free from plagiarism, Medical Journal of Indonesia started to use CrossCheck by CrossRef in screening the plagiarism. It is powered by iThenticate that will help us to proceed the integrity of publication and ensure the originality.

Posted: 2015-02-01
More...
Vol 25, No 1 (2016): March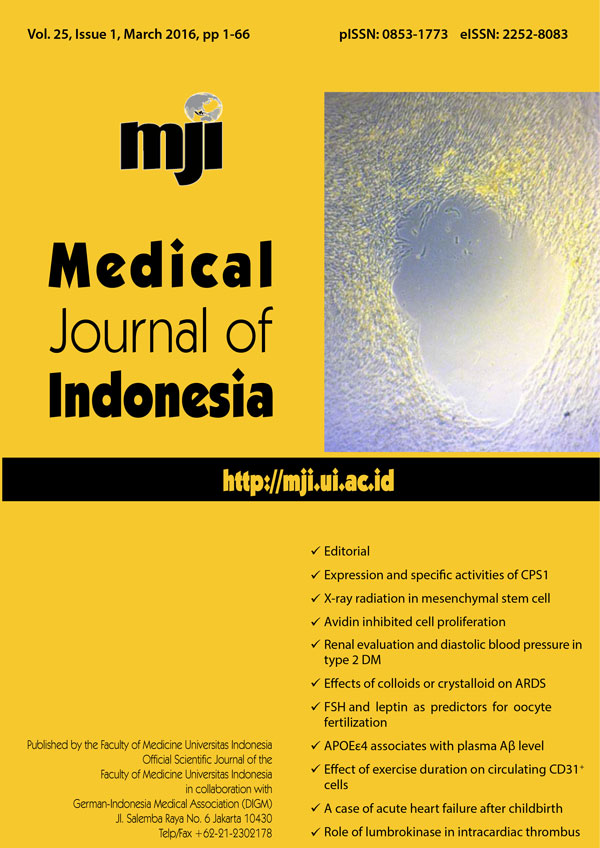 Table of Contents
Editorial
| | | |
| --- | --- | --- |
| | Nafrialdi Nafrialdi, Felix F. Widjaja | 1-2 |
Basic Medical Research
| | | |
| --- | --- | --- |
| | Uly A. Nikmah, Ani R. Prijanti, Sri W.A. Jusman, Mohamad Sadikin | 3-9 |
| | | |
| --- | --- | --- |
| | Ahmad J. Rahyussalim, Jeanne A. Pawitan, Alam R. Kusnadi, Tri Kurniawati | 10-8 |
| | | |
| --- | --- | --- |
| | Cicia Firakania, Indra G. Mansur, Sri W.A. Jusman, Mohamad Sadikin | 19-24 |
Clinical Research
| | | |
| --- | --- | --- |
| | Fokine D. Anna, Mendieta Z. Hugo, Mendieta A.M. Ruth | 25-32 |
| | | |
| --- | --- | --- |
| | Rismala Dewi, Bambang Supriyatno, Amir S. Madjid, Gunanti Gunanti, Munar Lubis | 33-8 |
| | | |
| --- | --- | --- |
| | Andon Hestiantoro, Budi Wiweko, Robert H. Purwaka | 39-43 |
| | | |
| --- | --- | --- |
| | Rocksy F.V. Situmeang, Eka J. Wahjoepramono, Cahyono Kaelan, Jan S. Purba, Budhianto Suhadi, Suryani As'ad, Amiruddin Aliah, Ilham J. Patellongi, Syarifuddin Wahid | 44-50 |
| | | |
| --- | --- | --- |
| | Mariani Santosa, Ermita I.I. Ilyas, Radiana D. Antarianto | 51-6 |
Case Report
| | | |
| --- | --- | --- |
| | Hori Hariyanto, Corry Q. Yahya, Primartanto Wibowo, Oloan E. Tampubolon | 57-61 |
| | | |
| --- | --- | --- |
| | Rony M. Candrasatria, Manoefris Kasim | 62-6 |