ABOUT JOURNAL
| 
CITATIONS
|
STATISTIC
|
SUBMISSIONS
 |
ABSTRACTING & INDEXING
---
This quarterly medical journal is an official scientific journal of the Faculty of Medicine Universitas Indonesia in collaboration with German-Indonesian Medical Association (DIGM).
Abstracted and indexed in: Academic Journals Database, ASEAN Citation Index, BASE, CAB Abstracts, CiteFactor, CNKI, DOAJ, EBSCO host, Electronic Journals Library, Embase, ESCI, Global Health, Google Scholar, Hinari, IMSEAR, ISC, ISJD, IPI, JournalTOCs, Open Access Articles, PKP index, Proquest, Scilit, Scopus, Ulrichsweb Global Serial Directory, WorldCat.
Accredited (2018-2023) by the Directorate General of Research and Development Strengthening of the Ministry of Research, Technology and Higher Education of the Republic of Indonesia (No:21/E/KPT/2018).
Announcements
Advanced Scientific Writing Workshop

We are pleased to invite you to the Advanced Scientific Writing Workshop that would be held on January 31 - February 1, 2019 at the Harris Hotel, Tebet, South Jakarta, Indonesia. The schedule is attached for you here.

This workshop is hosted by Medical Journal of Indonesia and is aimed to make physicians more aware of problems in written communications of scientific writing. We will directly discuss your own manuscript part by part to enhance its quality. All the speakers and facilitators are editorial board of Medical Journal of Indonesia.

Posted: 2018-12-29
More...
Vol 27, No 4 (2018): December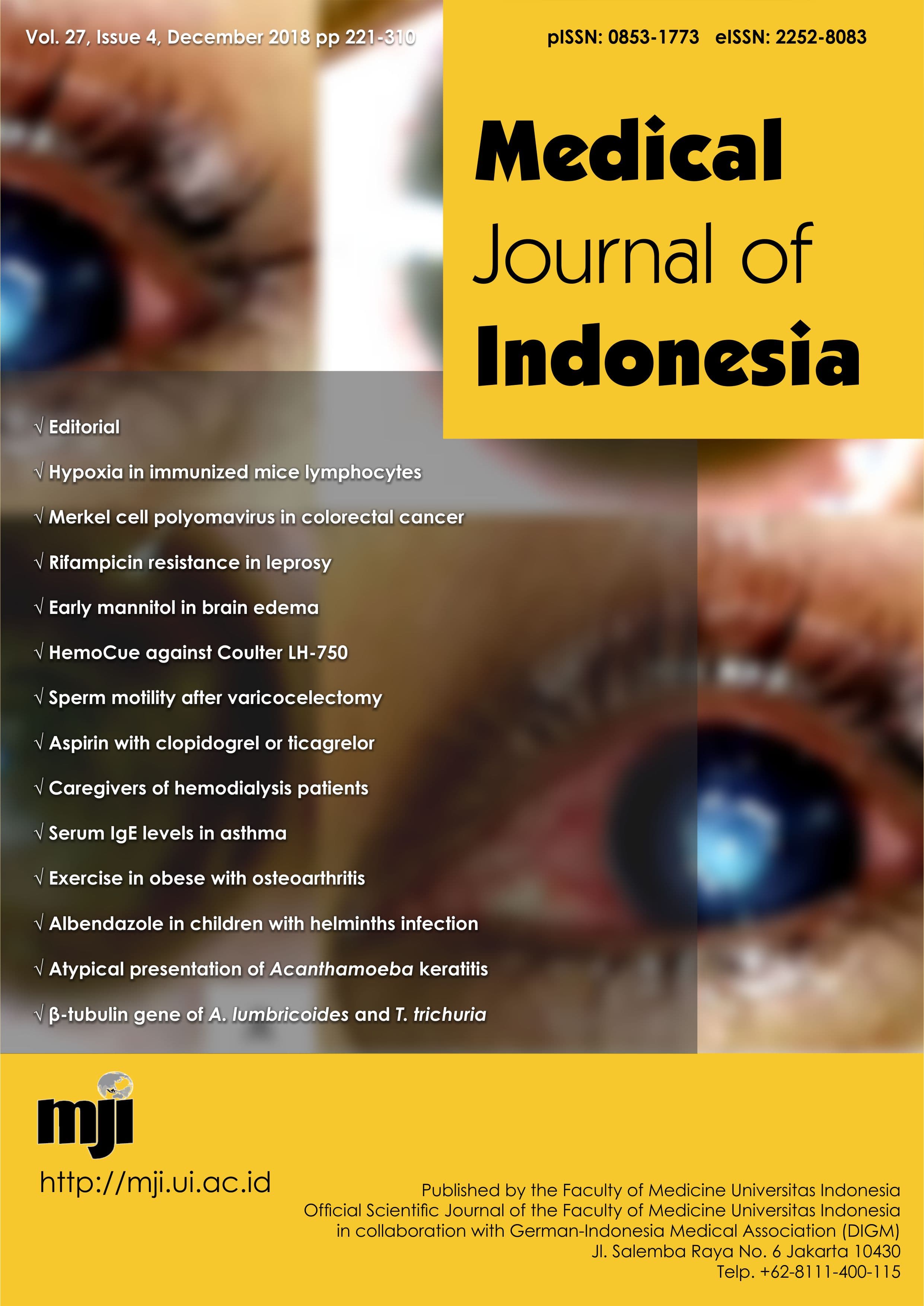 Table of Contents
Editorial
Basic Medical Research
| | | |
| --- | --- | --- |
| | Citra Praditi, Ani R. Prijanti, Sri W.A. Jusman, Mohamad Sadikin | 223-8 |
Clinical Research
| | | |
| --- | --- | --- |
| | Mohammad Hadi Karbalaie Niya, Fahimeh Safarnezhad Tameshkel, Mahdi Alemrajabi, Mahsa Taherizadeh, Mohsen Keshavarz, Mohsen Rezaee, Hossein Keyvani | 229-36 |
| | | |
| --- | --- | --- |
| | Yulia Siskawati, Evita H. Effendi, Lili Legiawati, Sri L. Menaldi | 237-43 |
| | | |
| --- | --- | --- |
| | Putu A. Sekarningrum, Dyah K. Wati, IGN Made Suwarba, I Nyoman B. Hartawan, Dewi S. Mahalini, IB Gede Suparyatha | 244-9 |
| | | |
| --- | --- | --- |
| | Sultan A.M. Saghir, Amer A. Almaiman, Aishah K.A. Shatar, Norris Naim, Huda S. Baqir | 250-5 |
| | | |
| --- | --- | --- |
| | Gede W.K. Duarsa, I Komang O. Krishna, Pande M.W. Tirtayasa, I Wayan Yudiana, Kadek B. Santosa, Tjokorda G.B. Mahadewa, Anak A.G. Oka | 256-61 |
| | | |
| --- | --- | --- |
| | Nafrialdi Nafrialdi, Novita M. Handini, Instiaty Instiaty, Ika P. Wijaya | 262-70 |
| | | |
| --- | --- | --- |
| | Lucky A. Bawazier, Ignatius Stanley, Wicensius Sianipar, Suhardjono Suhardjono | 271-8 |
| | | |
| --- | --- | --- |
| | Iris Rengganis, Dirga S. Rambe, Cleopas M. Rumende, Murdani Abdullah | 279-83 |
| | | |
| --- | --- | --- |
| | Tirza Z. Tamin, Natalia Loekito | 284-92 |
Community Research
| | | |
| --- | --- | --- |
| | Saleha Sungkar, Fitry B.J. Tambunan, Meutia N. Gozali, Gladys Kusumowidagdo, Sri Wahdini | 293-8 |
Case Report
| | | |
| --- | --- | --- |
| | Fitri Muslim, Ratna Sitompul, Lukman Edwar | 299-303 |
Brief Communication
| | | |
| --- | --- | --- |
| | Yuliana Yuliana, Yenny Djuardi, Taniawati Supali | 304-9 |
Corrigendum