ABOUT JOURNAL
| 
CITATIONS
|
STATISTIC
|
SUBMISSIONS
 |
ABSTRACTING & INDEXING
---
This quarterly medical journal is an official scientific journal of the Faculty of Medicine Universitas Indonesia in collaboration with German-Indonesian Medical Association (DIGM).
Abstracted and indexed in: EBSCO host, ASEAN Citation Index, BASE, CAB Abstracts, CiteFactor, CNKI, Dimensions, DOAJ, Electronic Journals Library, Embase, ESCI, GARUDA, Global Health, Google Scholar, Hinari, IMSEAR, ISC, JournalTOCs, Microsoft Academic, PKP index, Proquest, Scilit, Scopus, SINTA, Ulrichsweb Global Serial Directory, WorldCat.
Accredited (2016-2020) by the Directorate General of Research and Development Strengthening of the Ministry of Research, Technology and Higher Education of the Republic of Indonesia (No:21/E/KPT/2018).
Announcements
Public Holiday 30th May to 9th June 2019

We would like to announce that we will officially close from 30th May 2019 to  9th June 2019. Any emails or services during the period of time will be responded after the public holiday. We will serve you again in 10th June 2019. Thank you for your understanding and have a nice holiday.
Posted: 2019-05-25
More...
Vol 28, No 1 (2019): March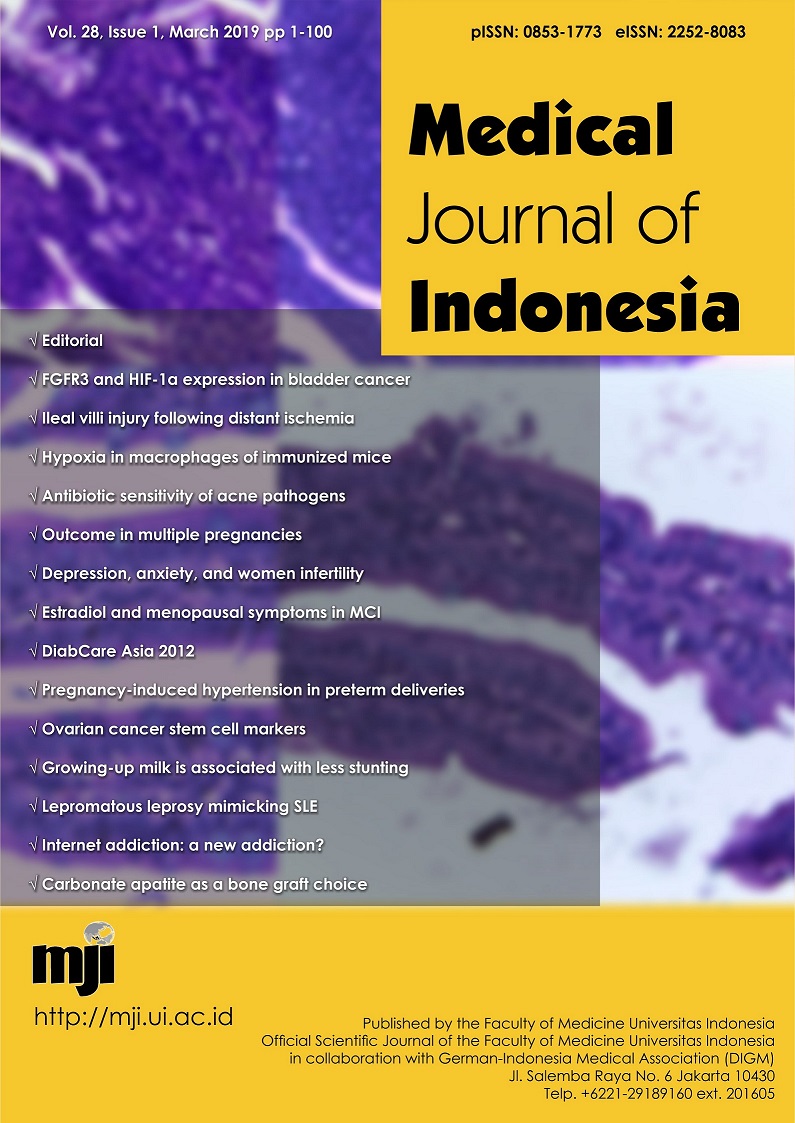 Table of Contents
Editorial
| | | |
| --- | --- | --- |
| | Agus Rizal Ardy Hariandy Hamid, Felix Firyanto Widjaja | 1-2 |
Basic Medical Research
| | | |
| --- | --- | --- |
| | Syah Mirsya Warli, Lidya Imelda Laksmi, Ferry Safriadi, Rainy Umbas | 3-7 |
| | | |
| --- | --- | --- |
| | Yefta Moenadjat, Aris Ramdhani, Wifanto Saditya Jeo, Wuryantoro Suharto, Retno Asti Werdhani | 8-13 |
| | | |
| --- | --- | --- |
| | Pungguri Ayu Nega Sarsanti, Mohamad Sadikin, Sri Widia Azraki Jusman | 14-20 |
Clinical Research
| | | |
| --- | --- | --- |
| | Irma Bernadette Simbolon Sitohang, Hafizah Fathan, Evita Effendi, Mardiastuti Wahid | 21-7 |
| | | |
| --- | --- | --- |
| | Behnaz Basiri, Mohammad Kazem Sabzehei, Maryam Shokouhi, Mohammad Mahdi Sabahi | 28-34 |
| | | |
| --- | --- | --- |
| | Shoboo Rahmati, Ali Delpisheh, Ashraf Direkvand Moghadam, Kourosh Sayehmiri, Fathola Mohamadian | 35-9 |
| | | |
| --- | --- | --- |
| | Andon Hestiantoro, Shanty Olivia Jasirwan, Martina Wiwie, Amalia Shadrina, Nurhadi Ibrahim, Brilliant Putri Kusuma Astuti | 40-6 |
| | | |
| --- | --- | --- |
| | Achmad Rudijanto Cholil, Dharma Lindarto, Tjokorda Gde Dalem Pemayun, Wismandari Wisnu, Poppy Kumala, Happy Helene Sulung Puteri | 47-56 |
| | | |
| --- | --- | --- |
| | Rima Irwinda, Budi Iman Santoso, Raymond Surya, Lidia Firmiaty Nembo | 57-62 |
| | | |
| --- | --- | --- |
| | Nugraha Utama Pelupessy, Andrijono Andrijono, Bambang Sutrisna, Alida Roswita Harahap, Mpu Kanoko, Laila Nuranna, Budiningsih Siregar, Dewi Wulandari | 63-9 |
Community Research
| | | |
| --- | --- | --- |
| | Damayanti Rusli Sjarif, Klara Yuliarti, William Jayadi Iskandar | 70-6 |
Case Report
| | | |
| --- | --- | --- |
| | Niken Kusumaningrum, Schandra Purnamawati, Dwi Retno Adi Winarni, Hardyanto Soebono | 77-81 |
Review Article
| | | |
| --- | --- | --- |
| | Kristiana Siste Kurniasanti, Pratiwi Assandi, Raden Irawati Ismail, Martina Wiwie Setiawan Nasrun, Tjhin Wiguna | 82-91 |
| | | |
| --- | --- | --- |
| | Ahmad Jabir Rahyussalim, Sugeng Supriadi, Aldo Fransiskus Marsetio, Pancar Muhammad Pribadi, Bambang Suharno | 92-7 |