ABOUT JOURNAL
| 
CITATIONS
|
STATISTIC
|
SUBMISSIONS
 |
ABSTRACTING & INDEXING
---
This quarterly medical journal is an official scientific journal of the Faculty of Medicine Universitas Indonesia in collaboration with German-Indonesian Medical Association (DIGM).
Abstracted and indexed in: Academic Journals Database, ASEAN Citation Index, BASE, CAB Abstracts, CiteFactor, CNKI, DOAJ, DRJI, EBSCO host, Electronic Journals Library, Embase, ESCI, Global Health, Google Scholar, Hinari, IMSEAR, ISC, ISJD, IPI, JournalTOCs, Open Access Articles, PKP index, Proquest, Scilit, Scopus, Ulrichsweb Global Serial Directory, WorldCat.
Accredited (2013-2018) by the Directorate General of Higher Education of the Ministry of Education and Culture of the Republic of Indonesia (No:58/DIKTI/Kep/2013).
Announcements
New office and new telephone number

We would like to announce that our office has been moved from histology department to IMERI building research wing 6th floor. Hence, the fixed line call and fax have also been unavailable at the moment till the next announcement.

Meanwhile, you can contact us at mobile phone or via whatsapp to communicate with us in office hour.

Thank you for your attention.

Posted: 2017-12-30
More...
Vol 26, No 4 (2017): December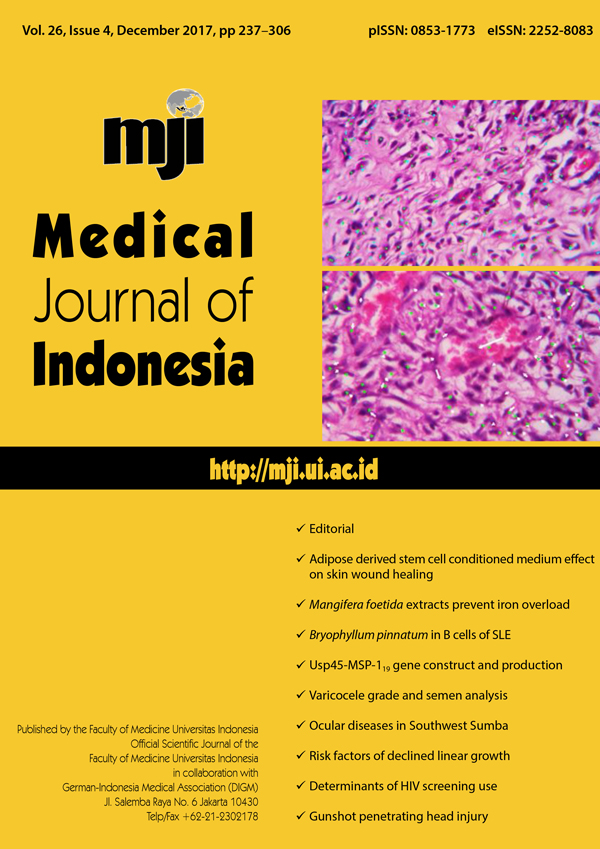 Table of Contents
Editorial
| | | |
| --- | --- | --- |
| | Nafrialdi Nafrialdi, Felix F. Widjaja | 237-8 |
Basic Medical Research
| | | |
| --- | --- | --- |
| | Twidy Tarcisia, Lia Damayanti, Radiana D. Antarianto, Yefta Moenadjat, Jeanne A. Pawitan | 239-45 |
| | | |
| --- | --- | --- |
| | Purnama Fajri, Ari Estuningtyas, Melva Louisa, Hans-Joachim Freisleben | 246-52 |
| | | |
| --- | --- | --- |
| | Kusworini Handono, Tri W.I. Dantara, Elvira S. Dewi, Mirza Z. Pratama, Nurdiana Nurdiana | 253-60 |
| | | |
| --- | --- | --- |
| | Amino V.A. Kusuma, Apon Z. Mustopa, Wike Z. Mustafawi, Suharsono Suharsono | 261-9 |
Clinical Research
| | | |
| --- | --- | --- |
| | Ira Ariyati, Rahmad Mulyadi, Ponco Birowo, Budi Wiweko, Joedo Prihartono | 270-6 |
Community Research
| | | |
| --- | --- | --- |
| | Ratna Sitompul, Yeni D. Lestari, Simon Siregar, Asti Ayudianingrum, Isfiyanto Isfiyanto, Gladys Kusumowidagdo, Della P. Sari, Eiko B. Matiur, Saleha Sungkar | 277-85 |
| | | |
| --- | --- | --- |
| | Hartono Gunardi, Soedjatmiko Soedjatmiko, Rini Sekartini, Bernie E. Medise, Anthony C. Darmawan, Rilie Armeilia, Ruth Nadya | 286-92 |
| | | |
| --- | --- | --- |
| | Samsriyaningsih Handayani, Susilowati Andajani, Lilik Djuari | 293-301 |
Case Report
| | | |
| --- | --- | --- |
| | Steven Tandean, Marsal Risfandi, Iskandar Japardi | 302-6 |